The Advantages of White Vinyl Car Wraps for Car Owners
White vinyl car wraps offer several advantages for car owners, making them a popular choice for vehicle customization. Here are some of the key advantages:
1. Stylish and Versatile
White vinyl wraps provide a clean, elegant, and modern look to any vehicle. They complement various car models and styles, giving car owners the freedom to create a personalized and stylish appearance.
2. Unlimited Design Options
White vinyl acts as an excellent canvas for creativity. Car owners can add custom graphics, stripes, logos, or other designs on the white surface, allowing for endless possibilities in terms of customization.
3. Paint Protection
Vinyl wraps act as a protective layer for the car's original paint. The vinyl shield guards against minor scratches, abrasions, and UV damage, preserving the car's paintwork and maintaining its resale value.
4. Removability and Reversibility
White vinyl wraps are not permanent and can be removed without damaging the original paint. This feature is particularly advantageous for those who want to change the car's appearance periodically or before selling the vehicle.
5. Cost-Effective Alternative to Repainting
Opting for a white vinyl car wrap can be more budget-friendly than getting a full car repaint. It allows car owners to transform the car's color without the high costs and lengthy downtime associated with traditional paint jobs.
6. Faster Installation
Compared to repainting, vinyl wraps can be applied relatively quickly. Skilled installers can complete the wrapping process efficiently, reducing the time the car needs to stay in the shop.
7. Enhanced Resale Value
Since white vinyl wraps protect the underlying paint, the vehicle's resale value can be higher when it comes time to sell or trade-in the car.
8. Advertising and Branding Opportunities
For business owners, white vinyl wraps present an excellent opportunity for mobile advertising. Wrapping a car with a company logo, contact details, and branding can turn the vehicle into a moving billboard, increasing brand visibility.
9. Easy Maintenance
Cleaning and maintaining white vinyl wraps are simple tasks. Regular washing and occasional detailing keep the wrap looking fresh and vibrant.
10. Non-Permanent Color Change
Car owners who want a different color for their vehicle but are unsure about committing to a permanent paint change can experiment with white vinyl wraps. If they later decide to go back to the original color or try another vinyl wrap, they can easily do so.
In summary, white vinyl car wraps offer style, protection, and cost-effectiveness, making them an attractive option for car owners looking to customize their vehicles without the permanence of repainting.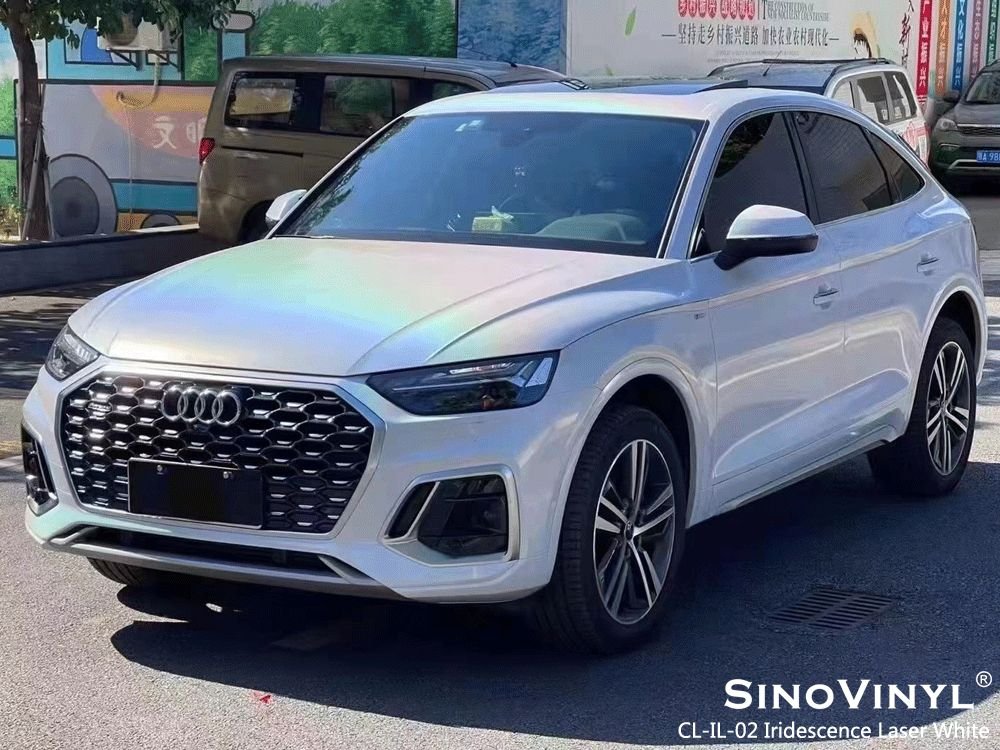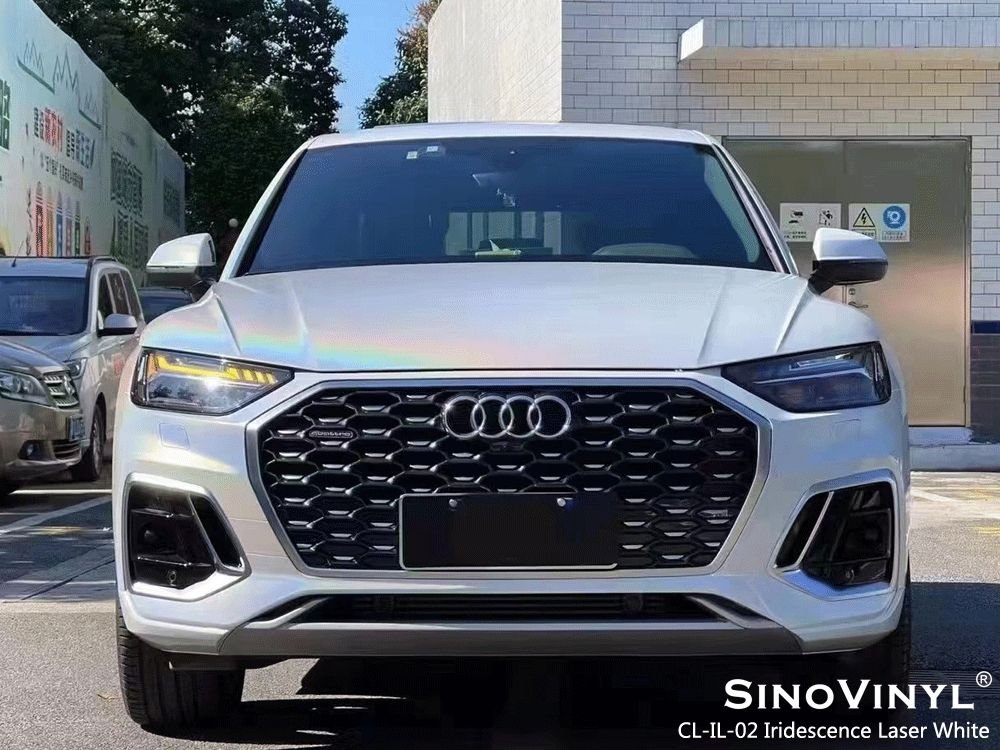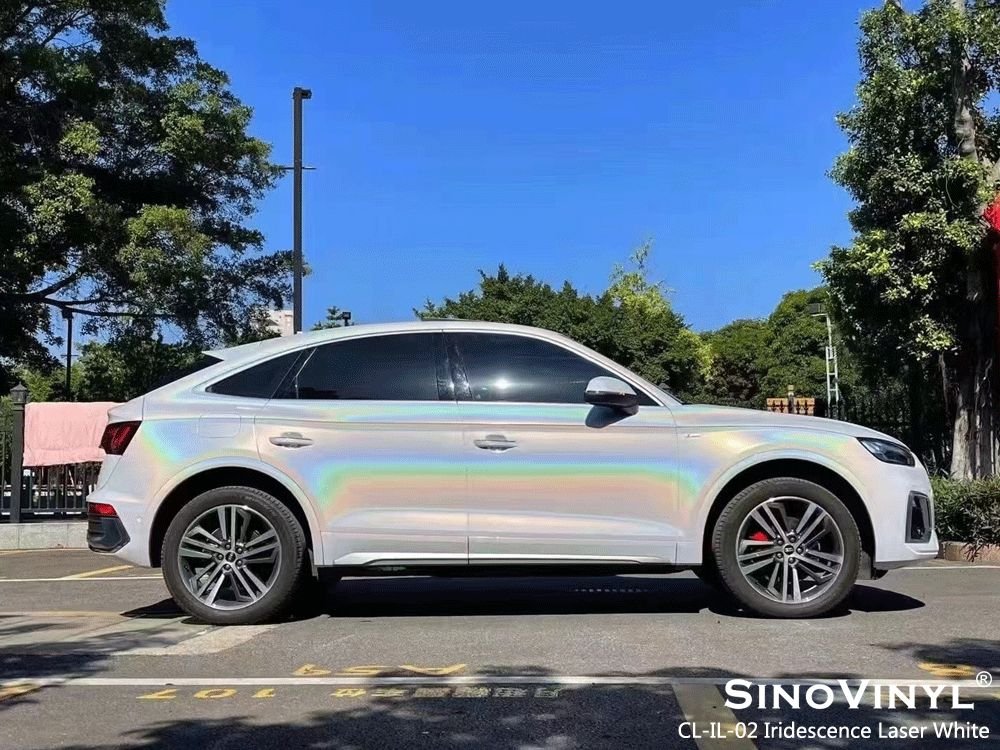 Step-by-Step Guide to Wrapping Your Car with White Vinyl
Step-by-Step Guide to Wrapping Your Car with White Vinyl
Before you begin the car wrapping process, make sure to gather all the necessary tools and materials. The vinyl wrap kit should typically include the vinyl wrap material, squeegee, heat gun or blow dryer, knife or cutting tool, and cleaning solution. Once you have everything ready, follow these steps:
Step 1: Clean the Car Surface
Thoroughly clean the exterior of your car using a car wash soap and water. Remove any dirt, grease, or wax to ensure a smooth and clean surface for the vinyl wrap to adhere to. Dry the car completely before proceeding.
Step 2: Measure and Cut the Vinyl Wrap
Carefully measure the areas of your car you wish to wrap and cut the vinyl wrap material to the appropriate sizes and shapes. Leave some excess material around the edges for easier handling during the installation process.
Step 3: Position the Vinyl Wrap
Start applying the vinyl wrap to your car, beginning with one section at a time. It's best to start with the easiest and flattest areas, such as the hood or roof. Peel back a small portion of the backing and gently place the vinyl onto the car's surface, making sure it aligns correctly.
Step 4: Smooth out the Vinyl
Using a squeegee, press the vinyl wrap onto the car's surface while gradually removing the backing. Work from the center outward to prevent air bubbles from forming. Apply firm and even pressure to ensure a smooth and secure adhesion.
Step 5: Use Heat to Mold the Vinyl
As you progress with the installation, use a heat gun or blow dryer on low to warm the vinyl wrap. This will make it more pliable and allow you to stretch and mold it around curves, edges, and contours of your car. Be careful not to overheat the vinyl to avoid damage.
Step 6: Trim Excess Vinyl
Once the vinyl is in place, use a knife or cutting tool to trim away the excess material along the edges and seams. Take your time and make precise cuts to achieve a clean and professional-looking finish.
Step 7: Repeat the Process
Continue the steps above for each section of your car until the entire vehicle is wrapped in white vinyl. Take your time to ensure each panel is correctly aligned and free of air bubbles or wrinkles.
Step 8: Post-Installation Care
After wrapping your car, apply gentle pressure to the entire surface with a soft cloth or squeegee to ensure optimal adhesion. Inspect the entire wrap for any imperfections and make any necessary adjustments.
Wrapping your car with white vinyl can be a time-consuming process, so exercise patience and attention to detail throughout the installation. If you encounter any difficulties, don't hesitate to seek professional assistance. With proper care and maintenance, your white vinyl-wrapped car will be a stunning style statement on the road.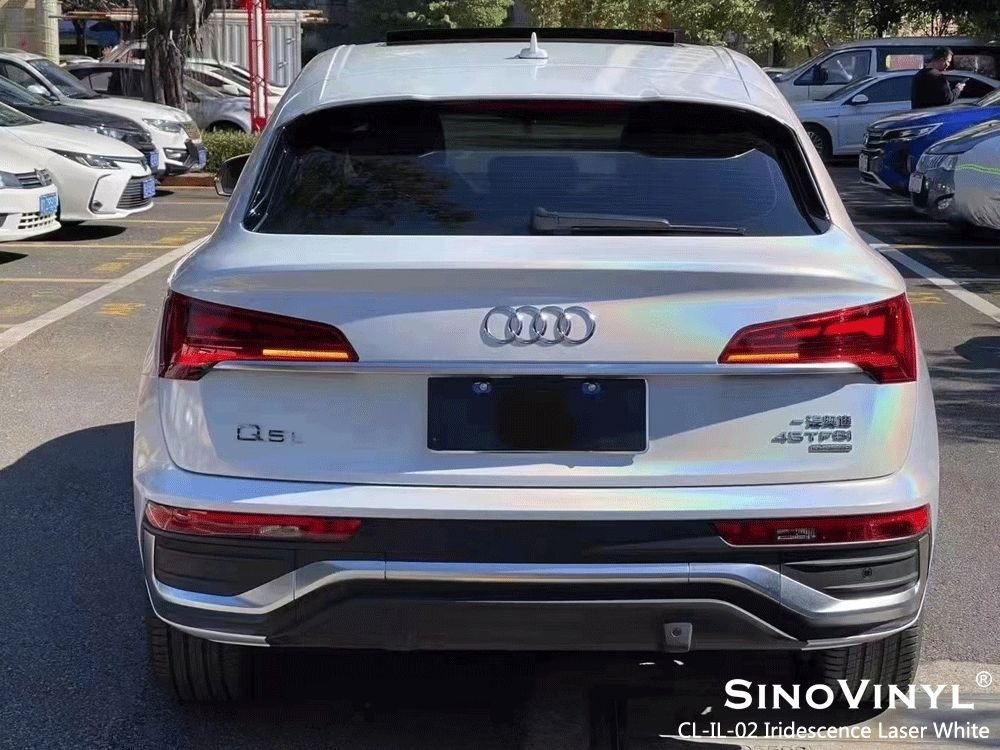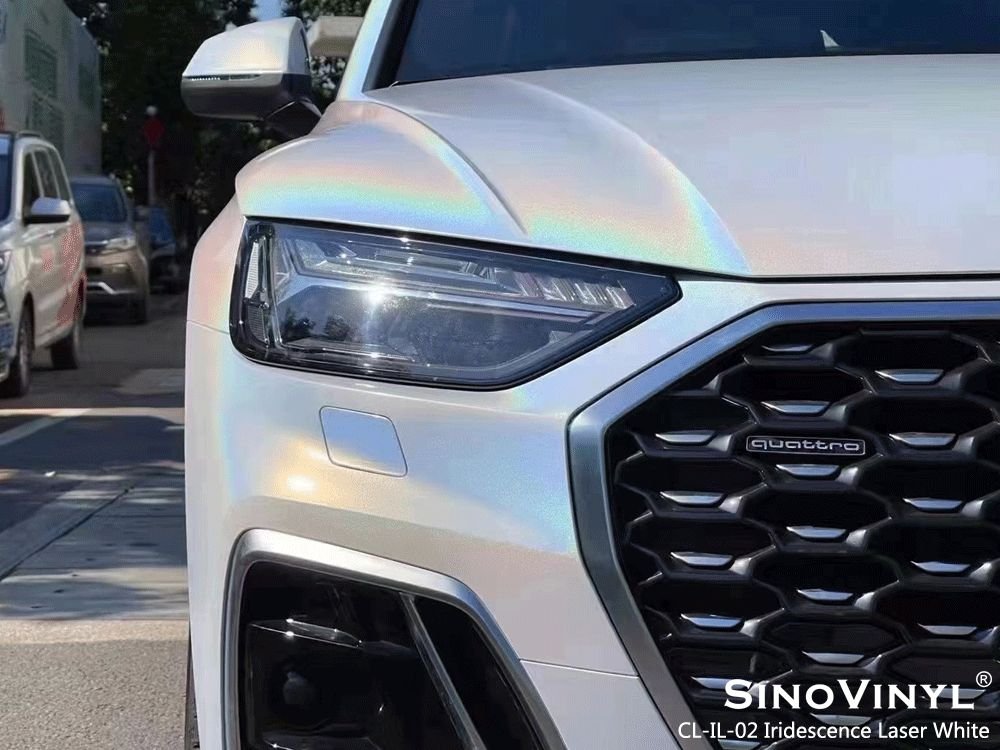 Maintaining and Caring for White Vinyl Wraps to Preserve their Shine
Maintaining and caring for white vinyl wraps is essential to ensure they retain their shine and appearance over time. Here are some tips to help you preserve the quality of your white vinyl car wrap:
1. Regular Washing
Wash your car wrap regularly using a mild detergent or specifically designed vinyl wrap cleaner. Avoid using harsh chemicals, abrasive brushes, or sponges, as they can damage the vinyl surface.
2. Hand Washing
Whenever possible, hand wash your car wrap instead of using automated car washes. Automated car washes with brushes can cause scratches on the vinyl surface.
3. Microfiber Towels
Use soft microfiber towels to dry your car after washing. Avoid using rough or low-quality towels that can cause micro-scratches on the vinyl.
4. Avoid High-Pressure Washers
High-pressure washers can damage the edges of the vinyl wrap or cause it to lift. Stick to a gentle stream of water when rinsing.
5. Spot Cleaning
Promptly clean bird droppings, tree sap, or other contaminants from the wrap. Leaving them on the surface for an extended period can lead to staining or damage.
6. Protective Coatings
Consider applying a protective wax or sealant specifically designed for vinyl wraps. These coatings provide an additional layer of protection against UV rays and contaminants.
7. Avoid Harsh Chemicals
Avoid using petroleum-based or acidic cleaning agents, as they can degrade the vinyl wrap and diminish its shine.
8. Garage Parking
Whenever possible, park your car indoors or in a shaded area to protect the wrap from excessive exposure to the sun's UV rays.
9. Avoid Parking Near Heat Sources
Refrain from parking your car close to heat sources such as heaters, barbeque grills, or industrial exhausts, as the heat can damage the vinyl.
10. Use Protective Film for High-Impact Areas
Consider using a clear protective film on high-impact areas, such as the front bumper, to prevent damage from stones and road debris.
11. Avoid Pressure Washing Seams
Be cautious when pressure washing seams and edges, as high-pressure water can lift the edges of the vinyl wrap.
12. Seasonal Inspection
Regularly inspect your vinyl wrap for any signs of wear or damage. Address any issues promptly to prevent further damage.
13. Avoid Abrasive Surfaces
Avoid rubbing or sliding objects against the vinyl wrap, as it can scratch or scuff the surface.
By following these maintenance tips, you can keep your white vinyl car wrap looking vibrant and stylish for an extended period, making it a true style statement for your car.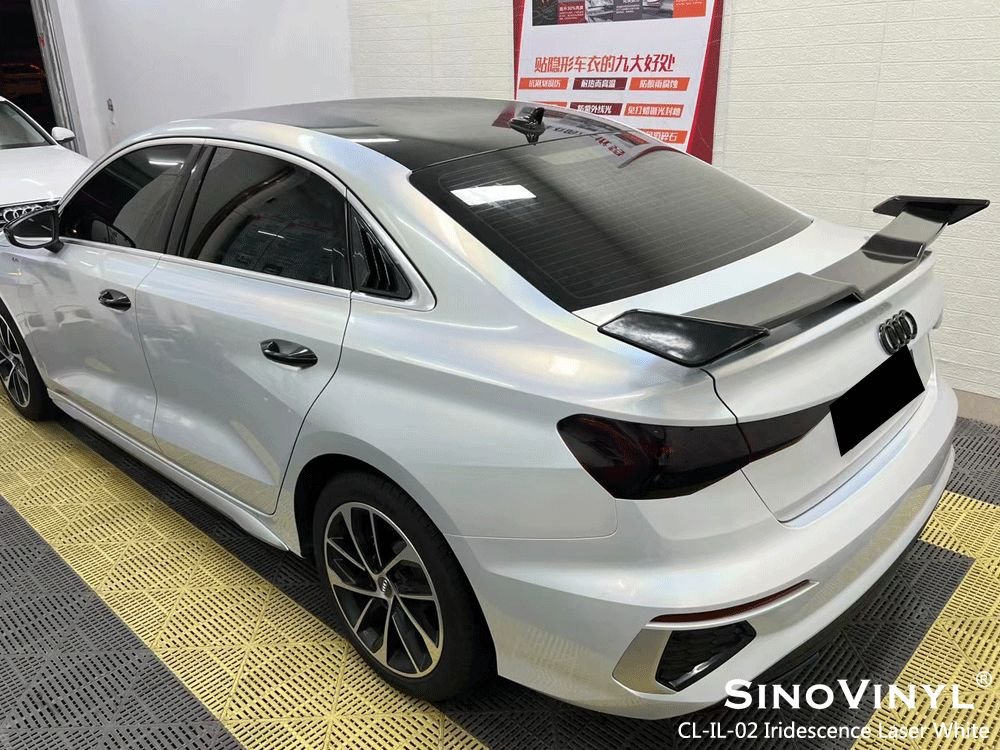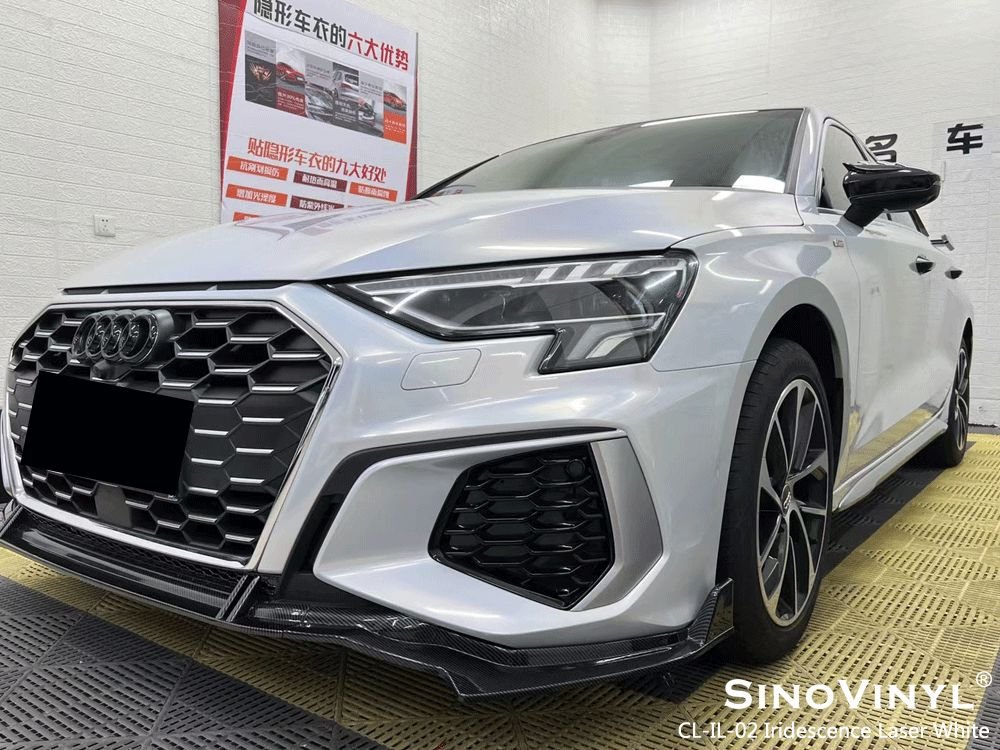 Tips for Finding a Professional White Vinyl Car Wrap Installer
Finding a professional white vinyl car wrap installer is crucial to ensure the best results and preserve the integrity of your vehicle's appearance. Here are some tips to help you find a reputable and skilled installer:
1. Research and Reviews
Start by researching local car wrap installers who specialize in vinyl wraps. Look for online reviews and testimonials from their previous customers to gauge their reputation and quality of work.
2. Portfolio
Check the installer's portfolio or gallery of past projects. A reputable professional will have a collection of their work, showcasing various car models and wrap designs.
3. Experience
Look for installers with substantial experience in vinyl car wrapping. An experienced professional is more likely to handle the intricacies of white vinyl wraps effectively.
4. Certifications
Inquire if the installer holds any certifications or training from reputable organizations in the car wrapping industry. Certifications demonstrate their commitment to quality and expertise.
5. Material and Warranty
Ensure that the installer uses high-quality vinyl wrap materials from reputable brands. Ask about the warranty provided for the installation, which will give you peace of mind in case of any issues.
6. Visit the Shop
If possible, visit the installer's shop to get a sense of their working environment and the equipment they use. A clean and organized workspace reflects professionalism.
7. Customer References
Don't hesitate to ask the installer for references of previous clients. Contact these customers to inquire about their experience and satisfaction with the work done.
8. Communication
A good installer will be approachable and willing to answer any questions you have about the process, materials, and timeframe.
9. Quotes and Pricing
Obtain quotes from multiple installers for comparison. Be cautious of unusually low prices, as they might indicate subpar materials or workmanship.
10. Check for Insurance
Ensure that the installer has liability insurance to cover any potential damages during the installation process.
11. Online Presence
A professional installer is likely to have a website or social media presence where you can learn more about their services and see additional examples of their work.
12. Ask About Removal Process
Inquire about the removal process of the vinyl wrap, as a professional installer will ensure that it can be removed without damaging the car's paint.
By following these tips, you can find a skilled and reliable professional white vinyl car wrap installer who will transform your vehicle into the ultimate style statement while maintaining its value and appearance.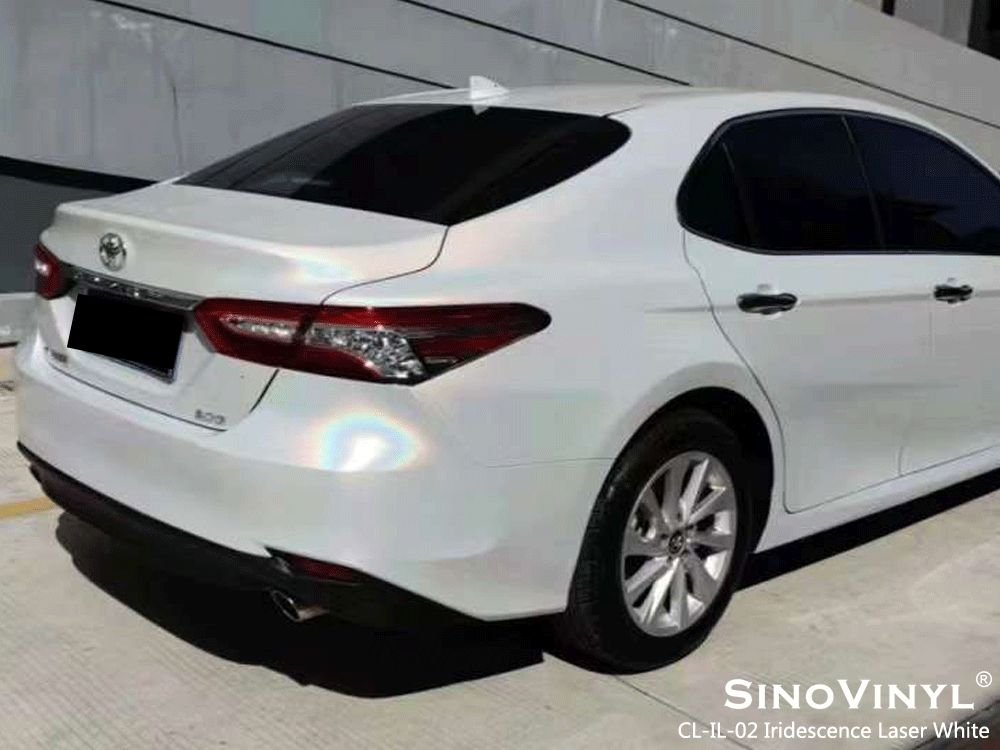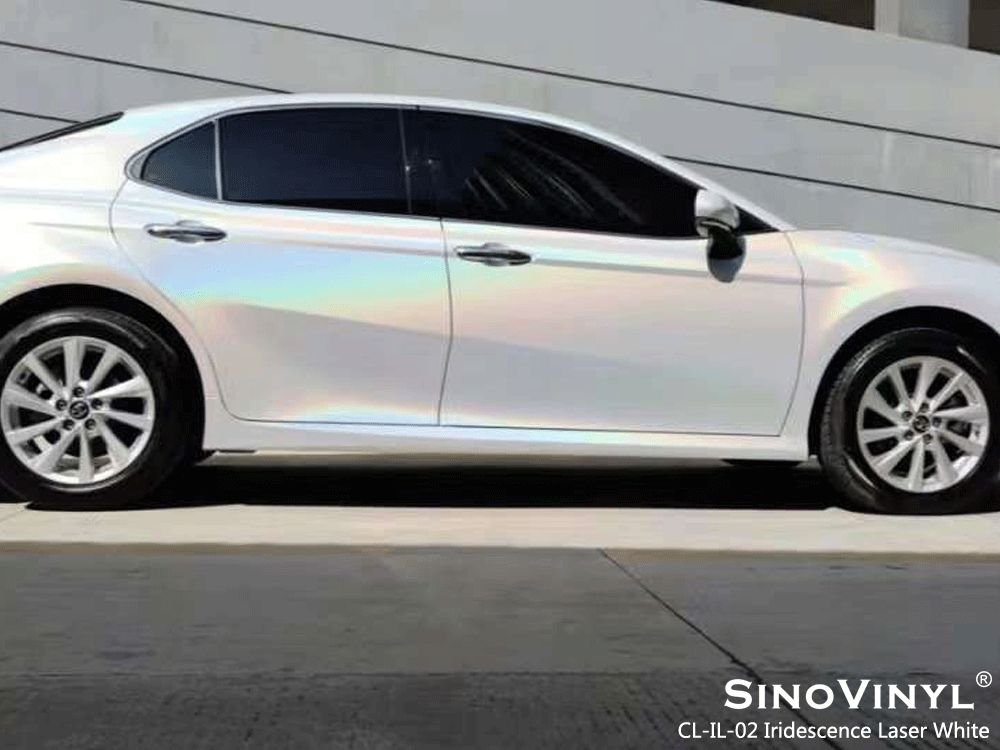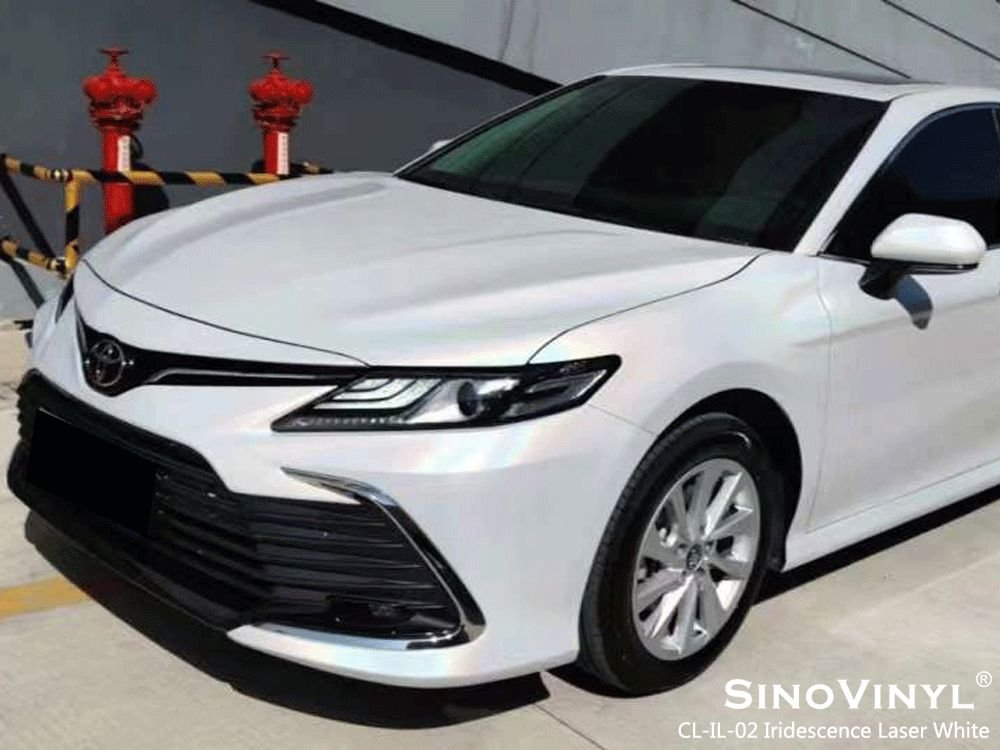 Final Words
In conclusion, white vinyl car wraps have emerged as the ultimate style statement for car owners looking to elevate their ride to new heights of elegance and individuality. The versatility, timeless appeal, and sleek finish of white vinyl wraps make them a preferred choice for automotive customization. Whether you seek a classic, modern, or even a custom design, these wraps offer a world of possibilities to match your personal style and preferences. However, it is essential to entrust the installation process to a professional with expertise in vinyl wrapping to ensure a flawless finish that not only enhances your vehicle's appearance but also provides long-lasting durability. Embrace the transformative power of white vinyl wraps, and let your car speak volumes about your unique sense of style and sophistication on every road you conquer. Unleash the charm of white vinyl wraps and turn your car into a rolling masterpiece that will undoubtedly turn heads and leave a lasting impression.