WL014 Black And Red Circuit Car Body Film: Customize Your Ride with Style and Protection
If you're looking to give your car a sleek and stylish makeover, the WL014 Black And Red Circuit Car Body Film is the perfect solution. This customizable car body wrapping is designed to fit your specific car model, ensuring a perfect fit that looks like it was painted on.
One of the standout features of this car body film is its incredible restorability. Thanks to its super stretch characteristic, it can easily conform to any curves or contours on your car's body, making it look like a factory-installed paint job.
Performance Level: Premium+
The film is produced using advanced calendered technology, which results in a thickness of 160micron or 6.4mil (including the glue layer). The release paper used is 160g/m² and silicone coated for easy removal during installation.
Film Produce Technology: Calendered
The adhesive layer is 30μm thick, ensuring a strong bond between the film and your car's body. Once applied, it can last anywhere from 1 to 3 years, depending on the conditions it's exposed to.
Film Thickness: 160micron, 6.4mil(with glue)
One of the key benefits of this car body film is that it's designed to be air bubble-free. The micro air release channels make it easy to install, and any air trapped under the vinyl can be easily pushed out with a squeegee. This ensures a perfect finish with no bubbles or residue left behind.
Release Paper: 160g/m², Silicone Coated
In addition to its stylish appearance, the WL014 Black And Red Circuit Car Body Film also provides multiple layers of protection. It's highly flexible and stretchable, allowing it to withstand scratches and impacts that would damage your car's paint job.
Adhesive Thickness: 30μm
It can also protect your car from dirt and other environmental factors, helping to keep it looking great for years to come. With a durability of up to 3-5 years outdoors, you can rest assured that your car will be protected for the long haul.
Durability: 1-3 years
The WL014 Black And Red Circuit Car Body Film is also incredibly versatile. It can bond to flat or curved surfaces, making it perfect for use on roofs, hoods, trunks, bumpers, fenders, mirror covers, dashboards, spoilers, lips, side pillar bars, rims, door handles, windshields, interior trim, cell phones, laptops, cabinets, and other home furniture.
Air Bubble Free: Yes
Application Temperature: From +80°С to +120°С
If you're ready to give your car a bold new look, the WL014 Black And Red Circuit Car Body Film is the perfect solution. With its customizable design, easy installation, and durable protection, it's the ultimate choice for anyone who wants to take their ride to the next level. So why wait? Order yours today and start turning heads wherever you go!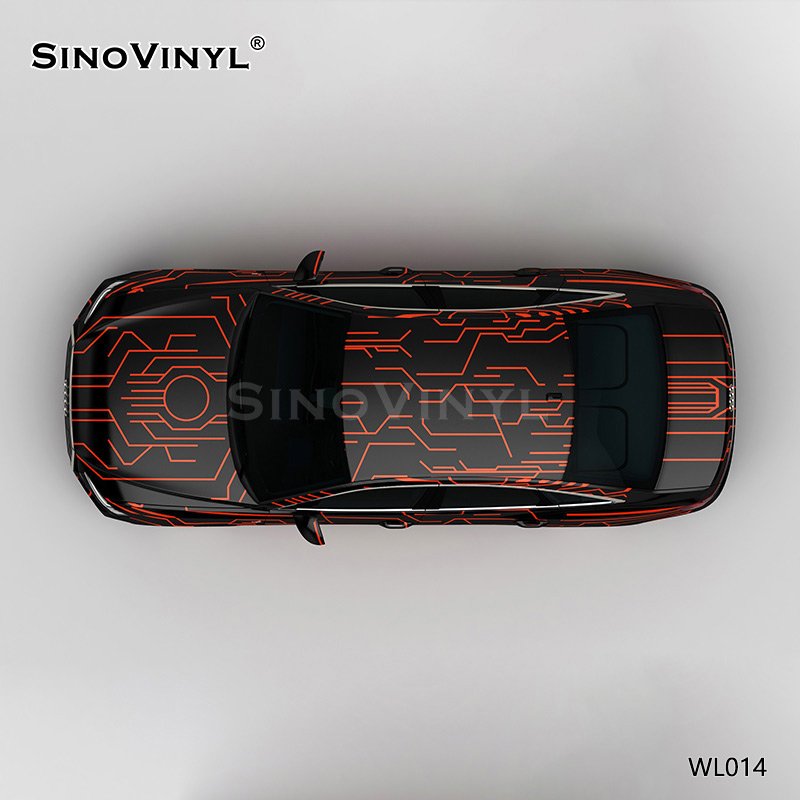 Here are our the different product,striking the pictures or titles can have the details !!!