Advantages of White Vinyl Wrap
Here are some advantages of using white vinyl wrap for cars, including the ones you mentioned:
1. Durability and Longevity
– White vinyl wrap is known for its exceptional durability.
– Unlike traditional paint jobs, vinyl wrap is resistant to fading, ensuring that your car maintains its vibrant white appearance for an extended period.
2. Protection from the Elements
– White vinyl wrap acts as a barrier against various environmental factors such as UV rays, acid rain, bird droppings, and tree sap.
3. Easy Maintenance and Cleaning
– Maintaining a white vinyl-wrapped car is a breeze. Regular cleaning with a mild car wash solution and a microfiber cloth is usually sufficient to keep it looking pristine.
– Unlike matte finishes that can be sensitive to certain cleaners, white vinyl wraps are versatile and forgiving when it comes to cleaning agents.
4. Temperature Regulation
– White is an excellent reflector of heat, which means that a white vinyl-wrapped car is less likely to absorb and retain heat compared to darker colors. This can lead to a cooler interior on hot days.
5. Versatility in Design
– White serves as a blank canvas for various design options. Whether you prefer a sleek and minimalist look or want to incorporate graphics and patterns, white vinyl wrap provides a versatile base for customization.
6. Resale Value Preservation
– By protecting the original paint, white vinyl wrap helps maintain the resale value of your car. When it's time to sell or trade in, having a well-preserved exterior can significantly enhance the appeal to potential buyers.
7. Non-Permanent Option
– Unlike a traditional paint job, vinyl wrap is not permanent.
8. Cost-Effective Alternative
– Applying a white vinyl wrap is often more cost-effective than a full paint job, especially if you're looking for a specific finish or color. It can achieve a similar aesthetic without the associated costs and downtime.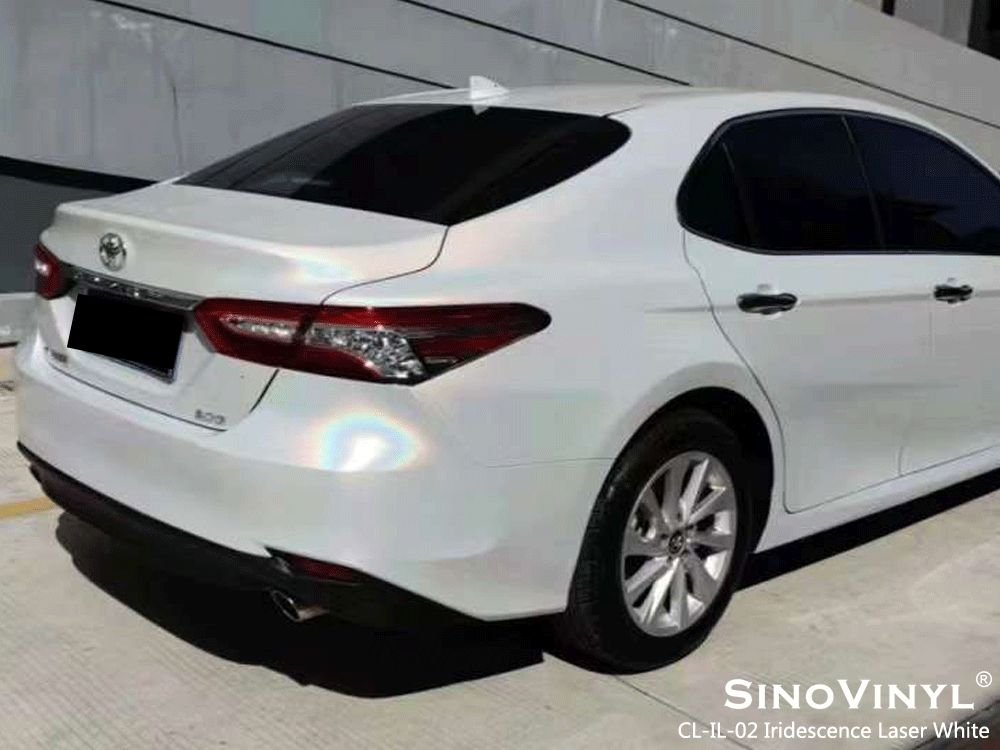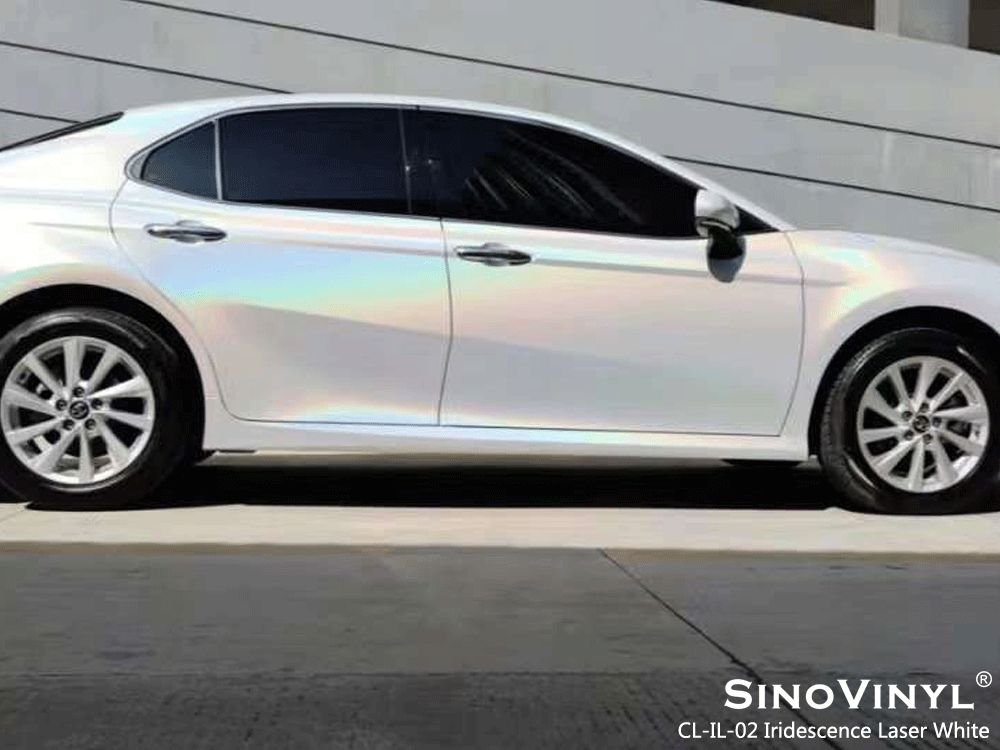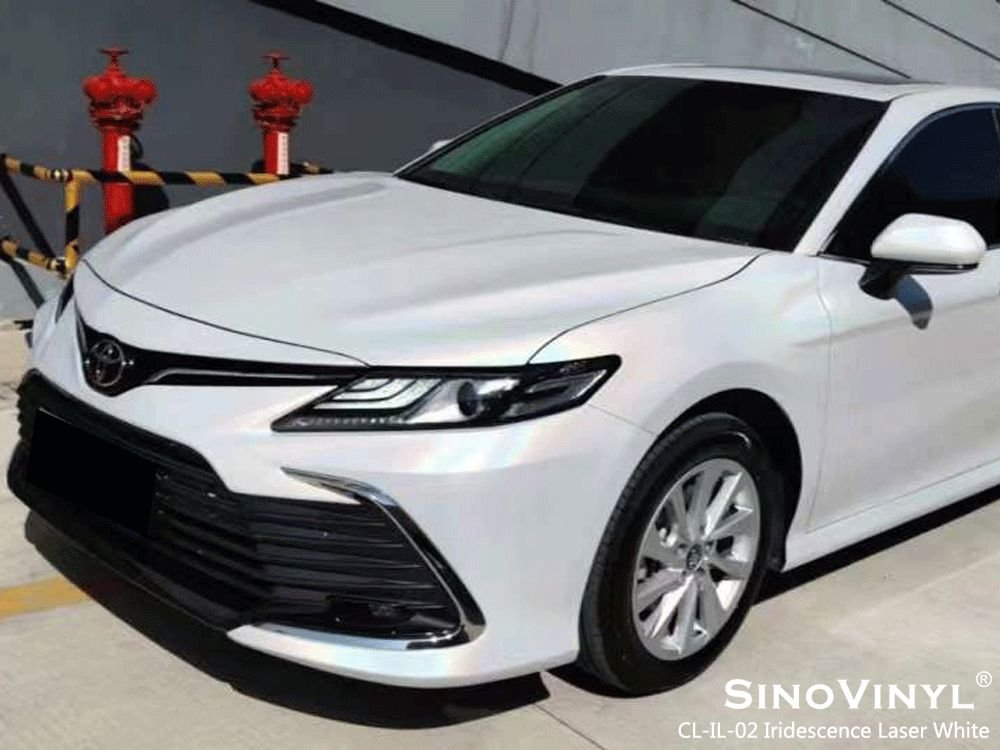 White Vinyl Wrap Finishes
Here are some popular white vinyl wrap finishes along with explanations of how each finish affects the car's look and feel:
1. Gloss Finish
– Look: A glossy finish is high-shine and reflects light, creating a sleek and polished appearance.
– Feel: It gives the car a smooth and reflective surface, making it appear vibrant and eye-catching. Gloss finish is often associated with a more luxurious and premium look.
2. Matte Finish
– Look: Matte finish lacks the shine of gloss, presenting a flat, non-reflective surface.
– Feel: Matte finishes feel smooth to the touch but lack the high-gloss texture. They can give a car a more stealthy, edgy, or contemporary appearance.
3. Satin Finish
– Look: Satin offers a middle ground between gloss and matte.
– Feel: Satin finish gives a car a smooth texture with a gentle sheen.
4. Pearlescent Finish
– Look: Pearlescent finishes have a subtle shimmer and iridescence, creating a unique, multi-dimensional effect.
– Feel: They feel smooth to the touch with a slightly textured appearance due to the pearlescent particles.
5. Chrome Finish
– Look: Chrome finish is ultra-reflective, resembling polished metal.
– Feel: It's incredibly smooth and mirror-like to the touch, giving the car an attention-grabbing, mirror-like effect.
6. Metallic Finish
– Look: Metallic finishes have metallic particles that create a sparkling effect, especially in sunlight.
– Feel: They feel slightly textured due to the metallic particles, adding depth and dimension to the car's appearance. Metallic finishes can be both bold and sophisticated.
7. Brushed Metal Finish
– Look: This finish mimics the look of brushed metal, providing an industrial, rugged appearance.
– Feel: Brushed metal finishes have a tactile texture, providing a unique and tactile experience.
8. Carbon Fiber Finish
– Look: Carbon fiber finishes replicate the look of woven carbon fibers, conveying a high-tech and performance-oriented aesthetic.
– Feel: They have a slightly textured feel due to the replicated carbon fiber pattern.