Understanding Iridescent Car Wrap Vinyl: Composition and Material Science
Understanding the composition and material science of iridescent car wrap vinyl is essential to appreciate its unique properties and visual effects. Iridescent vinyl wraps are a specialized type of vehicle wrapping material that creates a mesmerizing color-shifting appearance. Here's a breakdown of their composition and material science:
1. Base Vinyl Material
Iridescent car wrap vinyl is primarily made from a high-quality base vinyl material. This vinyl serves as the foundation of the wrap and provides the necessary flexibility and durability required for automotive applications.
2. Specialized Pigments
What sets iridescent car wrap vinyl apart from traditional vinyl wraps is the inclusion of specialized pigments. These pigments are designed to create the iridescent or "color-shifting" effect. Unlike regular pigments that absorb certain wavelengths of light and reflect others to create specific colors, the pigments in iridescent vinyl wraps diffract light, causing interference patterns that give the material its unique visual appearance.
3. Optical Layers
To achieve the color-shifting effect, iridescent car wrap vinyl typically consists of multiple optical layers. These layers are incredibly thin and can be as little as a few micrometers thick. The thickness and arrangement of these layers are precisely engineered to create the desired iridescent effect by manipulating light reflections and diffractions.
4. Transparent Protective Layer
To shield the specialized pigments and optical layers from damage, iridescent car wrap vinyl is typically coated with a transparent protective layer. This layer not only safeguards the visual elements but also adds an extra level of durability and weather resistance to the wrap.
5. Adhesive Backing
Like traditional vinyl wraps, iridescent car wrap vinyl features an adhesive backing that allows it to adhere to the surface of the vehicle. The adhesive is formulated to ensure a strong bond while still enabling repositioning during the installation process.
6. Air Release Technology
Many modern iridescent vinyl wraps incorporate air release technology in the adhesive layer. This feature allows air bubbles to escape during installation, leading to a smoother and more professional finish.
The combination of these materials and the intricate engineering of the optical layers is what makes iridescent car wrap vinyl so visually stunning. As light strikes the surface of the wrap from different angles, it interacts with the specialized pigments and optical layers to produce an array of colors that seem to shift and change as you move around the vehicle, creating a captivating and dynamic effect.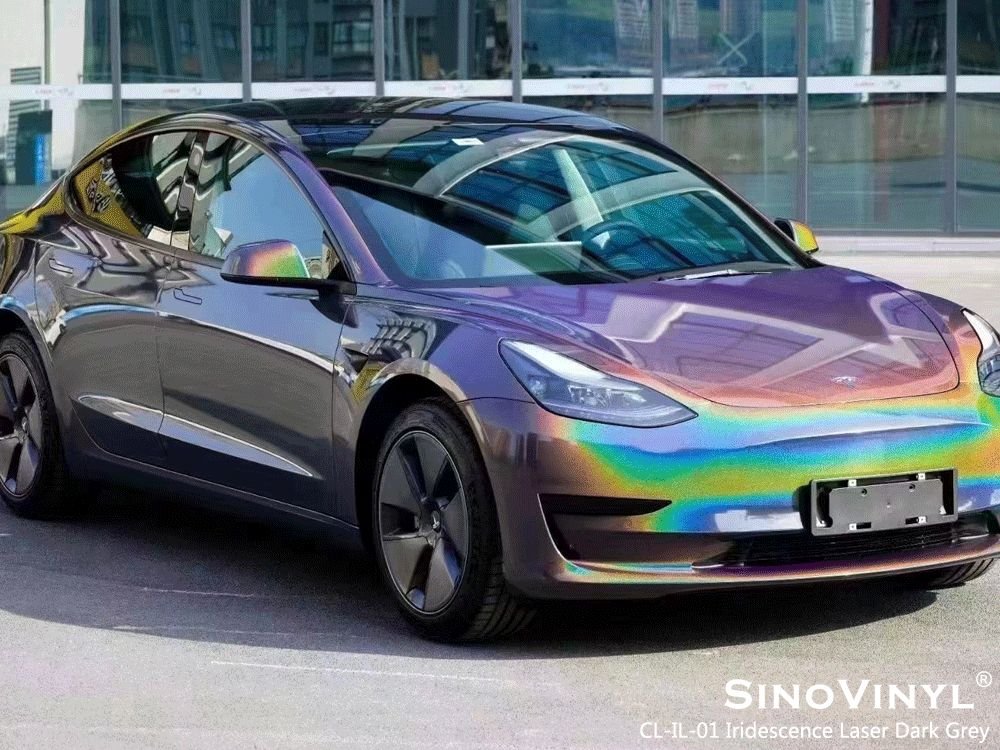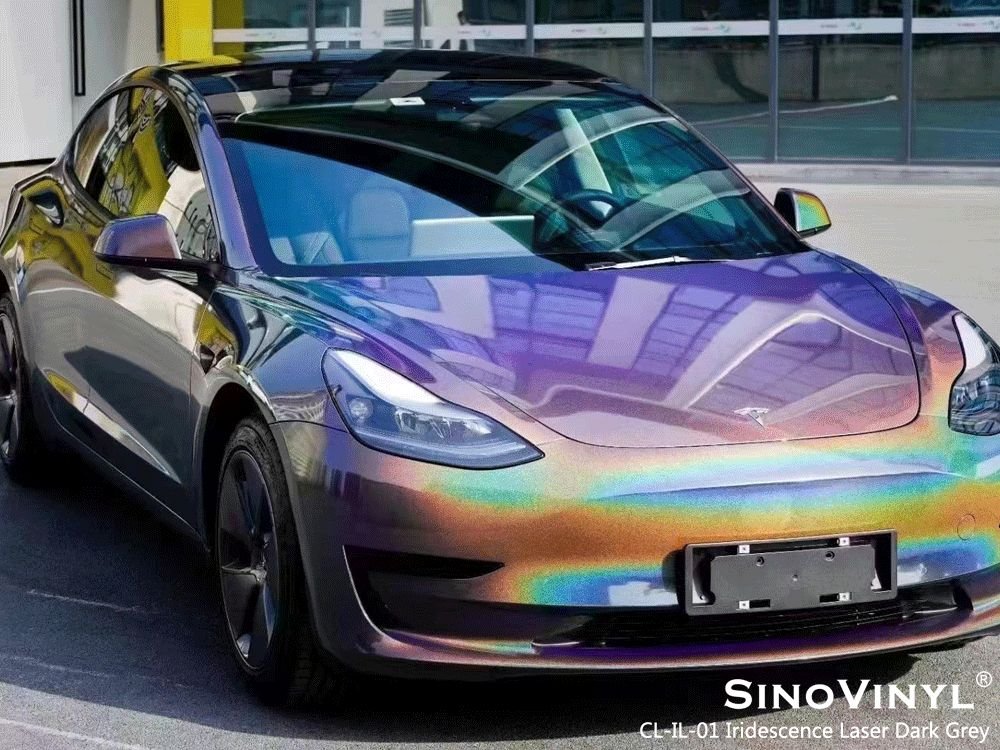 Choosing the Right Iridescent Vinyl Wrap: Factors to Consider
When choosing the right iridescent vinyl wrap for your vehicle, there are several factors to consider to ensure you get the best fit and appearance. Here are some essential factors to keep in mind:
1. Quality and Brand Reputation
Look for reputable brands known for producing high-quality vinyl wraps. Well-established brands often provide better durability, color retention, and ease of installation.
2. Color and Effect
Iridescent vinyl wraps come in various colors and effects, creating a dynamic shift in colors when viewed from different angles. Consider the specific shades and effects that align with your preferences and complement your car's design.
3. Compatibility with Vehicle Surface
Ensure that the vinyl wrap is suitable for the surface of your vehicle. Some vinyl wraps may work better on specific types of paint or surfaces, and it's essential to verify compatibility.
4. Durability and Longevity
Check the durability rating of the vinyl wrap. High-quality wraps should be resistant to fading, peeling, and cracking, while also providing protection to the underlying paintwork.
5. Ease of Installation
If you plan to install the wrap yourself, consider choosing a vinyl wrap that is user-friendly and forgiving during installation. Some vinyl wraps are designed with air-release channels to help with bubble-free application.
6. Removability
Find out if the vinyl wrap is designed to be easily removable without damaging the original paint. This is especially crucial if you may want to change the wrap or revert to the original paint in the future.
7. Warranty and Customer Support
Check if the vinyl wrap comes with a warranty or any customer support. A warranty can provide peace of mind and assurance of the product's quality.
8. Price and Budget
Set a budget for the vinyl wrap and compare prices among different brands and sellers. While it's essential to stay within your budget, remember that investing in a higher-quality wrap can pay off in terms of longevity and appearance.
9. Reviews and Recommendations
Look for reviews and recommendations from other car enthusiasts or professionals who have used the specific vinyl wrap you're considering. Their experiences can offer valuable insights.
10. Customization Options
Some manufacturers offer customization options, allowing you to create unique designs and color combinations. If personalization is essential to you, explore these possibilities.
By carefully considering these factors, you can select an iridescent vinyl wrap that not only adds a captivating look to your car but also ensures a long-lasting and satisfactory experience.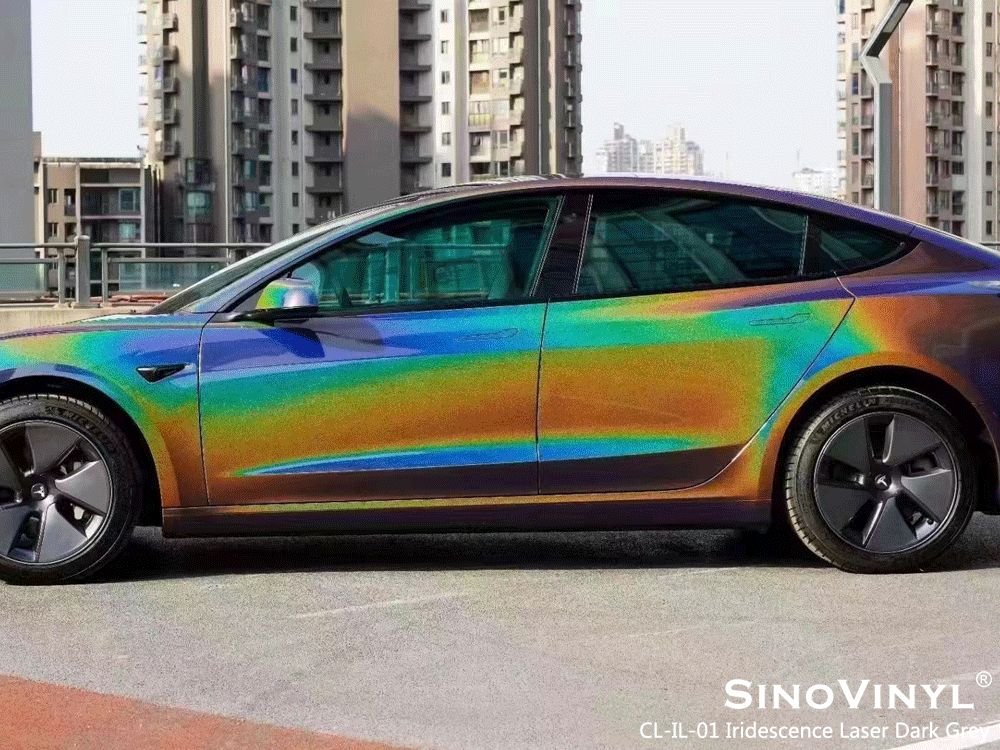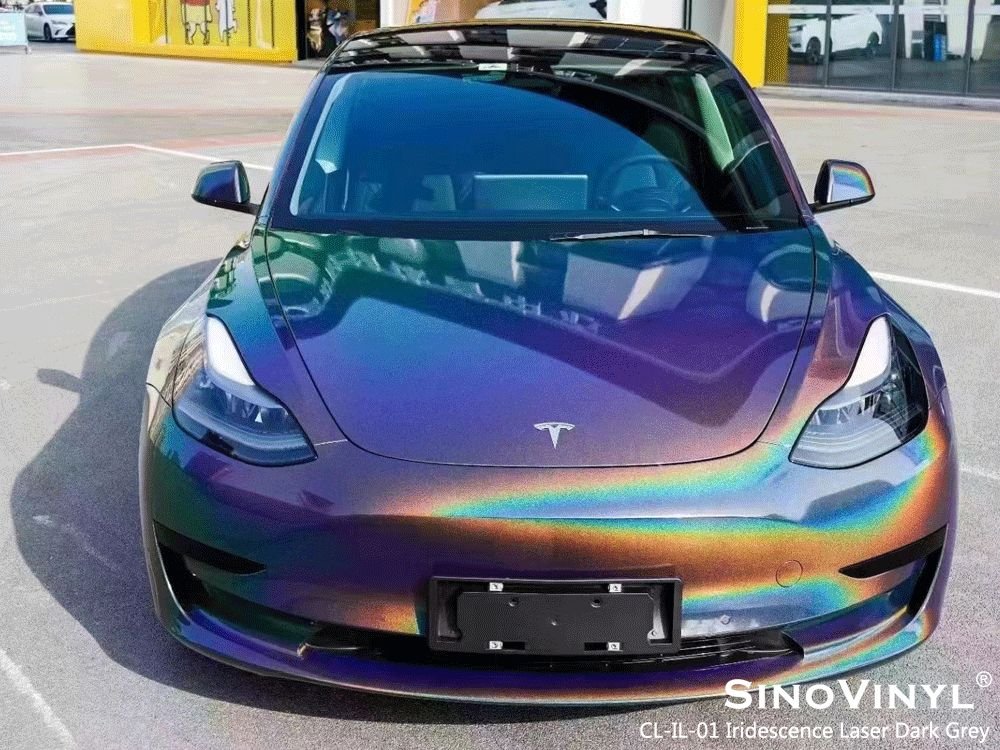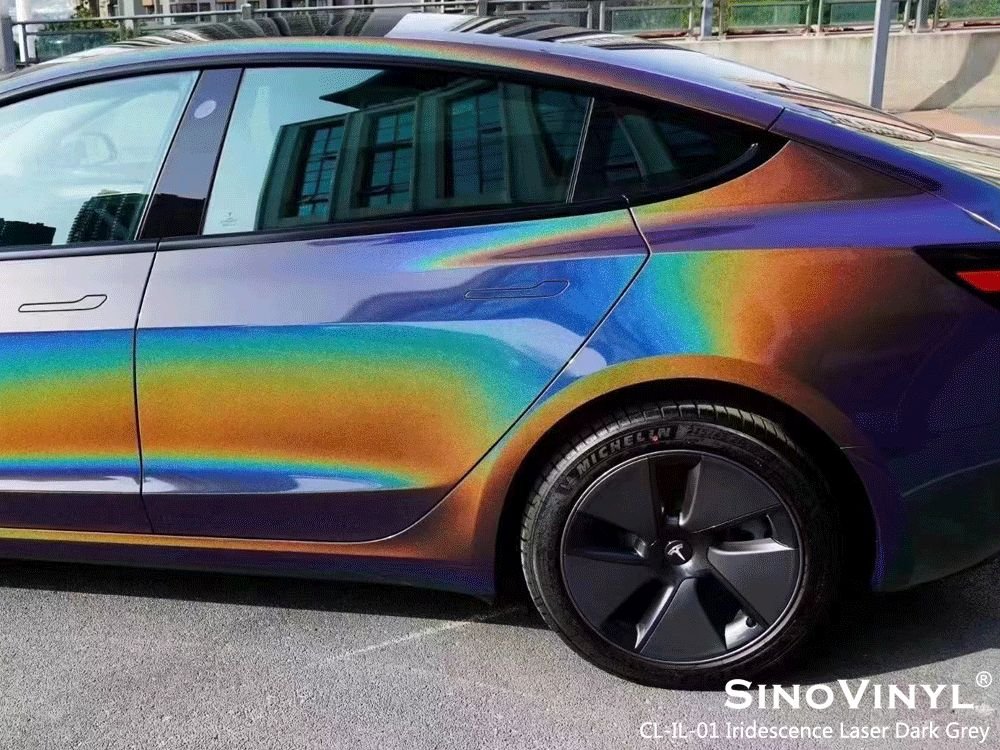 Top Car Models that Perfectly Suit Iridescent Vinyl Wraps
While the choice of car model that suits iridescent vinyl wraps ultimately depends on personal preference, some car models have design elements or body shapes that complement the dazzling effects of iridescent wraps exceptionally well. Here are some top car models that are often considered ideal for iridescent vinyl wraps:
1. Lamborghini Huracán
The sharp lines and aggressive styling of the Lamborghini Huracán can be further accentuated with iridescent vinyl wraps, giving it a futuristic and eye-catching appearance.
2. Chevrolet Camaro
The Camaro's iconic muscle car design lends itself well to iridescent wraps, allowing for a unique blend of classic and modern aesthetics.
3. Porsche 911
The sleek and iconic silhouette of the Porsche 911 looks stunning with iridescent wraps, enhancing its aerodynamic profile and setting it apart on the road.
4. BMW i8
As a hybrid sports car, the BMW i8 boasts a futuristic design that complements iridescent wraps, enhancing its eco-friendly image while making a bold statement.
5. Ford Mustang
The Mustang's long hood and aggressive stance are a perfect canvas for iridescent vinyl wraps, creating a head-turning blend of power and style.
6. Audi R8
The Audi R8's distinctive design elements, such as its sharp LED headlights and side blades, make it an excellent choice for showcasing the iridescent effect.
7. Dodge Challenger
With its classic American muscle car looks, the Dodge Challenger can take on a modern and unique appearance with the addition of iridescent vinyl wraps.
8. Nissan GT-R
The GT-R's aerodynamic and aggressive styling can be further enhanced with iridescent wraps, giving it an otherworldly appearance.
9. Mercedes-Benz AMG GT
The sleek and luxurious design of the AMG GT complements the shimmering effect of iridescent wraps, elevating its visual appeal.
10. Tesla Model S
The clean lines and minimalist design of the Tesla Model S can be transformed into a futuristic masterpiece with the addition of iridescent vinyl wraps.
Remember that the choice of color and pattern for the iridescent vinyl wrap is crucial in achieving the desired effect on any car model. It's always recommended to work with professional vinyl wrap installers to ensure a seamless and visually striking result.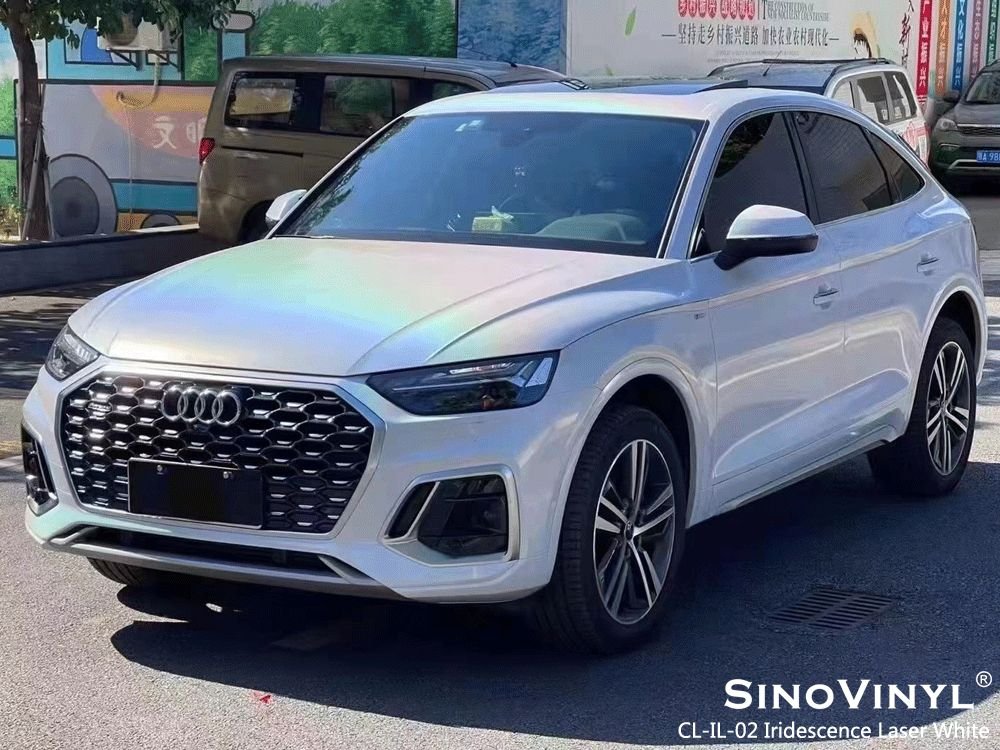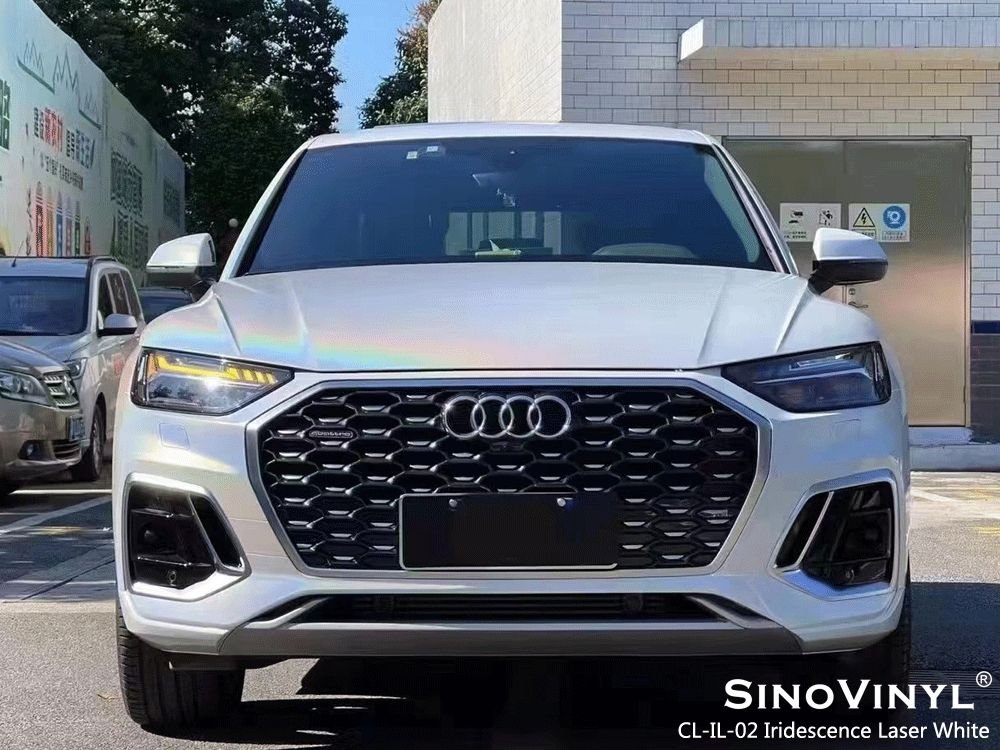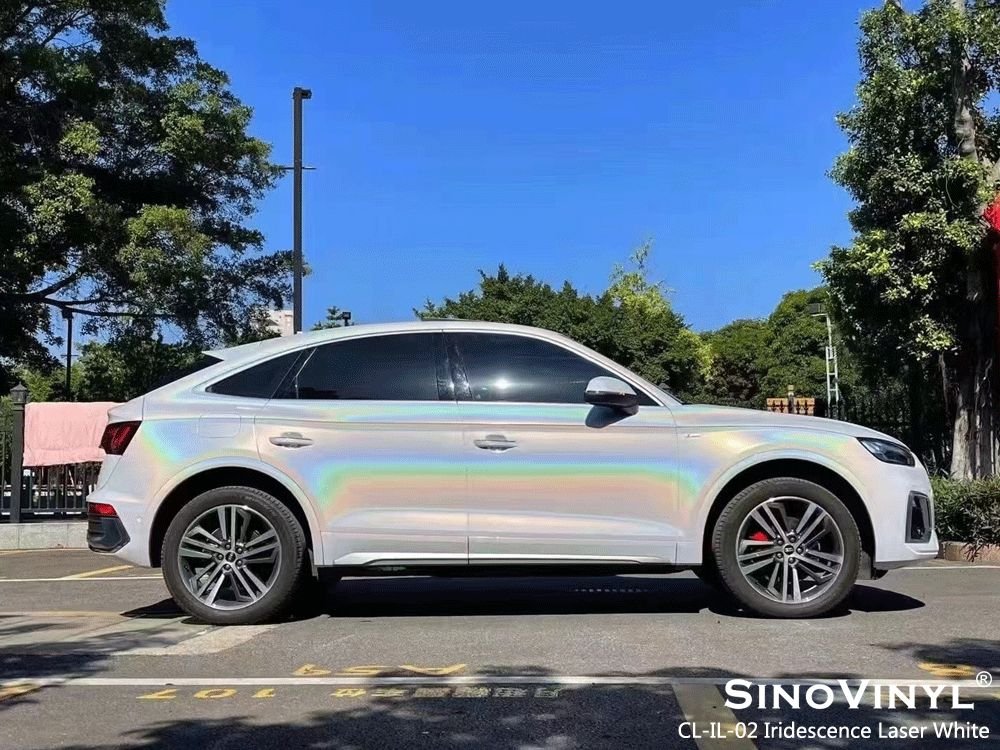 Tips for Maintaining the Brilliance of Your Iridescent Wrapped Car
Maintaining the brilliance of your iridescent wrapped car is essential to preserve its stunning appearance and protect the investment you made in the vinyl wrap. Here are some tips to help you keep your car looking vibrant and beautiful:
1. Regular Washing
Wash your car regularly using a pH-balanced car wash soap and a soft microfiber sponge or mitt. Avoid using harsh chemicals or abrasive brushes that could damage the vinyl wrap.
2. Hand Drying
After washing, hand dry your car using a clean microfiber cloth to prevent water spots and streaks from forming on the iridescent surface.
3. Avoid Automatic Car Washes
Refrain from using automatic car washes with aggressive brushes, as they can scratch and damage the delicate vinyl surface. Opt for hand washing or touchless car washes instead.
4. Use a Sealant or Wax
Apply a specialized sealant or wax that is safe for vinyl wraps to protect the surface and enhance the shine. This creates a protective barrier against UV rays and contaminants.
5. Mind the Temperature
Avoid parking your car in direct sunlight for extended periods, especially in hot weather. UV rays can fade the colors over time, and extreme temperatures might affect the adhesive of the vinyl.
6. Handle Contaminants Promptly
Remove bird droppings, tree sap, and other contaminants from the vinyl wrap as soon as possible, as they can damage the surface if left unattended.
7. Avoid Harsh Chemicals
Do not use abrasive or petroleum-based products on the vinyl wrap, as they can cause discoloration and damage.
8. Be Careful with Pressure Washing
If using a pressure washer, maintain a safe distance and use a low-pressure setting to avoid lifting the edges of the vinyl.
9. Mind the Edges
Pay attention to the edges of the vinyl wrap during cleaning and avoid pulling or picking at them.
10. Annual Inspection
Have a professional inspect the vinyl wrap annually to check for any signs of wear, bubbling, or damage. Addressing issues early can prevent them from worsening.
11. Park Carefully
Be cautious when parking to avoid unnecessary scratches or dings from other car doors or objects.
12. Avoid Abrasive Materials
Do not use abrasive materials like scrub pads or steel wool on the vinyl surface, as they will cause scratches.
13. Use Microfiber Towels
When cleaning or detailing your car, use soft microfiber towels to avoid scratching the surface.
14. Cover Your Car
If your car will be parked for an extended period, consider using a car cover to shield it from environmental elements.
By following these maintenance tips, you can ensure that your iridescent wrapped car retains its brilliance and stays eye-catching for years to come. Regular care and attention will extend the life of the vinyl wrap and keep your car looking as stunning as the day it was wrapped.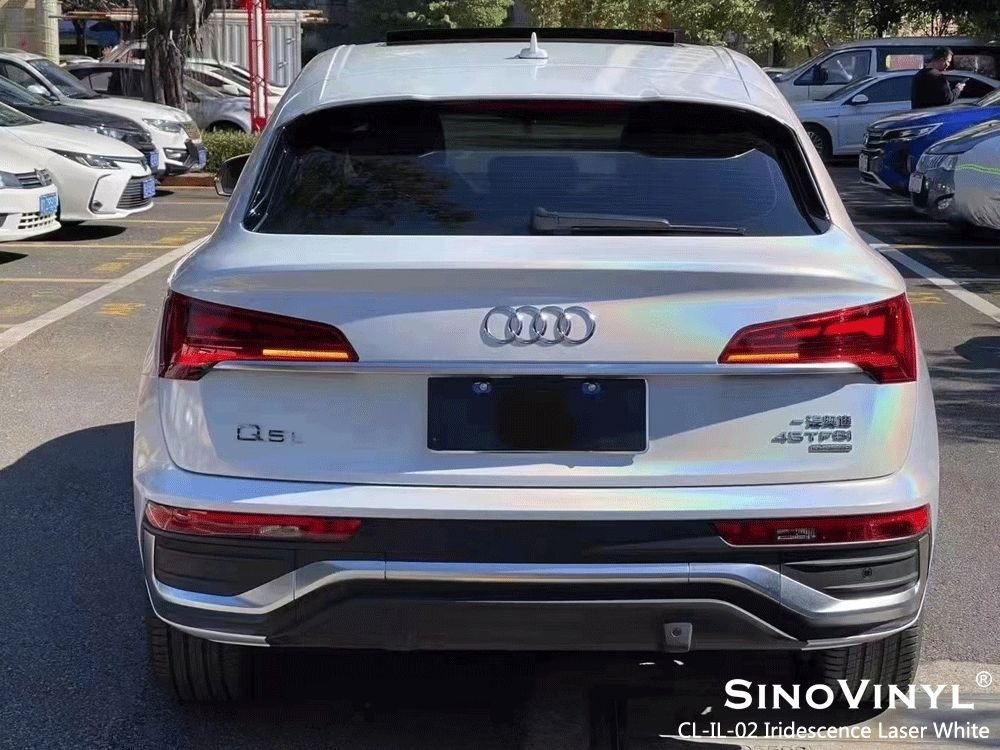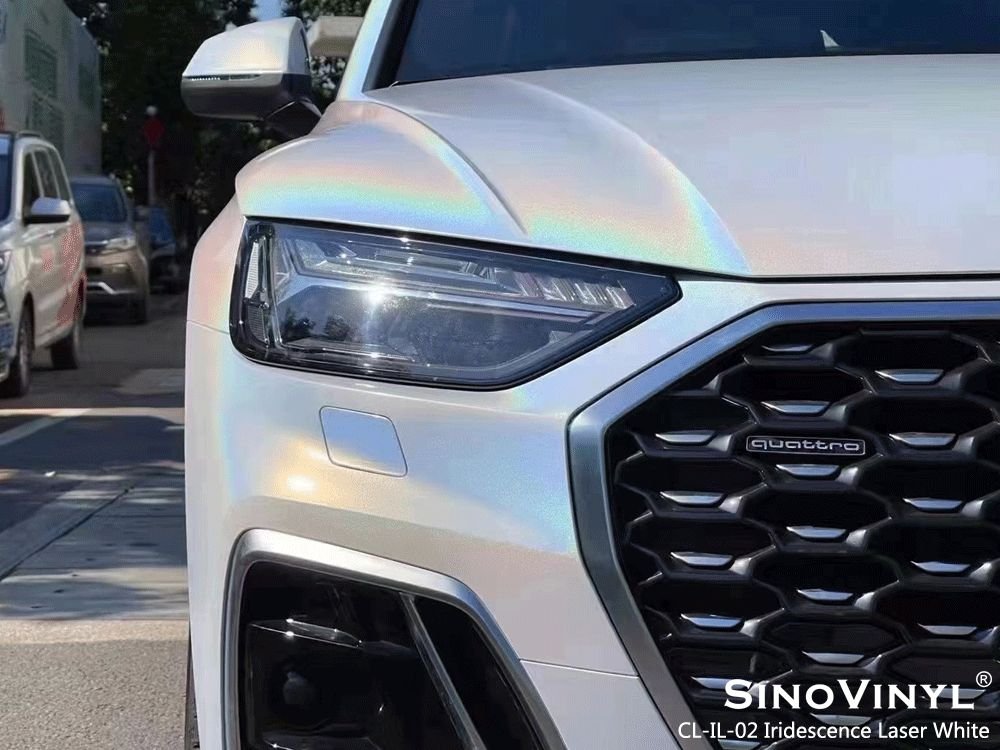 Final Words
In conclusion, delving into the enchanting world of iridescent car wrap vinyl opens up a realm of possibilities for car lovers seeking to transform their vehicles into mesmerizing masterpieces. The magical interplay of colors, the shimmering brilliance, and the unique reflective qualities of this vinyl offer an unparalleled way to unleash your car's true colors and set it apart from the crowd. Whether you opt for a subtle sheen or a bold kaleidoscope effect, the iridescent vinyl wrap grants you the opportunity to express your personality and style on four wheels. Remember, proper maintenance and care are essential to keep your iridescent wrapped car looking stunning and preserving its allure for the long haul. So, embark on this journey of visual fascination, and watch your car come alive like never before with the captivating magic of iridescent car wrap vinyl.