JB047 Car Wrap Vinyl is a premium+ calendered film designed to transform the appearance of your vehicle. With its striking black on top and blue on the bottom bubble-free PVC vinyl sticker material, this car wrap offers a unique and eye-catching look. As a professional customized graphic car wrap vinyl sticker manufacturer and wholesale supplier, Sino Group is proud to provide high-quality JB047 car wrap vinyl in a variety of options, including printed pattern auto vinyl wrap, camo vinyl car wrap, and gradient color change car wrapping film.
Super Stretch and Incredible Restorability
JB047 Car Wrap Vinyl features exceptional stretchability, allowing it to conform to various shapes and contours of your vehicle with ease. Additionally, its restorability ensures that any imperfections or creases can be easily resolved, resulting in a flawless finish.
Premium+ Performance Level
The JB047 Car Wrap Vinyl is crafted to deliver superior performance. Its 160micron (6.4mil with glue) film thickness, along with the 30μm adhesive thickness, provides durability and longevity to withstand the rigors of daily use.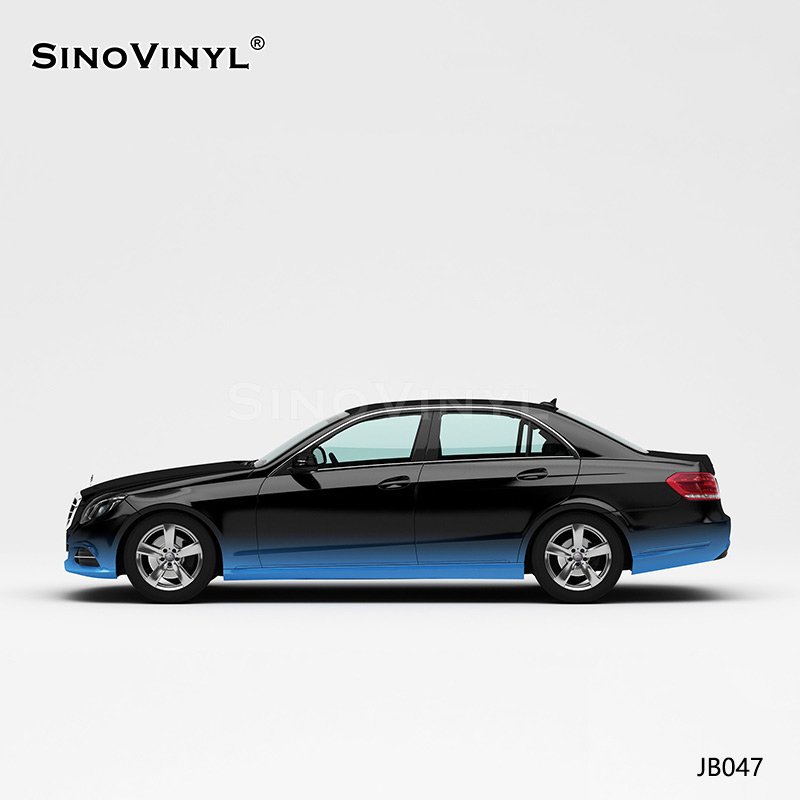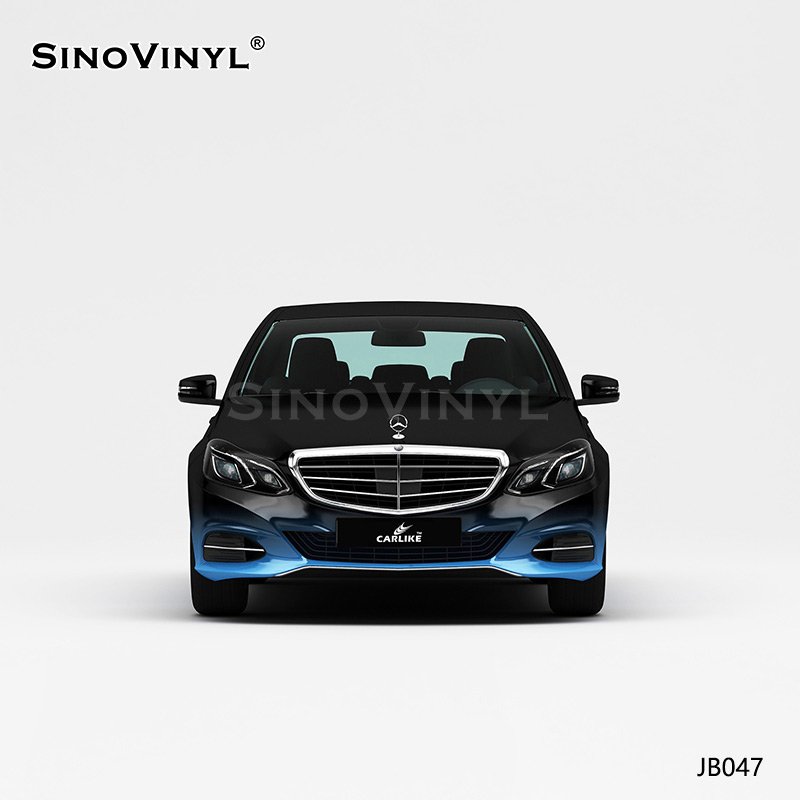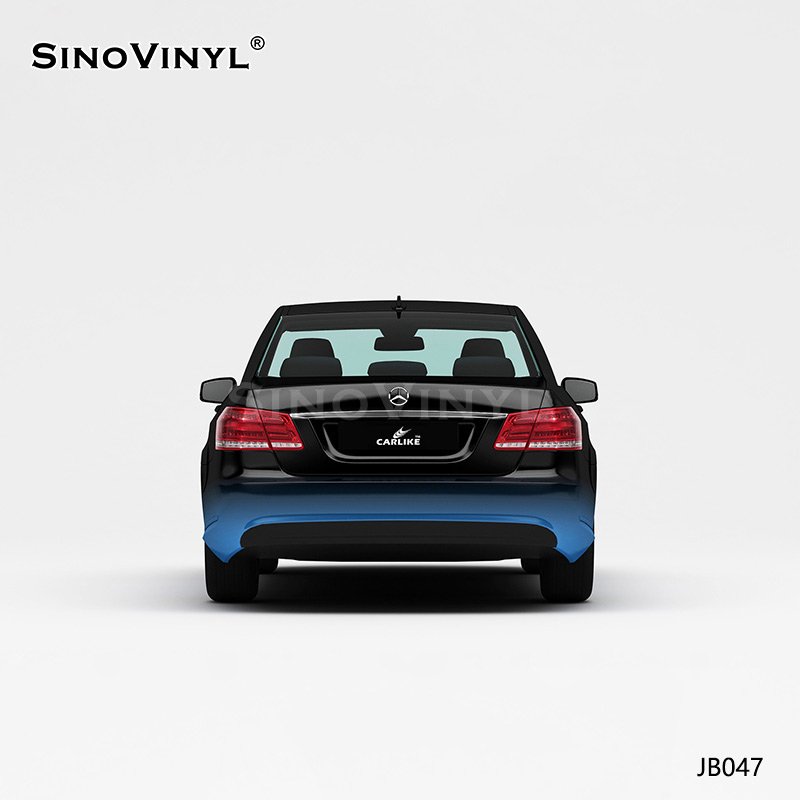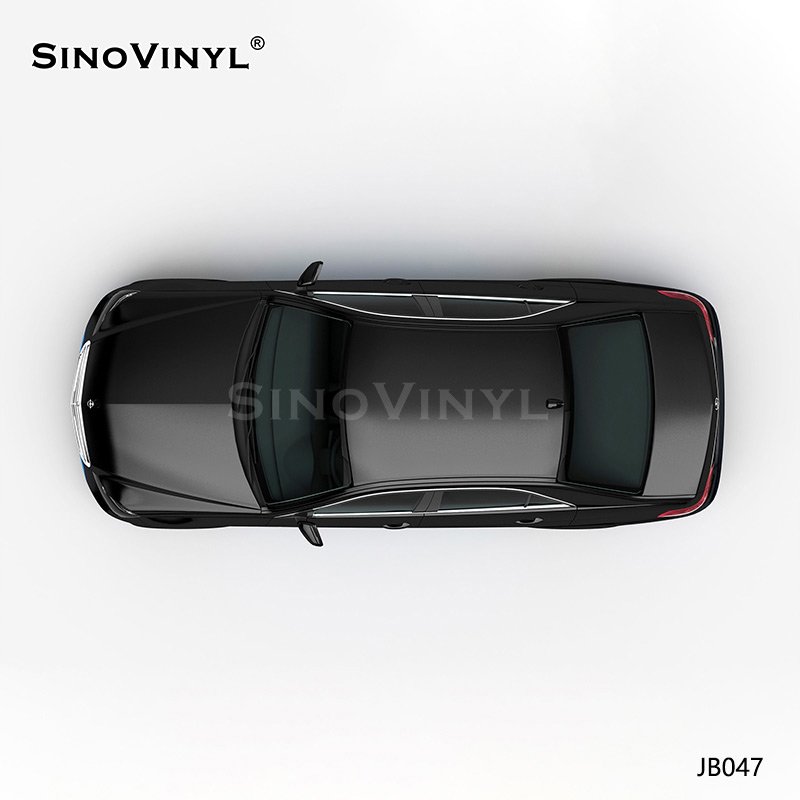 Calendered Film Production Technology
The JB047 Car Wrap Vinyl utilizes calendered film production technology, ensuring consistent quality and ease of application. This technology guarantees a smooth and uniform surface finish.
Durability and Temperature Resistance
With a durability of 1-3 years, the JB047 Car Wrap Vinyl is designed to withstand the elements. It offers temperature resistance ranging from -50°С to +130°С, making it suitable for various climates and weather conditions.
Air Bubble Free Application
JB047 Car Wrap Vinyl is engineered to be air bubble free, making installation hassle-free and providing a professional-looking result.
Customization for Your Vehicle
JB047 Car Wrap Vinyl is a special customization designed to fit your specific car model. When placing an order, please provide us with your car model information to ensure a perfect fit and seamless application.
Storage and Packaging Details
To maintain the quality of JB047 Car Wrap Vinyl, it is recommended to store it in a clean, dry place with a temperature range of +10°С to +25°С and a relative humidity of 50%. Keep it in its original packaging, away from direct sunlight. The package includes a full roll with a width of 1.52m, a length of 20m, and a weight of 16KG. The packing size measures 1.55×0.18×0.18M.
Conclusion:
JB047 Car Wrap Vinyl offers the ultimate solution for transforming and customizing your vehicle. With its super stretch and incredible restorability, premium+ performance level, and customized fit for your car model, it allows you to unleash your creativity and express your unique style. Experience the versatility and durability of JB047 Car Wrap Vinyl and turn heads on the road.