WL017 Black And Yellow Lines On A Gray Background Car Color Change Paper Supplier
"Black And Yellow Lines On A Gray Background Car Color Change Paper" appears to describe a type of vinyl wrap that is designed to change the color of a car's exterior. Let's break down the description:
1. Black and Yellow Lines: This suggests that the vinyl wrap features a design with both black and yellow lines.
2. Gray Background: The base color of the vinyl wrap is gray. This means that the overall background color of the car after applying this wrap will be gray.
3. Car Color Change Paper: This indicates that the vinyl wrap is intended to change the color of the car. Instead of undergoing a traditional paint job, the car's color is changed by applying this vinyl wrap, providing a customizable and removable alternative.
Wraps can also offer some level of protection to the underlying paint from minor scratches and UV exposure.
WL018 Gold And Platinum Embellishment Printing Customized Sticker Vinyl Car for Sale
Gold and platinum embellishment printing on customized sticker vinyl for cars involves a specialized printing process that adds luxurious and eye-catching metallic elements to vinyl stickers designed for vehicles.
Here's a breakdown of the key aspects:
1. Embellishment Printing
Embellishment printing refers to the application of decorative elements, in this case, gold and platinum, onto a surface. In this process, metallic ink or foil is used to create a reflective and metallic appearance, simulating the look of actual gold and platinum.
2. Customized Sticker Vinyl
Vinyl is a versatile and durable material often used for creating stickers, decals, and wraps for vehicles. Customized sticker vinyl for cars involves designing these stickers to fit specific vehicles, considering their dimensions, contours, and design elements.
3. Gold and Platinum Elements
Gold and platinum are associated with luxury, prestige, and elegance.
4. Process Overview
The process typically involves the following steps:
– Design: Creating a design that incorporates the desired patterns, shapes, and text that will be embellished with gold and platinum.
– Printing: The design is printed onto the vinyl using specialized inks or foils that replicate the appearance of gold and platinum.
– Embellishment: Using heat and pressure, the metallic ink or foil is transferred onto the vinyl surface. The heat causes the ink or foil to adhere to the vinyl and create a metallic finish.
– Finishing: Once the embellishment is applied, the sticker vinyl may undergo additional treatments such as lamination to protect it from UV rays, abrasion, and environmental factors.
5. Application
The customized vinyl sticker, now adorned with gold and platinum elements, is applied to the car's surface.
6. Benefits
– Aesthetic Enhancement: Gold and platinum elements add a sense of luxury and sophistication to the vehicle's appearance.
– Durability: Vinyl is known for its durability, and embellishment techniques enhance the longevity of the design.
– Attention-Grabbing: The reflective nature of metallic elements draws attention to the car and makes it more visually captivating.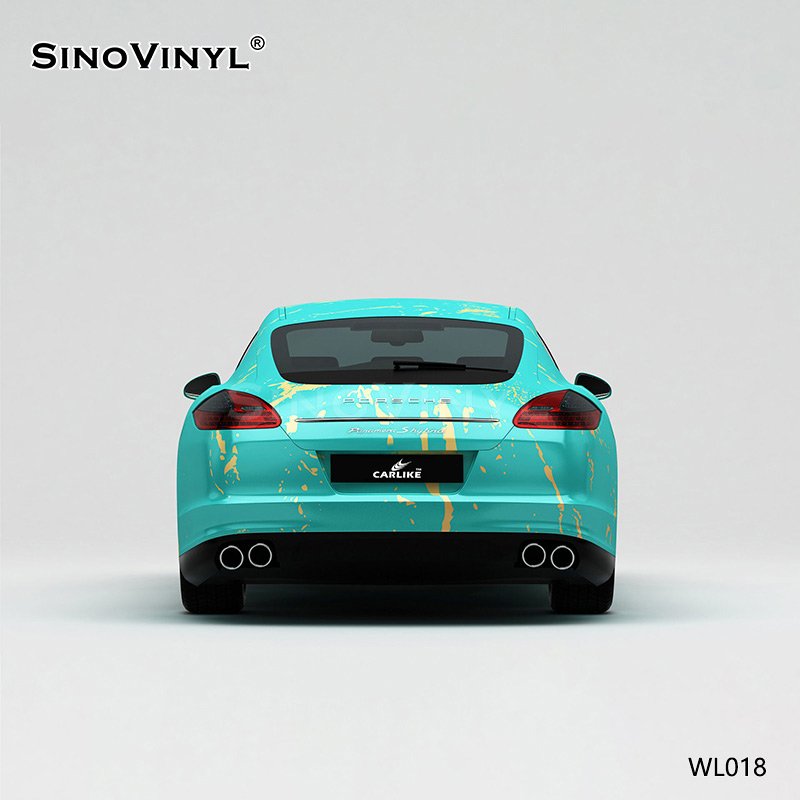 WL019 Blue-Gray Double Spell Circuit Printing Customized Vinyl Wholesale
"Blue-Gray Double Spell Circuit Printing Customized Vinyl Wholesale" appears to be a product or service offering from a company. Let's break down the elements of this phrase:
1. Blue-Gray
This likely refers to a specific color palette or shade that the vinyl comes in. Blue-gray is a color that is a mixture of blue and gray, often conveying a cool and subdued appearance.
2. Double Spell Circuit Printing
This phrase is a bit more technical. It suggests that the vinyl might have a dual-layered design with a circuit-like pattern printed on it. "Double spell" could imply a complex or intricate pattern, and "circuit printing" might refer to a design that resembles electronic circuits, possibly with fine lines and interconnected elements.
3. Customized Vinyl
This indicates that the vinyl is tailored or customized to specific preferences or requirements. Customers might have the ability to choose aspects like color, pattern, size, or other features according to their needs.
4. Wholesale
The term "wholesale" suggests that the product is being offered in larger quantities, often at a discounted price, to businesses or individuals who intend to resell or use the product in a commercial capacity.
Based on this breakdown, it seems that the product is a type of vinyl material that is designed with a blue-gray color, features an intricate double spell circuit pattern, is customizable to specific needs, and is available for purchase in larger quantities at a wholesale rate. The term "circuit printing" might imply that the vinyl could be used for electronic or tech-related applications, or it could simply refer to a visually appealing circuit-like design for decorative purposes.
If you're seeking more specific information about this product or service, it would be best to reach out to the company offering it for a detailed explanation or product specifications.