Understanding the Basics: What Is Super Gloss Car Wrap Vinyl?
Super Gloss Car Wrap Vinyl is a specialized type of vehicle wrapping material designed to provide a high-gloss, mirror-like finish to cars, trucks, and other vehicles. It is a thin, adhesive-backed film made from vinyl that can be applied to the exterior surfaces of the vehicle, such as the body panels, hood, roof, and more.
Here are the basics of what Super Gloss Car Wrap Vinyl entails:
1. Material Composition
Super Gloss Car Wrap Vinyl is typically composed of multiple layers. The top layer is a clear, glossy protective film that enhances the shine and depth of the underlying colors. Beneath the protective layer, there is a layer of colored vinyl, which can come in a wide range of colors and finishes, such as metallic, chrome, or solid colors.
2. High-Gloss Finish
As the name suggests, the defining characteristic of Super Gloss Car Wrap Vinyl is its exceptionally glossy and reflective finish. When applied correctly, the vinyl wrap creates a stunning mirror-like appearance that elevates the aesthetics of the vehicle.
3. Non-Permanent Application
Unlike traditional automotive paint, Super Gloss Car Wrap Vinyl is not a permanent modification to the vehicle's surface. It can be applied and removed without causing damage to the original paint underneath, making it an attractive option for those who want to experiment with different colors or protect their vehicle's resale value.
4. Protective Qualities
In addition to enhancing the appearance of the vehicle, Super Gloss Car Wrap Vinyl also provides a protective layer for the underlying paint. It shields the paint from minor scratches, stone chips, and exposure to UV rays, which helps maintain the car's factory finish.
5. Installation Process
Applying Super Gloss Car Wrap Vinyl requires skill and precision. The process involves cleaning and preparing the vehicle's surface, carefully laying the vinyl wrap, and using heat to conform it to the vehicle's contours. Professional installation is often recommended to achieve a seamless, bubble-free finish.
6. Maintenance and Care
While Super Gloss Car Wrap Vinyl is durable, proper maintenance is essential to keep it looking its best. Regular washing using non-abrasive techniques and products is recommended to preserve the glossy finish and protect the vinyl from contaminants.
7. Customization Options
Super Gloss Car Wrap Vinyl offers a wide range of customization options. Car owners can choose from various colors, finishes, and even specialty designs, enabling them to create a unique look for their vehicle that stands out from the crowd.
In summary, Super Gloss Car Wrap Vinyl is a versatile and visually striking vehicle wrapping material that enhances the appearance of cars while providing protection to the original paint. Its glossy, eye-catching finish has made it a popular choice for car enthusiasts and businesses seeking to elevate their branding through eye-catching vehicle graphics.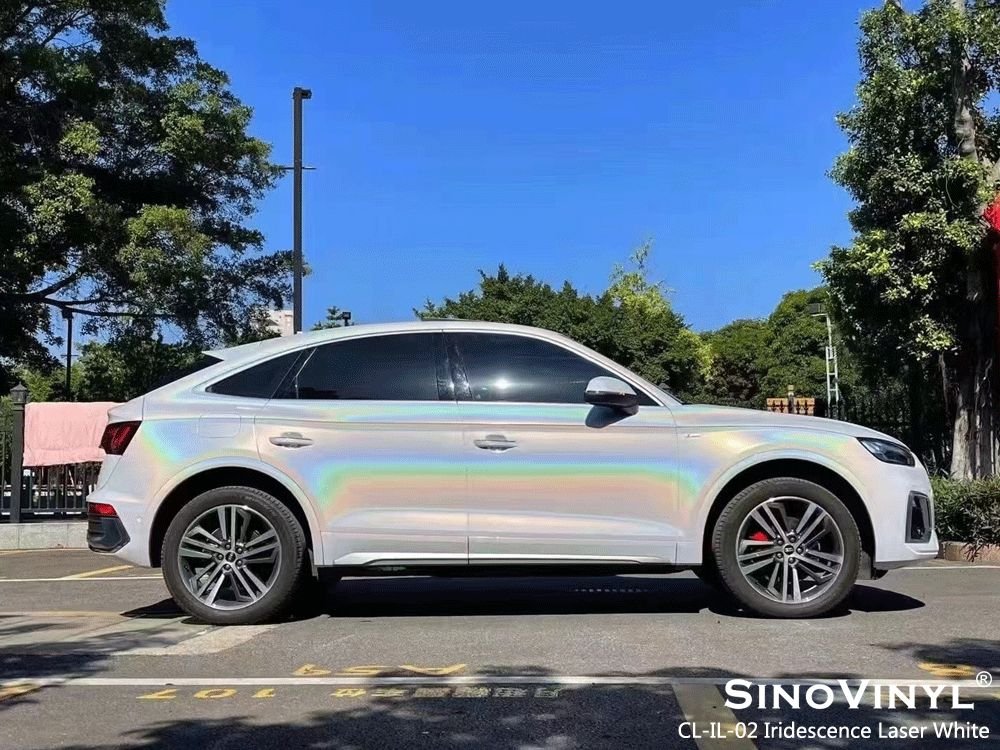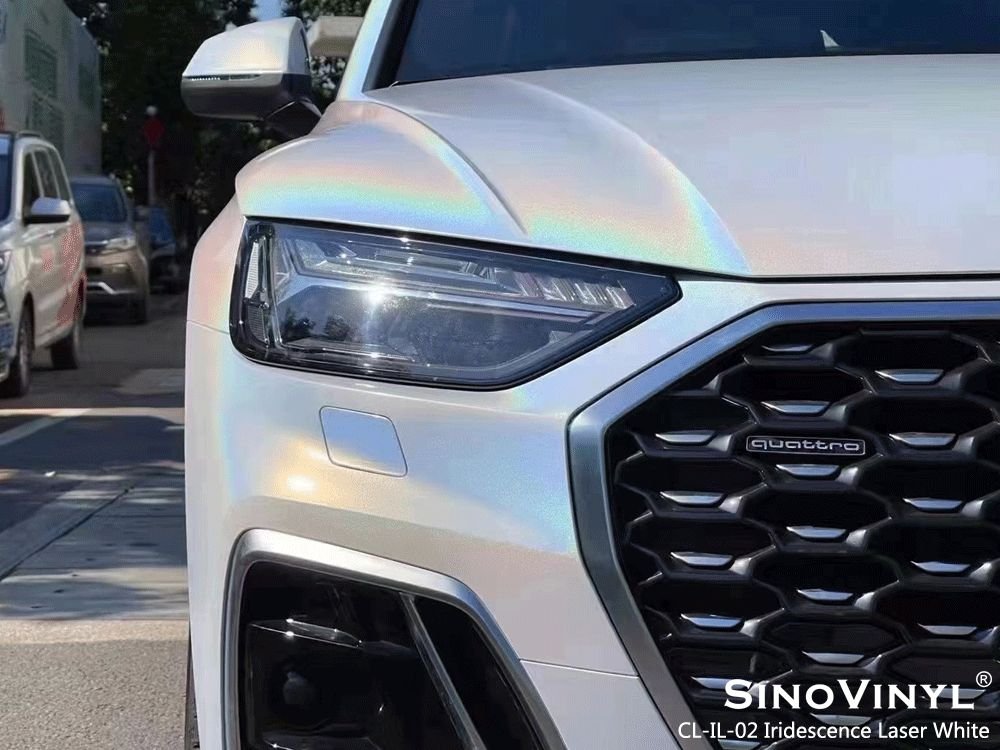 Design Trends and Inspirations for Super Gloss Car Wrap Vinyl
Design trends and inspirations for super gloss car wrap vinyl can help car owners make their vehicles stand out and stay up-to-date with the latest styles. Here are some ideas to spark creativity:
1. Chrome Accents
Incorporate chrome elements into the vinyl wrap design to add a futuristic and eye-catching touch. Chrome can be used for trim, logos, or even full panels for a stunning effect.
2. Color-Shifting Finishes
Opt for color-shifting vinyl wraps that change hues depending on the viewing angle and lighting conditions. These wraps create a dynamic and mesmerizing appearance.
3. Gradient Patterns
Create a seamless transition between two or more colors using gradient patterns. This design trend adds depth and dimension to the car's surface.
4. Geometric Shapes and Lines
Embrace modern and minimalist aesthetics with geometric patterns and clean lines. These designs can give the car a contemporary and stylish look.
5. Abstract Art
Get creative with abstract artwork on the car's surface. Express individuality and make a bold statement with unique, hand-drawn designs.
6. Carbon Fiber Texture
Mimic the high-tech appeal of carbon fiber with vinyl wraps that replicate its texture. Carbon fiber patterns add a sporty and sophisticated vibe to any vehicle.
7. Camouflage Patterns
For a rugged and adventurous appearance, consider camo-inspired vinyl wraps. They can evoke a sense of adventure and off-road capability.
8. Matte Black and Glossy Accents
Combine the elegance of matte black with strategically placed glossy vinyl accents to create a classy and refined look.
9. Vintage and Retro Vibes
Pay homage to classic car aesthetics with vintage-inspired vinyl wrap designs. Retro stripes, logos, and motifs can give your car a nostalgic charm.
10. Nature and Landscape Themes
Showcase your love for the outdoors with vinyl wraps featuring nature scenes, landscapes, or wildlife. These designs can be both calming and captivating.
11. Digital Art and Graphics
Embrace the digital age by featuring digital art and graphics on your car's exterior. Futuristic patterns and holographic elements can make your vehicle truly unique.
12. Racing Stripes
Timeless and sporty, racing stripes can instantly add a dynamic and high-performance appearance to any car.
13. Abstract Watercolor Effects
Watercolor-style vinyl wraps can create a fluid and artistic look that's sure to turn heads.
14. Neon and Fluorescent Colors
Make a bold statement with neon and fluorescent vinyl wraps. These colors are vibrant and attention-grabbing, perfect for those who want to stand out.
15. Stealth Mode
Opt for a sleek and mysterious design with a full matte black vinyl wrap. This "stealth" look can make your car appear powerful and stealthy.
Remember that personalization is key when it comes to car wrap designs. Consider your own preferences, the car's body shape, and your intended message or theme to create a design that truly represents you and your car's personality.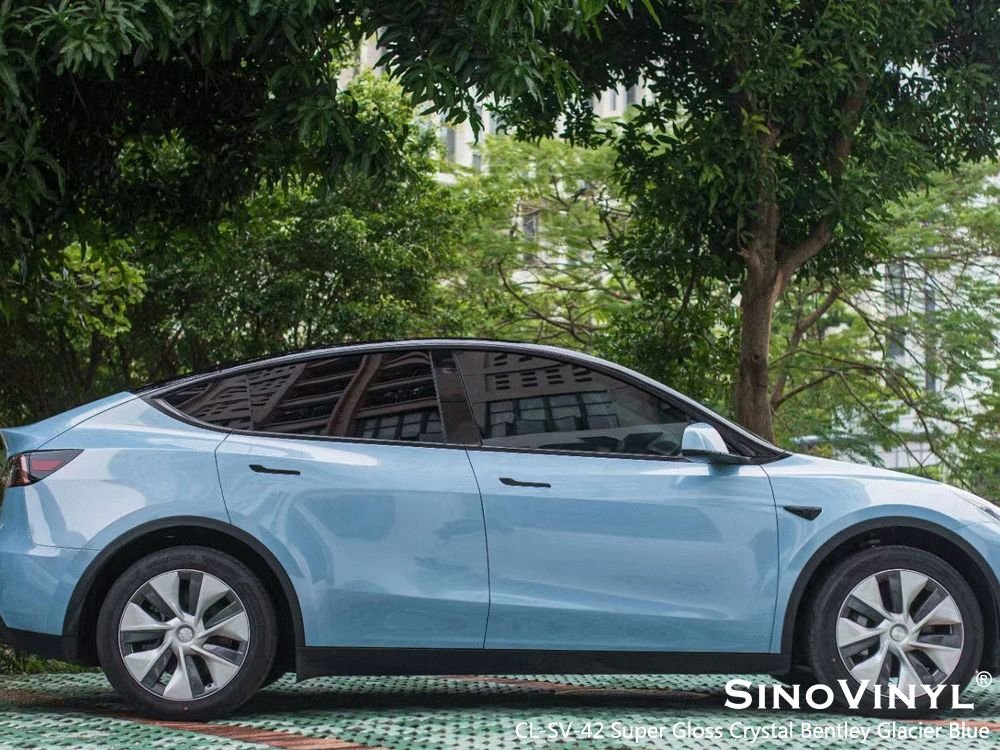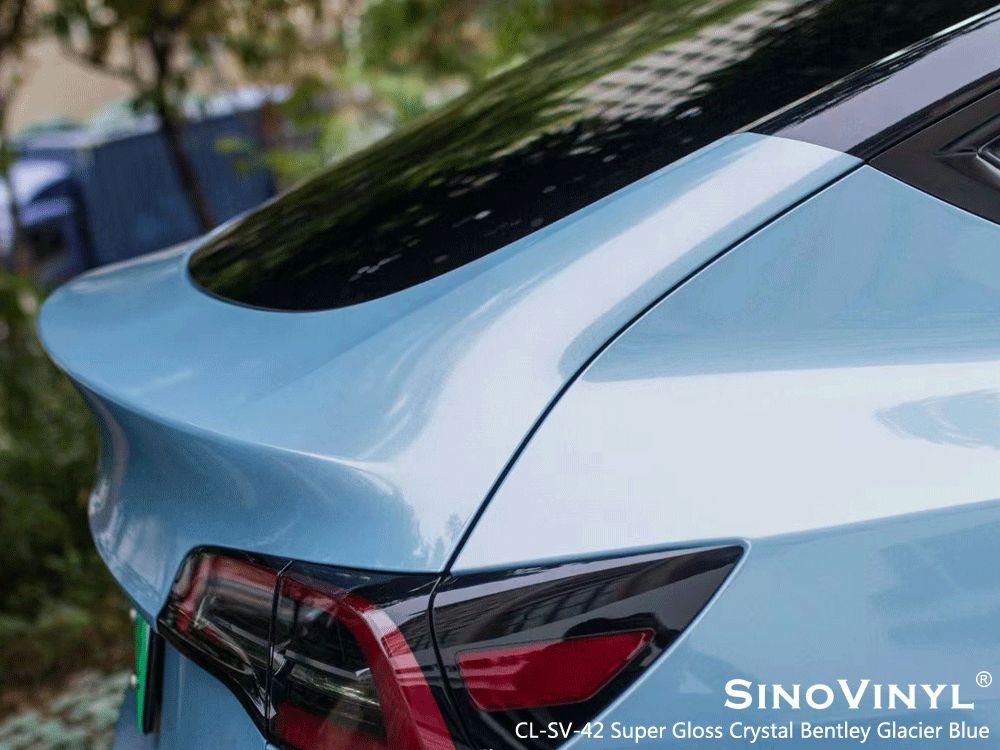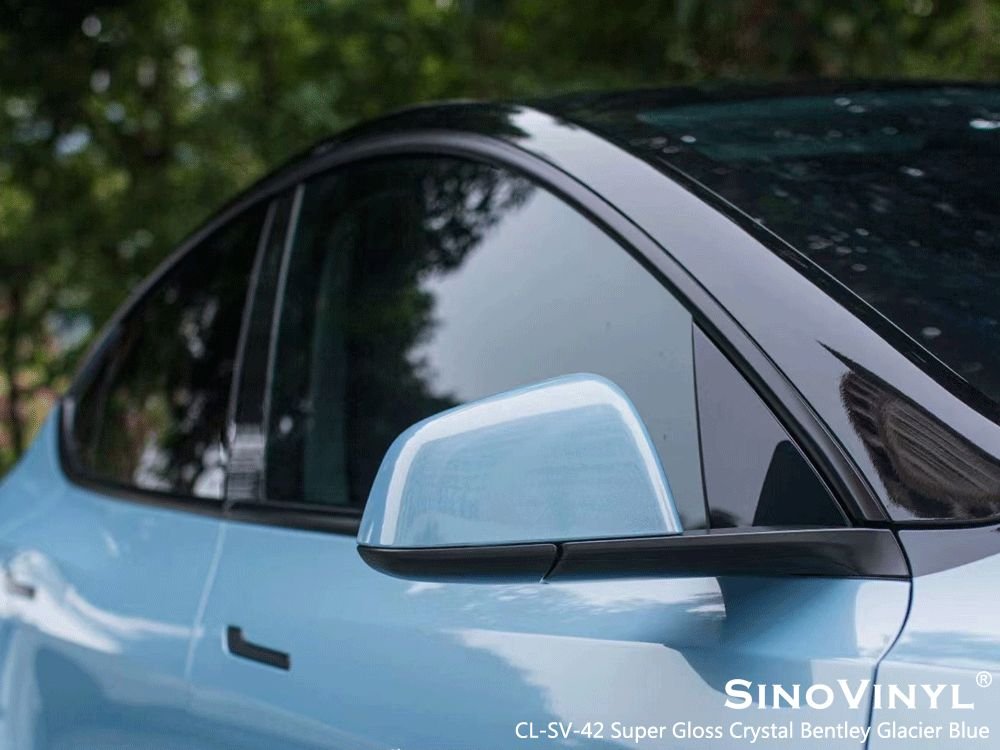 Maintenance and Care: Keeping Your Super Gloss Car Wrap in Prime Condition
Maintaining and caring for your super gloss car wrap is essential to keep it looking pristine and protect your vehicle's appearance. Here are some maintenance and care tips to help you keep your super gloss car wrap in prime condition:
1. Regular Washing
Wash your car wrap regularly using a mild detergent or car wrap-specific soap. Avoid using harsh chemicals or abrasive materials, as they can damage the vinyl. Hand washing is preferred, but if you use an automatic car wash, make sure it's a touchless system.
2. Avoid High Pressure
When washing the car wrap, use a gentle stream of water. High-pressure washing can lift the edges of the vinyl and cause damage.
3. Hand Drying
After washing, hand dry the car wrap with a soft microfiber cloth to prevent water spots and streaks. Avoid air-drying as it can leave mineral deposits on the surface.
4. Avoid Abrasive Materials
When cleaning the car wrap, use a soft sponge or microfiber cloth. Avoid scrub brushes, abrasive pads, or rough towels, as they can scratch the surface.
5. Protect from Sun and Heat
Whenever possible, park your car in a shaded area or a garage. Prolonged exposure to direct sunlight and high temperatures can degrade the vinyl and cause fading.
6. Use Sealants and Protective Sprays
Apply a protective spray or sealant designed specifically for car wraps to enhance the gloss and provide an extra layer of protection against UV rays and contaminants.
7. Avoid Petroleum-Based Products
Avoid using petroleum-based wax, polish, or cleaning products, as they can damage the vinyl. Stick to products that are recommended for vinyl wraps.
8. Handle Contaminants Promptly
Clean bird droppings, tree sap, insects, and other contaminants from the car wrap as soon as possible. These substances can bond to the vinyl and become difficult to remove if left for an extended period.
9. Protect from Chemicals
Avoid contact with gasoline, oil, brake fluid, and harsh chemicals. If any of these substances come in contact with the car wrap, rinse it off immediately.
10. Be Gentle
Be cautious when using pressure washers, snow scrapers, and similar tools near the edges of the car wrap. Applying too much force can cause the vinyl to lift or tear.
11. Inspect Regularly
Periodically inspect the car wrap for any signs of damage or lifting edges. Address any issues promptly to prevent further damage.
12. Avoid Automatic Car Wash Brushes
Automatic car washes with rotating brushes can be too harsh on the vinyl. Opt for touchless or hand wash methods instead.
By following these maintenance and care tips, you can extend the lifespan of your super gloss car wrap and keep it looking as good as new. Remember that proper care will not only protect the vinyl but also preserve your car's original paint underneath.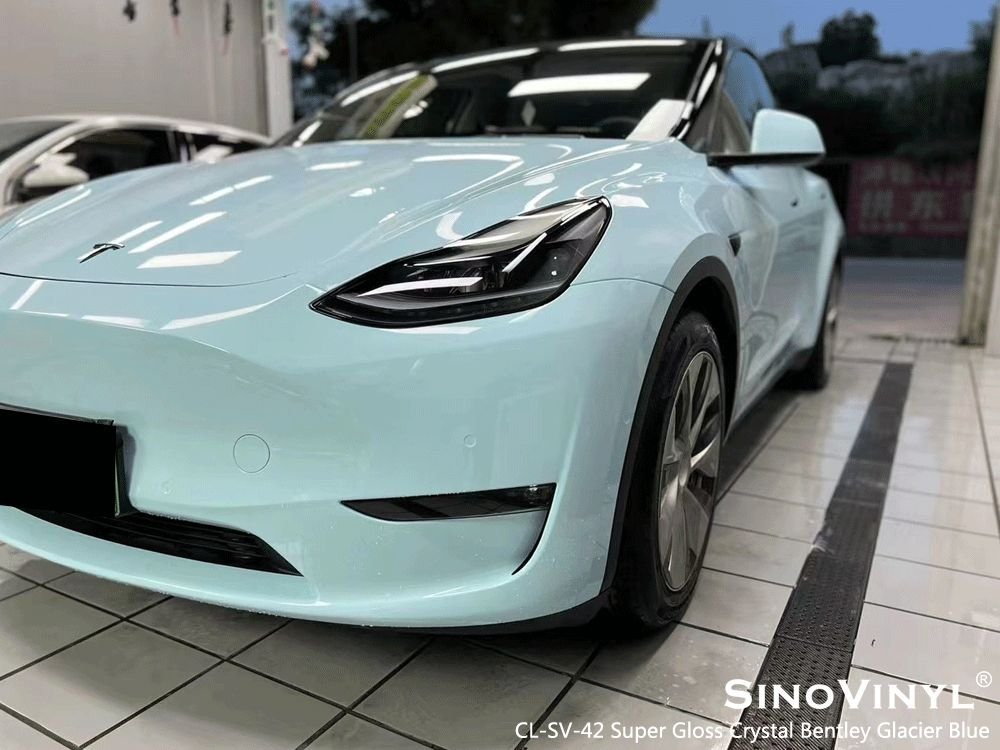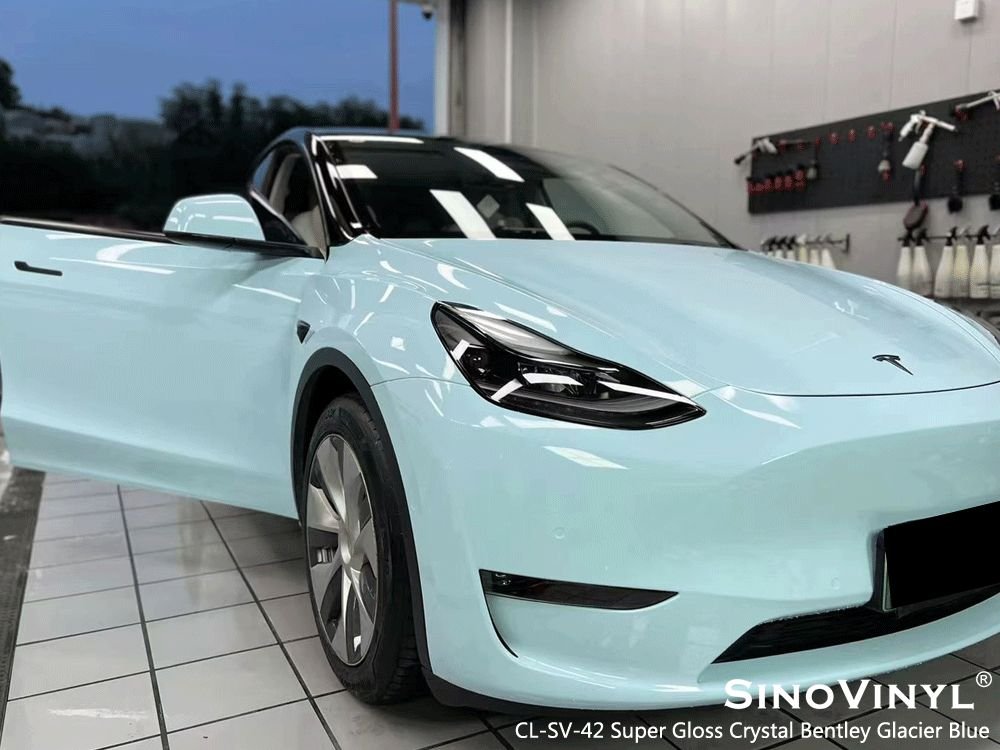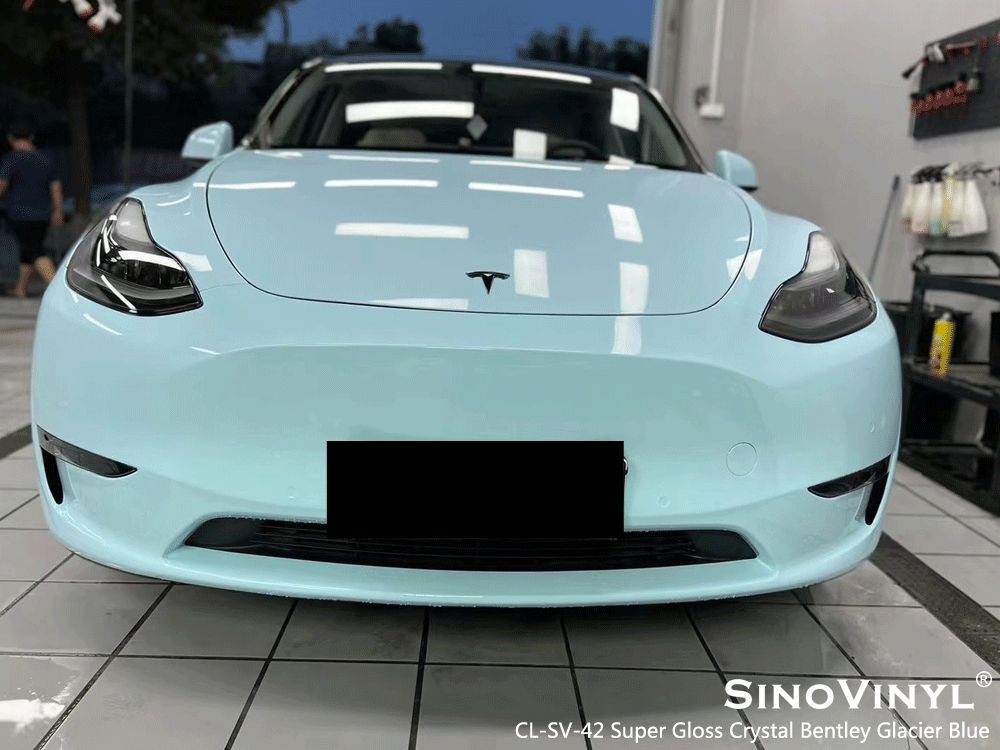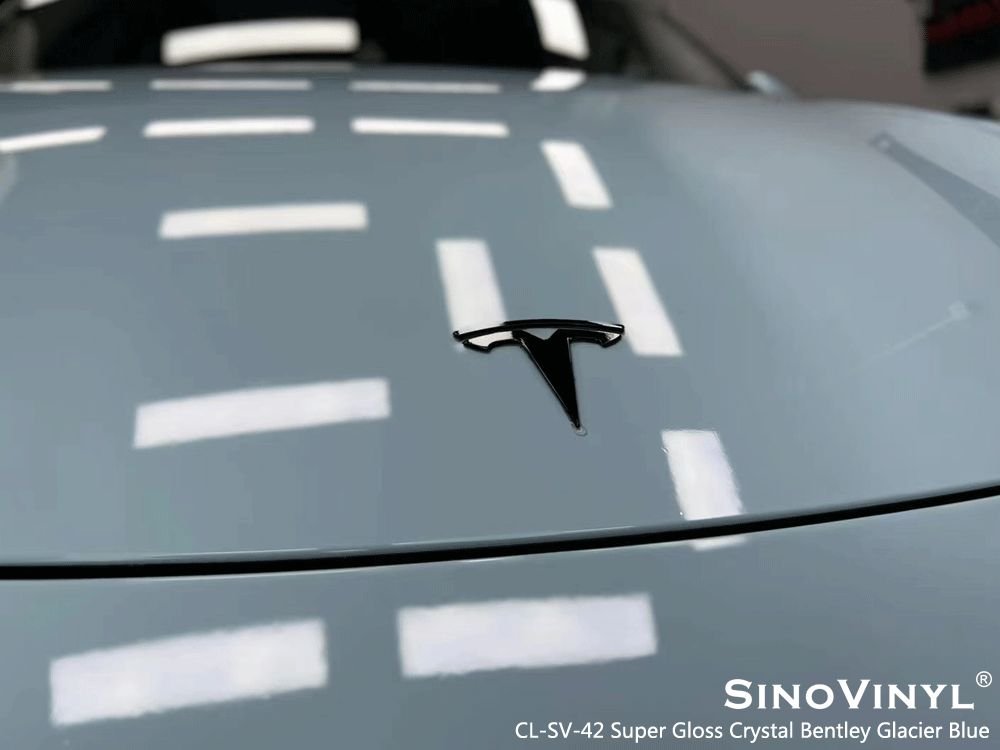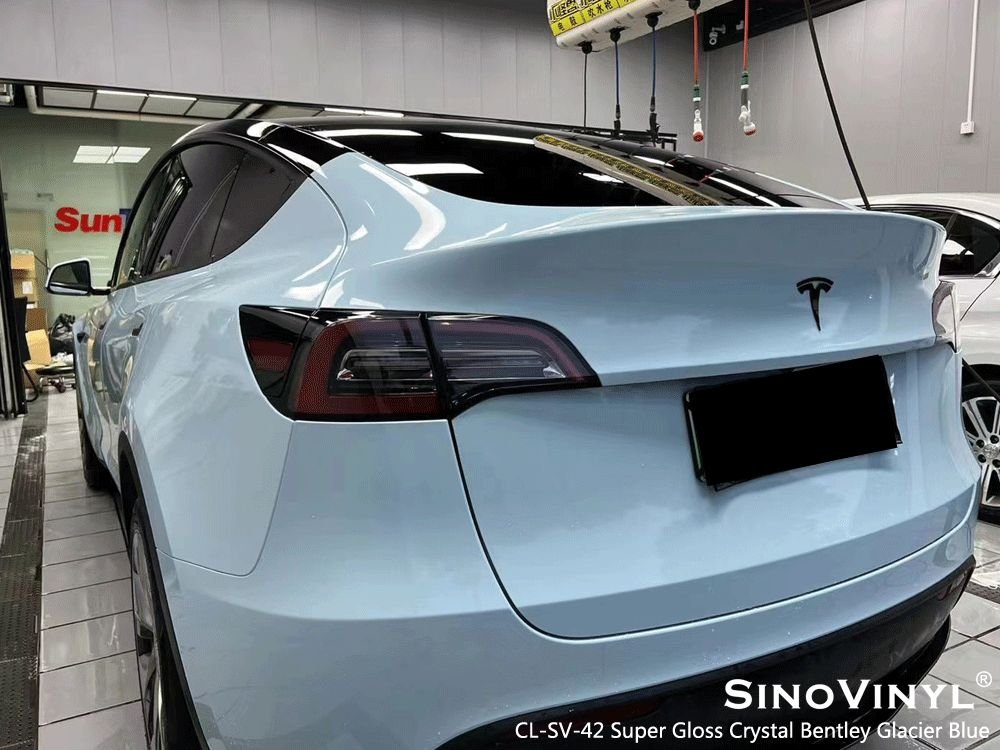 Real-Life Success Stories: Car Owners' Experiences with Super Gloss Vinyl Wraps
Here are some real-life success stories of car owners' experiences with super gloss vinyl wraps:
1. John's Jaw-Dropping Sports Car Makeover
John, an avid car enthusiast, wanted to give his sports car a unique and head-turning appearance. He opted for a super gloss vinyl wrap in a stunning metallic blue finish. The transformation was remarkable, instantly enhancing the car's aesthetic appeal. Whenever John takes his car for a spin, people can't help but stop and admire its mesmerizing gloss and flawless finish.
2. Sarah's Business Boost with Brand-Wrapped Fleet
Sarah, a small business owner, decided to take advantage of the advertising potential of super gloss vinyl wraps. She wrapped her company's fleet of delivery vehicles with the company logo and contact information. The result was not only a cohesive and professional look but also increased brand visibility as the vehicles traversed through the city. The eye-catching fleet became a mobile advertisement, leading to an uptick in customer inquiries and new clients.
3. Family Fun with a Creative Car Wrap
The Martinez family wanted to personalize their family minivan and make it stand out during their road trips and family outings. They chose a super gloss vinyl wrap with a custom design featuring vibrant colors, patterns, and their family name. The unique wrap made the minivan instantly recognizable, and it became a symbol of their adventurous spirit. The family enjoyed countless compliments and started a tradition of capturing photos of their wrapped minivan at every memorable destination they visited.
4. Jake's Car Show Champion
Jake, a car show enthusiast, was determined to win the top prize at a prestigious car show event. He invested in a high-quality super gloss vinyl wrap with a flashy chrome finish. The wrap highlighted the car's contours and beautifully accentuated its sleek lines. The effort paid off when Jake's car stole the show, leaving other participants and attendees in awe of the mesmerizing chrome effect.
5. Restoring Vintage Beauty
Alex, an antique car collector, acquired a vintage car that needed extensive restoration work. While the car's body was in good condition, the paint had faded over the years. Instead of repainting, which could affect the car's authenticity, Alex opted for a super gloss vinyl wrap that perfectly matched the original paint color. The wrap not only restored the car's former glory but also provided added protection, preserving its value for years to come.
6. Eco-Friendly Wrap Choice
Jennifer, an environmentally conscious car owner, wanted to protect her car's paint while minimizing her environmental impact. She chose a super gloss vinyl wrap made from eco-friendly materials and applied by a professional installer using eco-conscious techniques. Not only did the wrap protect her car from scratches and UV damage, but Jennifer also felt good about her sustainable choice.
These real-life success stories demonstrate the versatility and impact of super gloss vinyl wraps in various scenarios. From aesthetic transformations to marketing advantages and preservation of classic cars, the magic of super gloss vinyl wraps has left car owners delighted and satisfied with their choices.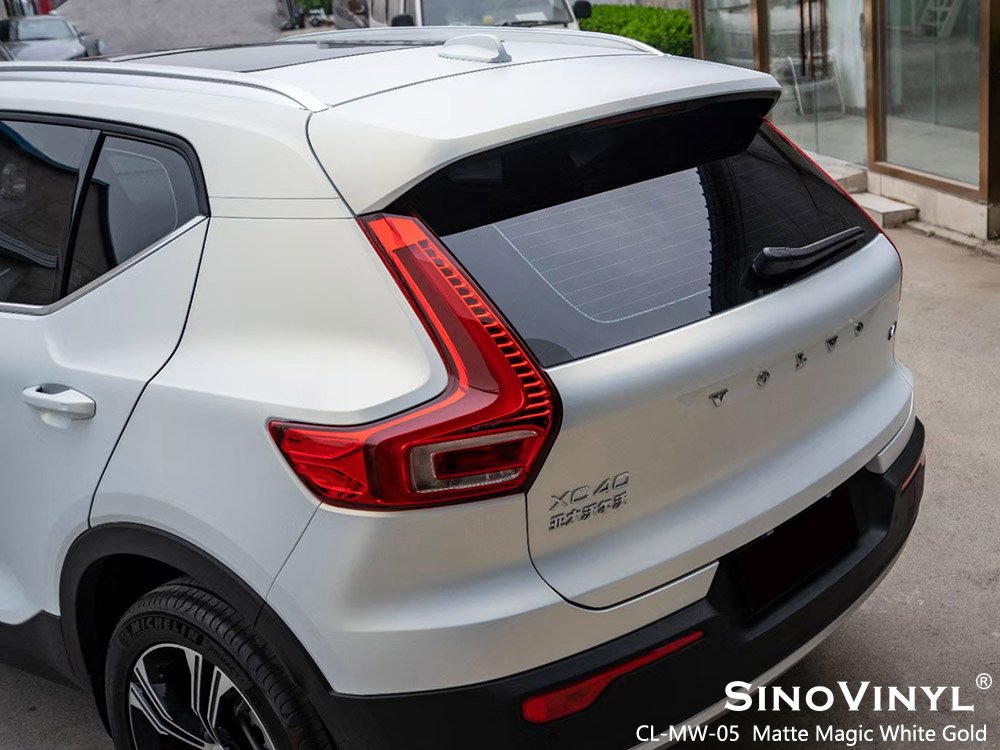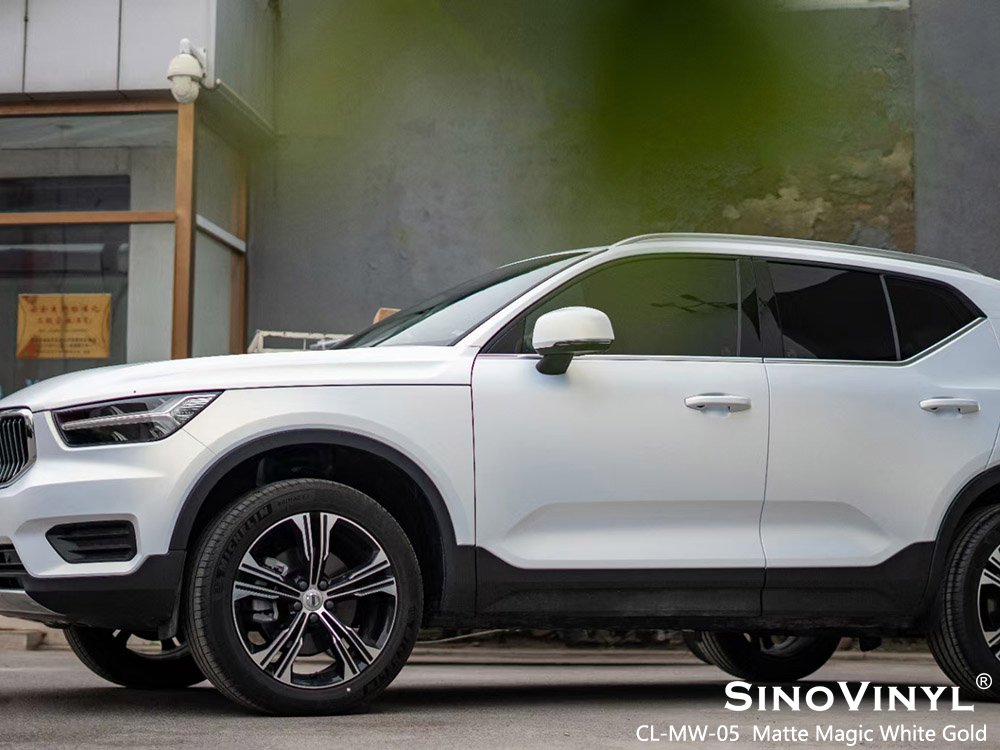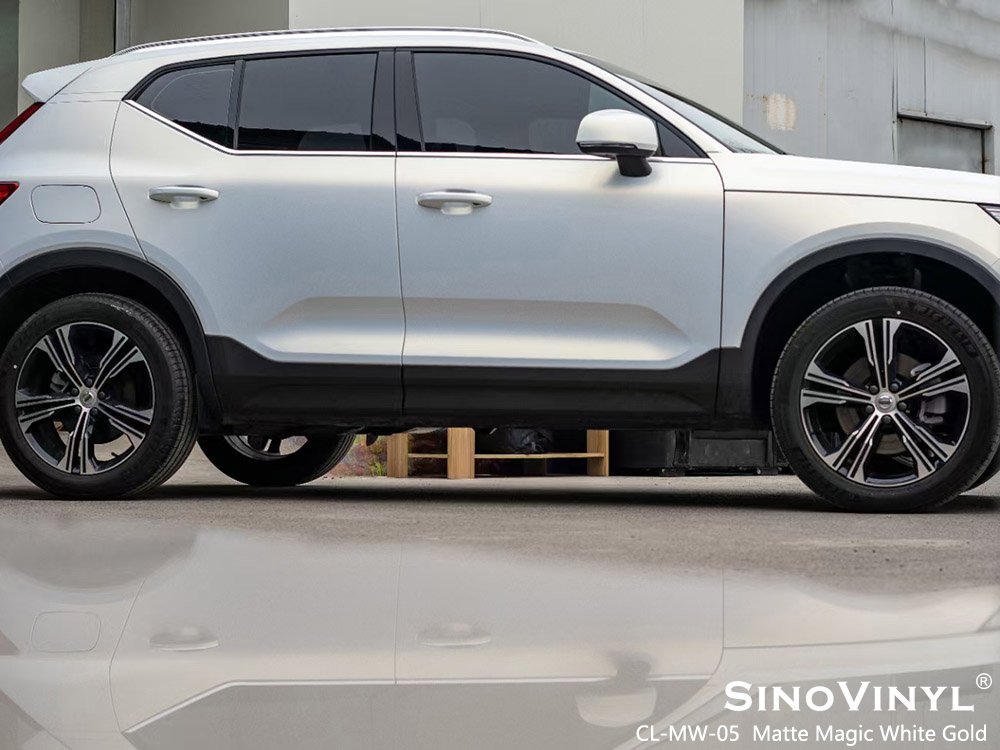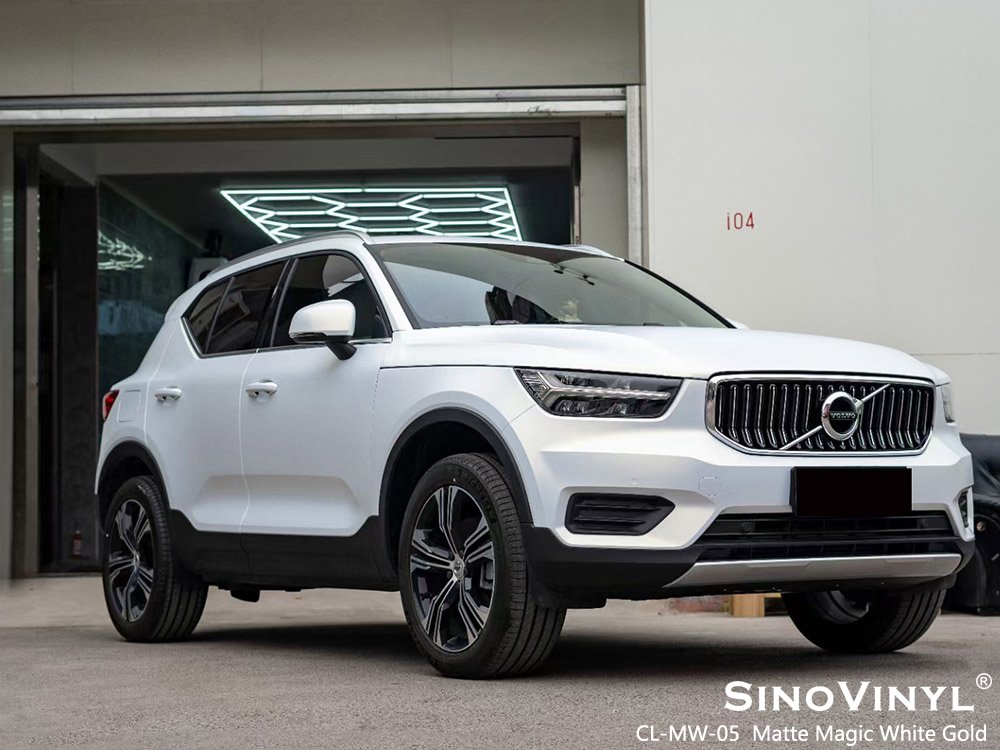 Final Words
In conclusion, the world of automotive customization has found its secret weapon: the magic of super gloss car wrap vinyl. This remarkable material has revolutionized how car owners can elevate their rides to new heights, unleashing their vehicles' true potential. From jaw-dropping aesthetics that turn heads wherever you go, to the protection that keeps your car looking showroom-ready, the possibilities are endless. Whether you seek to express your unique style, boost your business's visibility, or preserve the timeless charm of a vintage gem, super gloss car wrap vinyl has proven its prowess. Embrace the transformative power of this cutting-edge technology, and let your car shine like never before. Step into the realm of automotive enchantment, where creativity meets practicality, and explore the world of super gloss car wrap vinyl – a journey that will leave you in awe of the newfound magic gracing your four-wheeled companion. Unleash your car's potential today!