Different Shades of Purple for Vinyl Wraps
When it comes to purple vinyl wraps, there's a wide range of shades to choose from. Here are some popular shades of purple for vinyl wraps:
1. Lavender
– A soft, pale purple with a hint of pink.
2. Lilac
– A light, delicate purple with a touch of blue.
3. Amethyst
– A rich, medium-toned purple with a slight reddish undertone.
4. Violet
– A vibrant, medium-dark purple with a balanced mix of red and blue.
5. Plum
– A deep, dark purple with a reddish undertone.
6. Indigo
– A dark, almost blue-purple with a deep, mysterious feel.
7. Grape
– A bold, medium-dark purple with a balanced mix of red and blue.
8. Mauve
– A muted, dusty purple with a touch of pink.
9. Eggplant
– A dark, almost blackish purple with a rich, velvety feel.
10. Royal Purple
– A vibrant, bright purple with a regal and majestic look.
11. Deep Purple
– A dark, intense purple that's bold and attention-grabbing.
12. Mulberry
– A reddish-purple with a touch of brown, creating a warm and inviting shade.
When choosing a shade of purple for your car vinyl wrap, consider factors like the style of your car, your personal preferences, and the overall look you're aiming for. Remember, lighting conditions can also affect how the color appears, so it's a good idea to see swatches in different lighting environments before making a decision.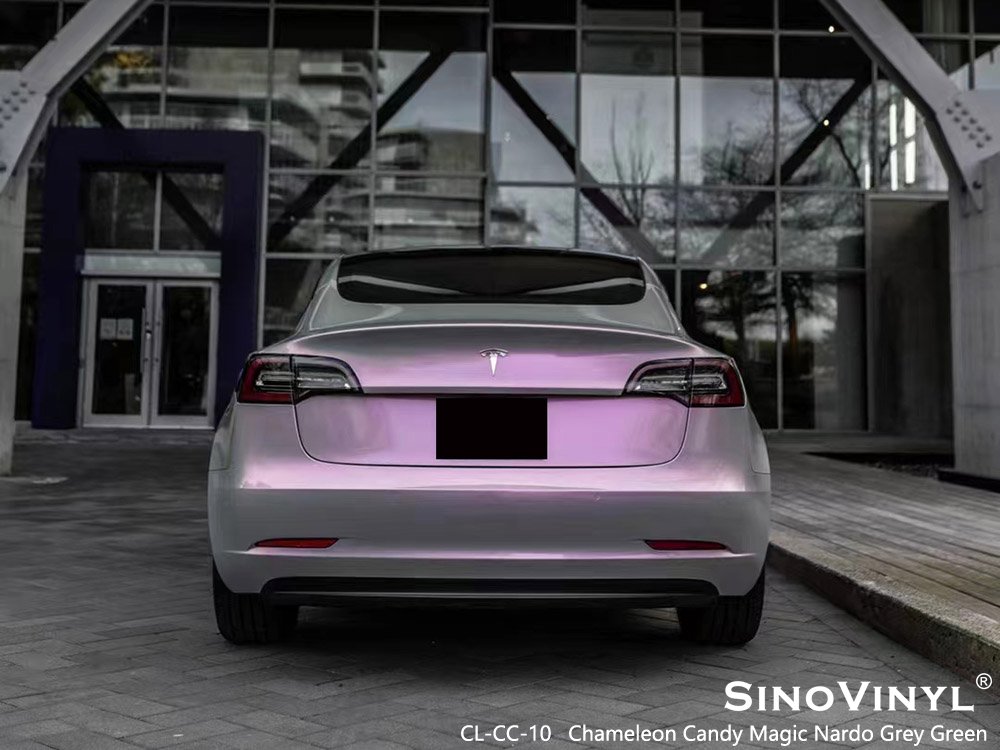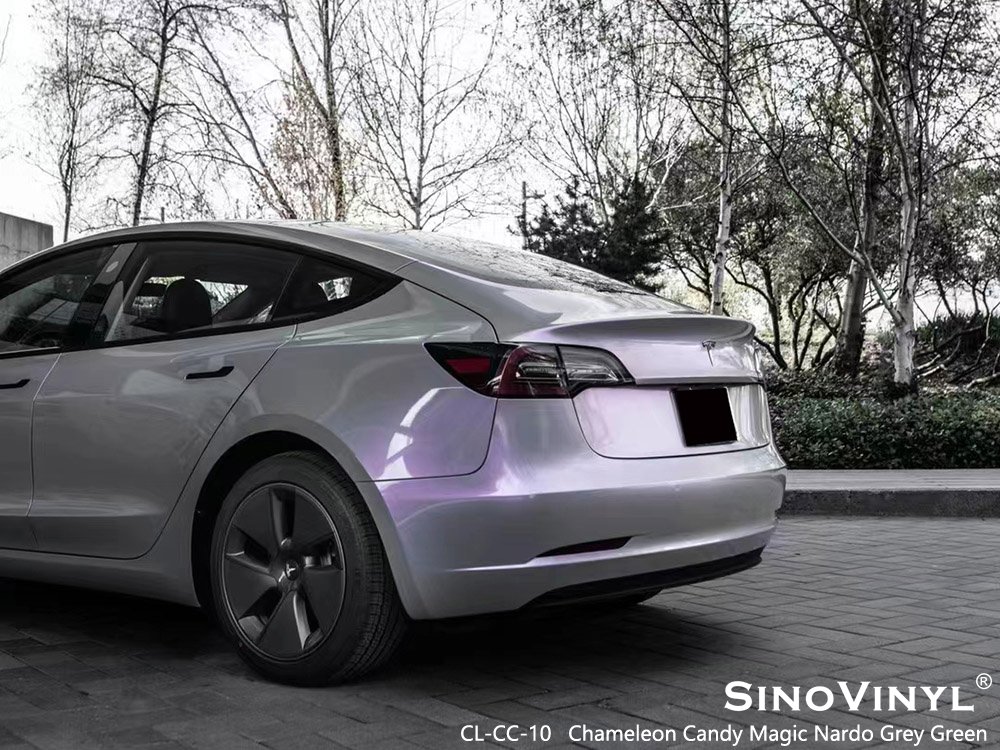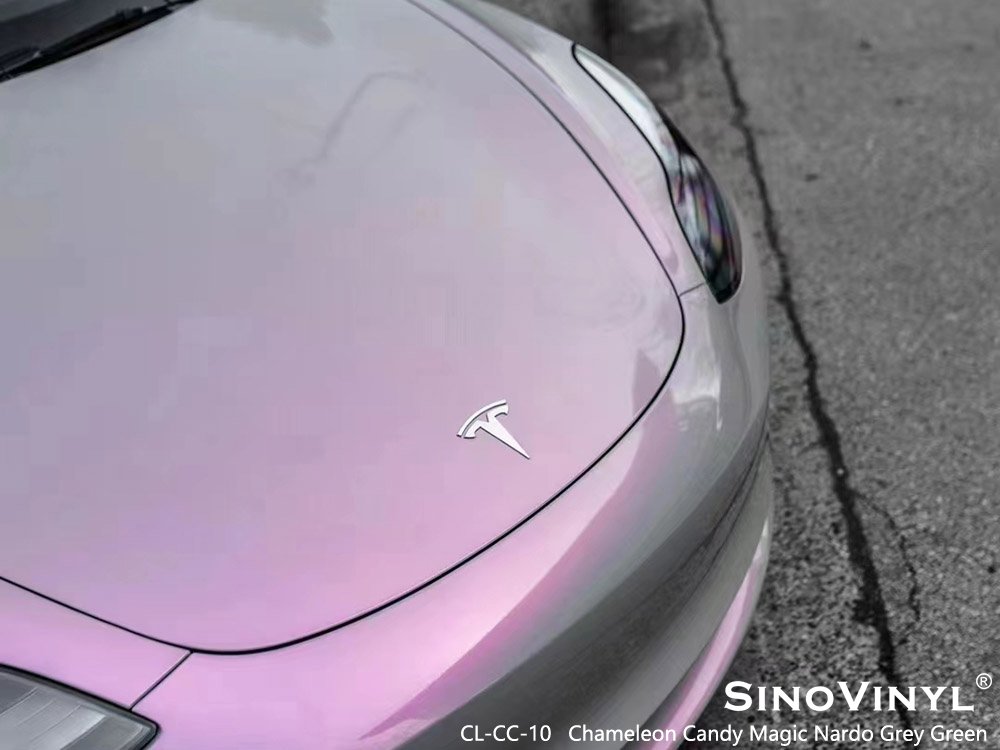 Maintaining and Cleaning a Purple Vinyl Wrap
Here are some tips, including best practices and products/techniques to avoid:
Best Practices for Maintaining and Cleaning a Purple Vinyl Wrap
1. Regular Washes
Wash your wrapped car regularly to remove dirt, dust, and other contaminants. Aim for at least once a week or more frequently if your car is exposed to harsh environmental elements.
2. Use a Mild Soap or Dedicated Wrap Cleaner
Opt for a pH-neutral car wash soap or a cleaner specifically designed for vinyl wraps. Avoid harsh or abrasive chemicals that can damage the vinyl.
3. Hand Washing is Preferred
Use a soft, non-abrasive sponge or microfiber cloth to wash the car by hand. Avoid automatic car washes with harsh brushes, as they can cause scratches.
4. Rinse Thoroughly
Before you start washing, give the car a thorough rinse to remove loose dirt and debris. This helps prevent scratching during the wash.
5. Pat Dry with a Microfiber Cloth
After washing, use a clean, soft microfiber cloth to pat the car dry. Avoid rubbing vigorously, as this can cause friction and potentially damage the wrap.
6. Avoid Using Hot Water
Using hot water can soften the adhesive on the vinyl wrap, potentially causing it to peel or lift. Stick to lukewarm water for washing.
7. Spot Clean as Needed
Address bird droppings, tree sap, or other contaminants promptly. Use a specialized cleaner designed for vinyl wraps to gently remove these substances.
8. Apply a Sealant or Wax (if recommended)
Some vinyl wraps benefit from a protective sealant or wax.
9. Store Indoors or Under Cover
Whenever possible, park your car in a garage or under cover to protect it from harsh weather conditions, UV rays, and other environmental factors that can degrade the wrap.
Products and Techniques to Avoid
1. Avoid Pressure Washers
High-pressure washers can force water and contaminants under the edges of the wrap, potentially causing it to lift or peel.
2. Avoid Gasoline or Oil-Based Products
These can cause the vinyl to deteriorate, leading to discoloration or deterioration of the material.
3. Avoid Excessive Heat
Do not use hot water or steam for cleaning, and avoid parking near open flames or heat sources, as excessive heat can soften the adhesive.
Remember to always follow the manufacturer's recommendations for cleaning and maintaining your specific type of vinyl wrap.