Advantages of Using Glossy Car Wrap Vinyl for Vehicle Upgrades
Using glossy car wrap vinyl for vehicle upgrades offers several advantages, making it a popular choice among car enthusiasts and businesses alike. Here are some of the key benefits:
1. Enhanced Aesthetics
Glossy car wrap vinyl can instantly transform the appearance of a vehicle, giving it a sleek and luxurious look. The high-gloss finish reflects light, making the car shine and stand out on the road.
2. Paint Protection
The vinyl acts as a protective layer over the car's original paint, shielding it from minor scratches, chips, and UV damage. This helps maintain the car's resale value by preserving the factory finish.
3. Versatility in Design
Glossy car wrap vinyl comes in a wide range of colors and finishes, offering endless possibilities for customization. It allows for unique designs, patterns, and branding options that may be challenging or expensive to achieve with traditional paint.
4. Easy Installation and Removal
Professional installation of car wrap vinyl is relatively quick, minimizing downtime for the vehicle. Moreover, when it's time for a change, the vinyl can be removed without damaging the car's original paint, making it a flexible and temporary upgrade solution.
5. Cost-Effective
Compared to a full paint job, using glossy car wrap vinyl is more budget-friendly. It can achieve a similar high-quality appearance without the labor-intensive and costly process of repainting.
6. Advertisement and Branding
For businesses, car wrap vinyl offers a mobile advertising platform. Companies can have their logos, branding, and promotional messages displayed on their vehicles, effectively reaching a broader audience as they drive around.
7. Residue-Free Removal
When the vinyl is professionally removed, it leaves no sticky residue behind, maintaining the vehicle's original appearance.
8. Durability
High-quality car wrap vinyl is designed to withstand harsh weather conditions, including rain, sun exposure, and even light abrasions, ensuring that the vehicle's appearance stays pristine for an extended period.
9. Easy Maintenance
Cleaning glossy car wrap vinyl is simple and requires only regular car washing practices. The smooth surface resists dirt and grime buildup, making maintenance hassle-free.
10. Experimentation without Commitment
Car wrap vinyl allows owners to experiment with different colors and styles without permanently altering the vehicle's appearance. It gives the freedom to change the design whenever desired.
Overall, glossy car wrap vinyl offers an attractive and cost-effective option for upgrading a vehicle's appearance while providing added protection to the original paint. Whether for personalization, advertising, or aesthetics, it's a versatile solution for car lovers and businesses alike.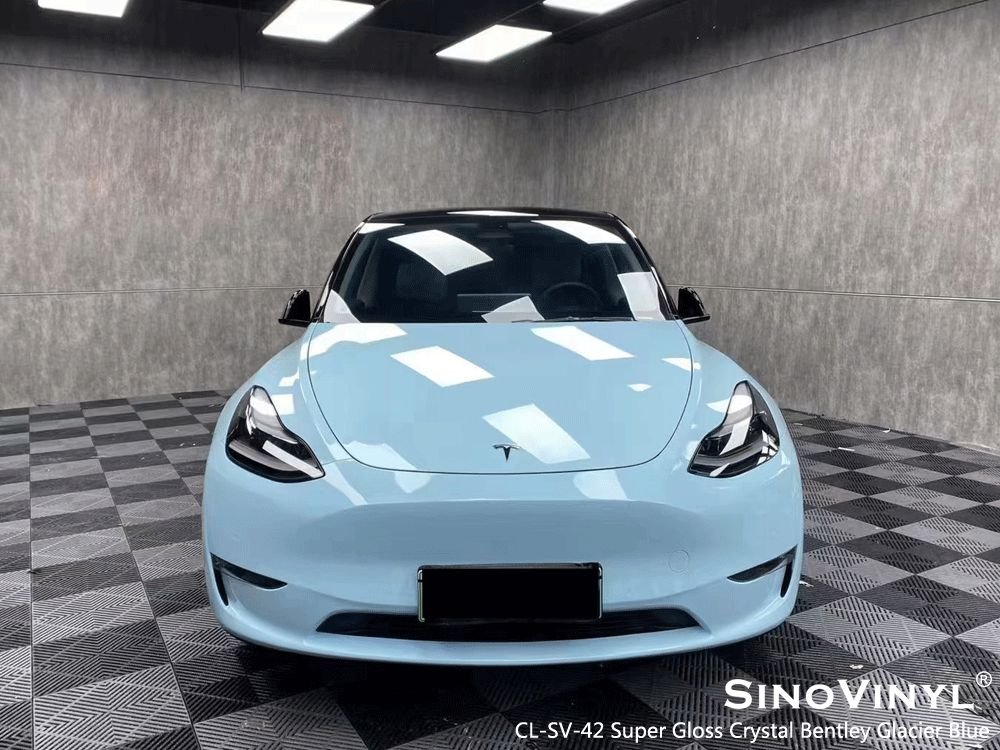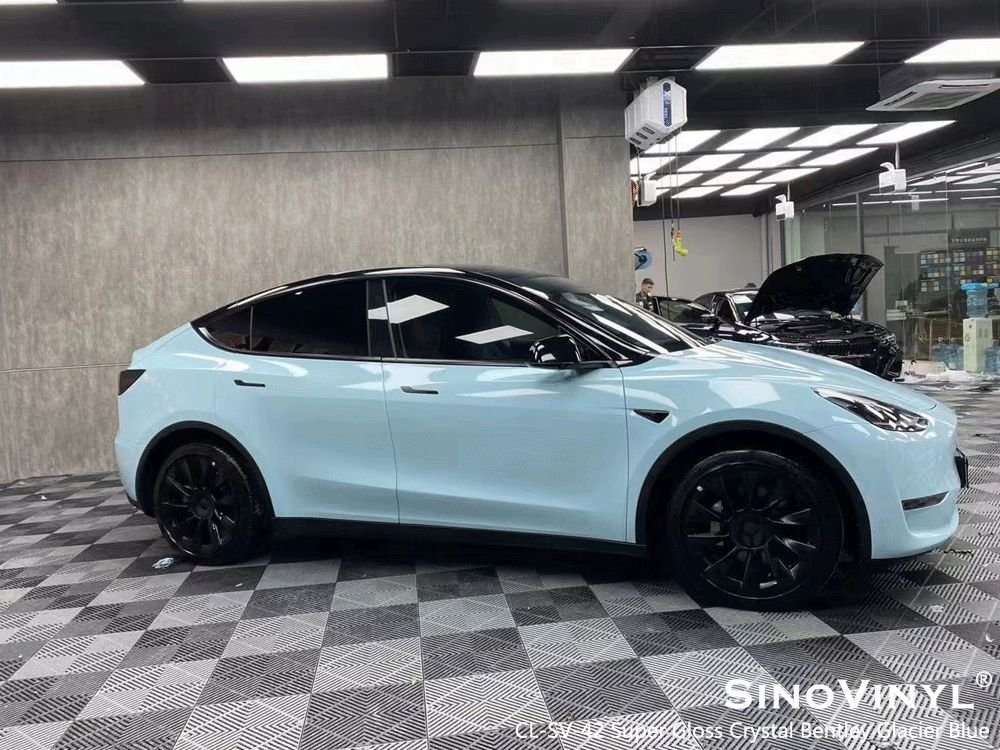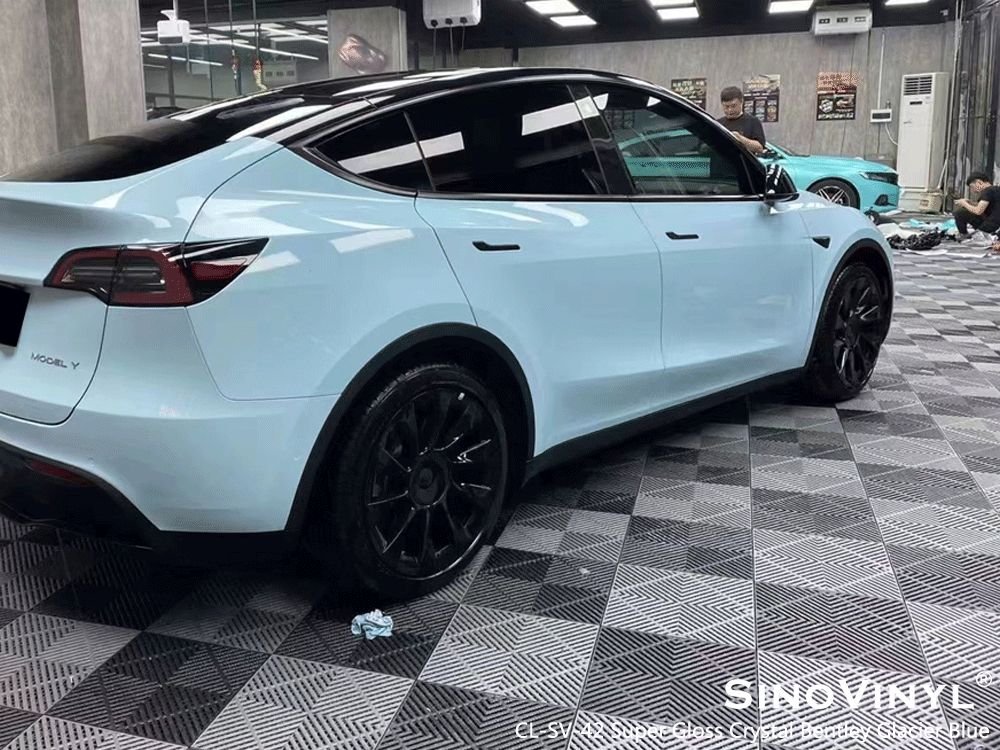 Different Types and Finishes of Glossy Car Wrap Vinyl
Glossy car wrap vinyl comes in various types and finishes, each offering unique characteristics and visual effects. Here are some of the different types and finishes of glossy car wrap vinyl:
1. High-Gloss Finish
This is the most common and popular type of glossy car wrap vinyl. It provides a vibrant, mirror-like shine that enhances the car's appearance and reflects light beautifully.
2. Metallic Finish
Metallic glossy car wrap vinyl contains metallic flakes that create a stunning, shimmering effect when exposed to light. It adds a touch of luxury and uniqueness to the vehicle's finish.
3. Chrome Finish
Chrome glossy car wrap vinyl offers a highly reflective, mirror-like surface that mimics the appearance of real chrome. It gives the car a futuristic and eye-catching look.
4. Color-Shifting Finish
Also known as chameleon or iridescent finish, this type of glossy car wrap vinyl changes color depending on the angle of view and lighting conditions. It creates a mesmerizing and dynamic effect.
5. Candy Finish
Candy glossy car wrap vinyl provides a deep, translucent color with a high-gloss shine, resembling the appearance of candy or lollipop. It adds depth and richness to the car's finish.
6. Pearl Finish
Pearl glossy car wrap vinyl features tiny pearl-like particles that produce a subtle, lustrous effect. It adds elegance and sophistication to the vehicle's exterior.
7. Carbon Fiber Finish
Carbon fiber glossy car wrap vinyl imitates the look of real carbon fiber, giving the car a sporty and high-performance appearance. It adds texture and depth to the surface.
8. Satin Finish
While not as reflective as high-gloss vinyl, satin glossy car wrap vinyl still offers a smooth and luxurious sheen. It strikes a balance between gloss and matte finishes.
9. Brushed Metal Finish
This type of glossy car wrap vinyl simulates the look of brushed metal, providing a unique and industrial appeal to the vehicle.
10. Glossy Color Wraps
Apart from the special finishes mentioned above, glossy car wrap vinyl also comes in a wide range of standard colors, allowing car enthusiasts to choose from various shades and hues.
When selecting the type and finish of glossy car wrap vinyl, it's essential to consider the desired visual effect, the car's style, and personal preferences to achieve the perfect look.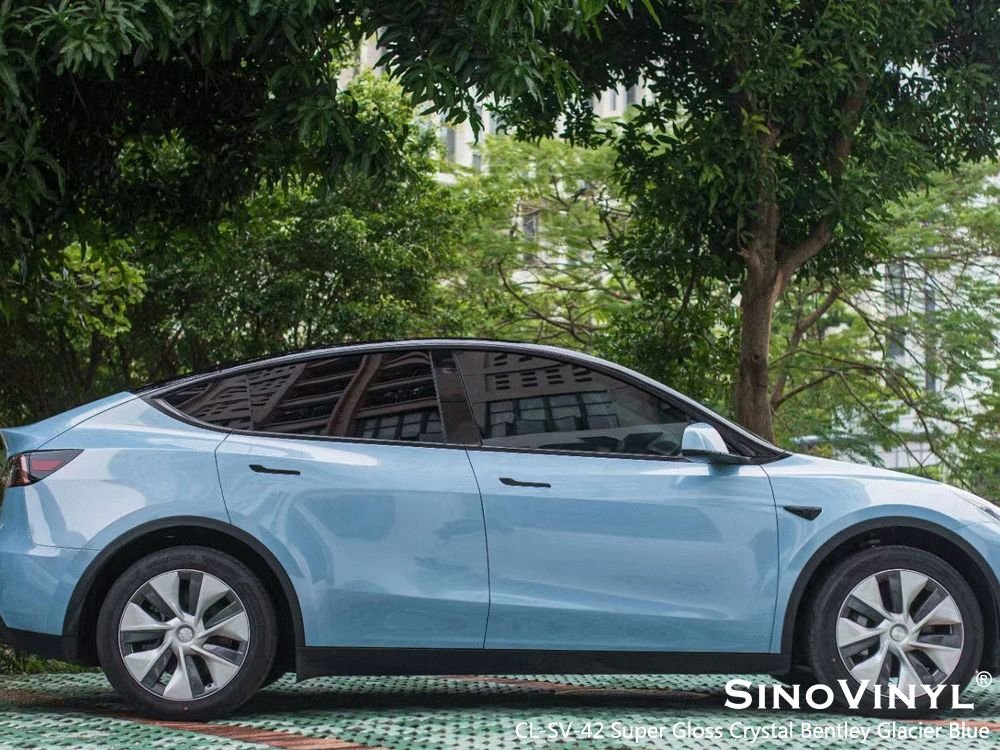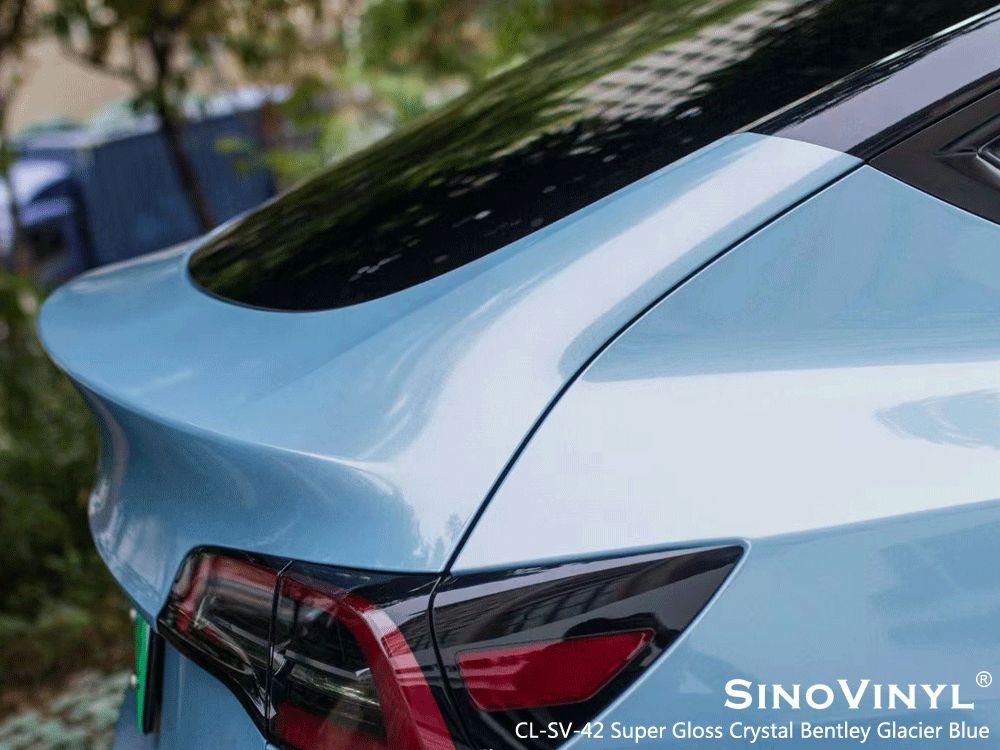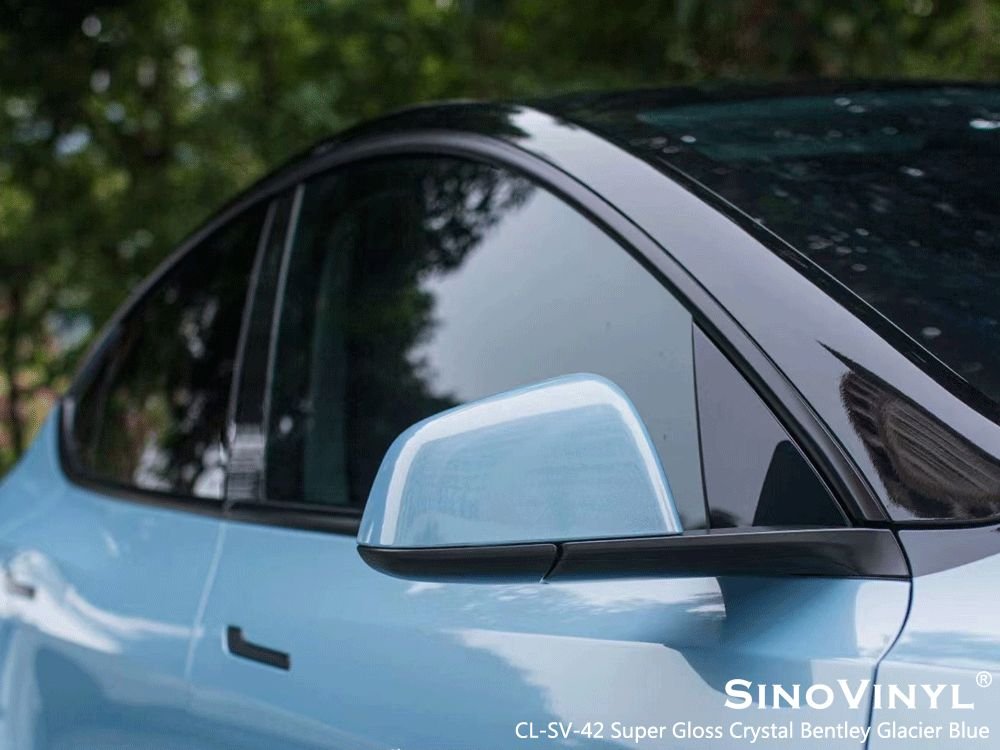 Exploring Popular Color Options for Glossy Car Wraps
Glossy car wraps come in a wide array of vibrant colors that can make your car stand out on the road. Here are some popular color options for glossy car wraps:
1. Glossy Black
Sleek and classic, glossy black gives your car a sophisticated and timeless look.
2. Glossy White
Clean and elegant, glossy white makes your car appear modern and refined.
3. Glossy Red
A bold and attention-grabbing color choice that adds a touch of sportiness to your vehicle.
4. Glossy Blue
From navy to electric blue, this color evokes a sense of calm and adds a touch of uniqueness.
5. Glossy Silver
A metallic hue that reflects light beautifully, giving your car a premium appearance.
6. Glossy Green
Whether it's emerald, lime, or racing green, it brings a fresh and dynamic look to your car.
7. Glossy Yellow
Vibrant and energetic, glossy yellow demands attention and turns heads.
8. Glossy Orange
Bold and lively, glossy orange adds a sense of adventure and enthusiasm.
9. Glossy Purple
A rare but stunning choice, glossy purple adds an air of luxury and sophistication.
10. Glossy Pink
For those looking for a unique and playful touch, glossy pink stands out in a crowd.
11. Glossy Gold
Exuding opulence and prestige, glossy gold is an attention-grabbing choice.
12. Glossy Chrome
A futuristic and reflective option that gives your car a high-tech appearance.
13. Glossy Gunmetal
A dark gray with a metallic sheen, providing a modern and stealthy look.
14. Glossy Pearl
A multicolored, iridescent finish that creates a mesmerizing effect as light hits the car.
15. Glossy Carbon Fiber
Not a color per se, but a popular glossy wrap pattern that adds a sporty and high-performance feel to any car.
Remember, the color you choose for your car wrap is a personal preference, and you can select one that suits your style and personality best. Whether you opt for a classic shade or an eye-catching hue, glossy car wraps offer a versatile and exciting way to enhance your vehicle's appearance.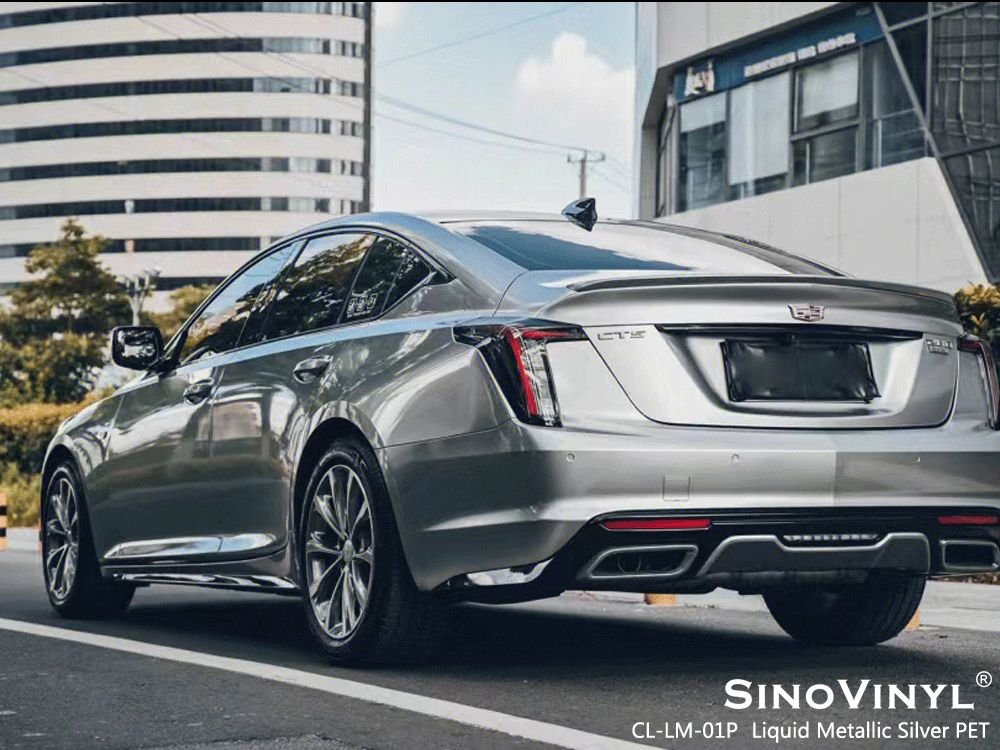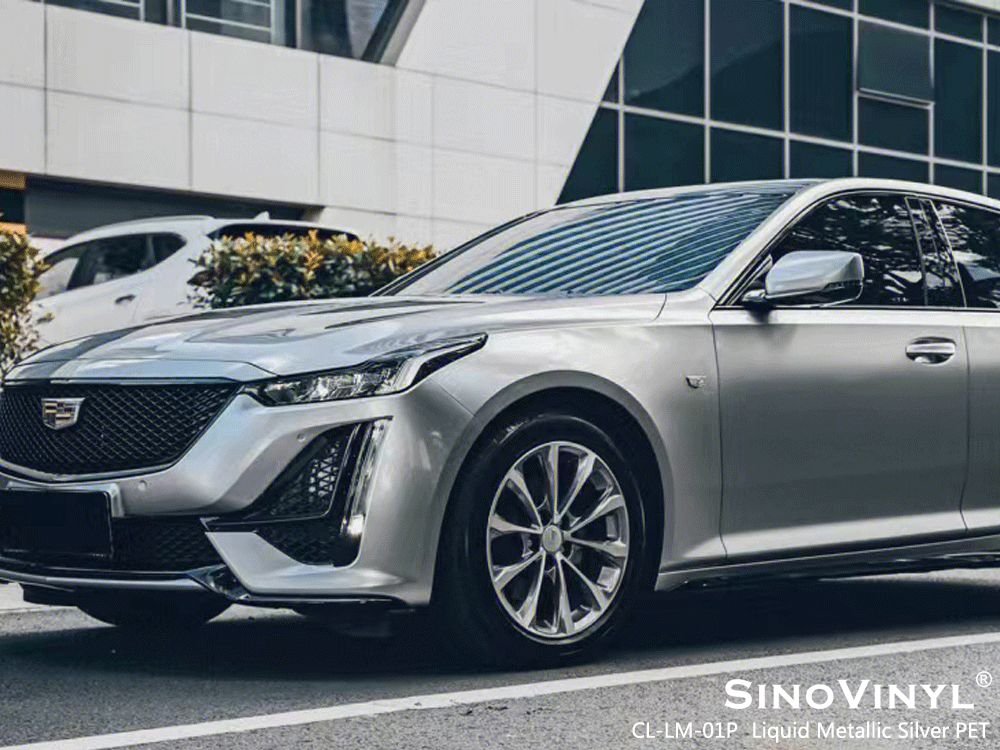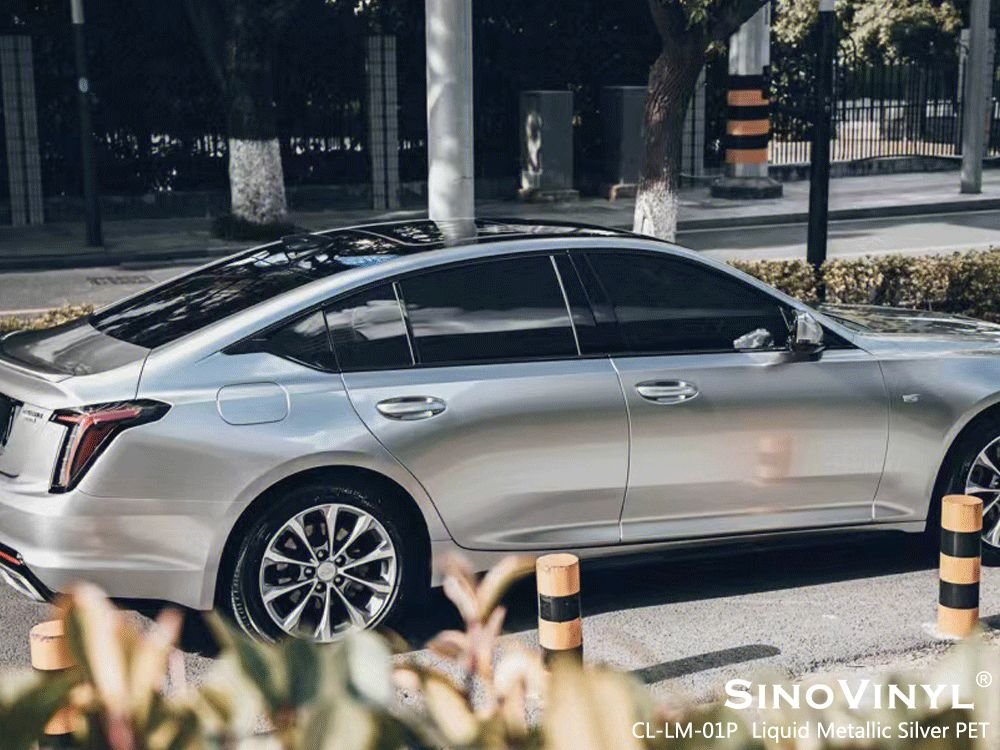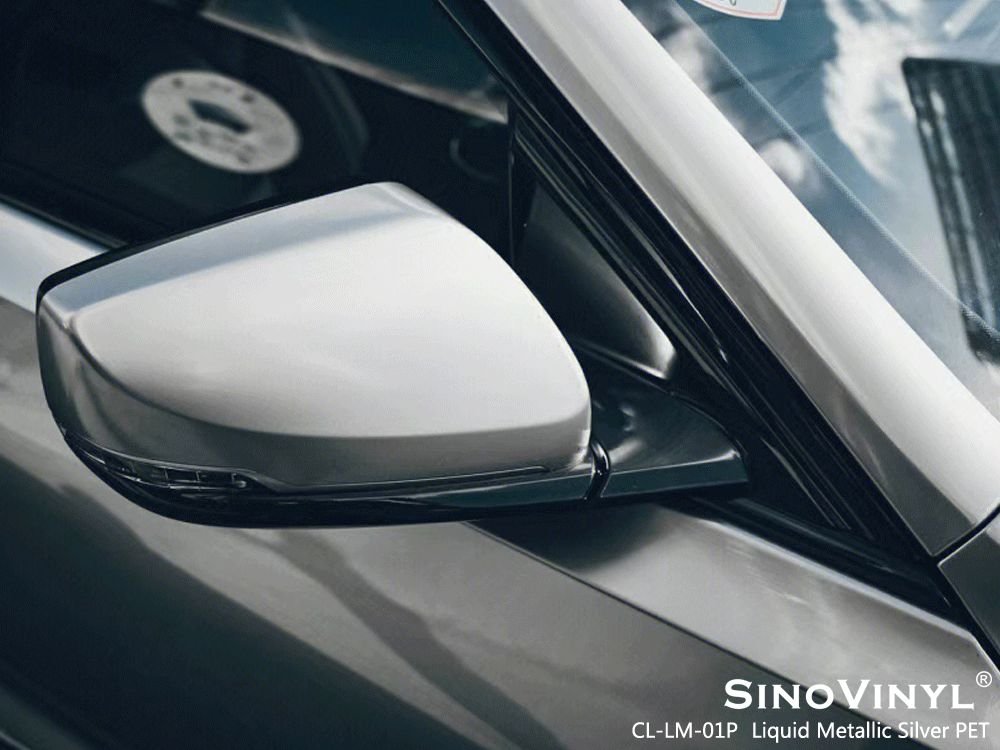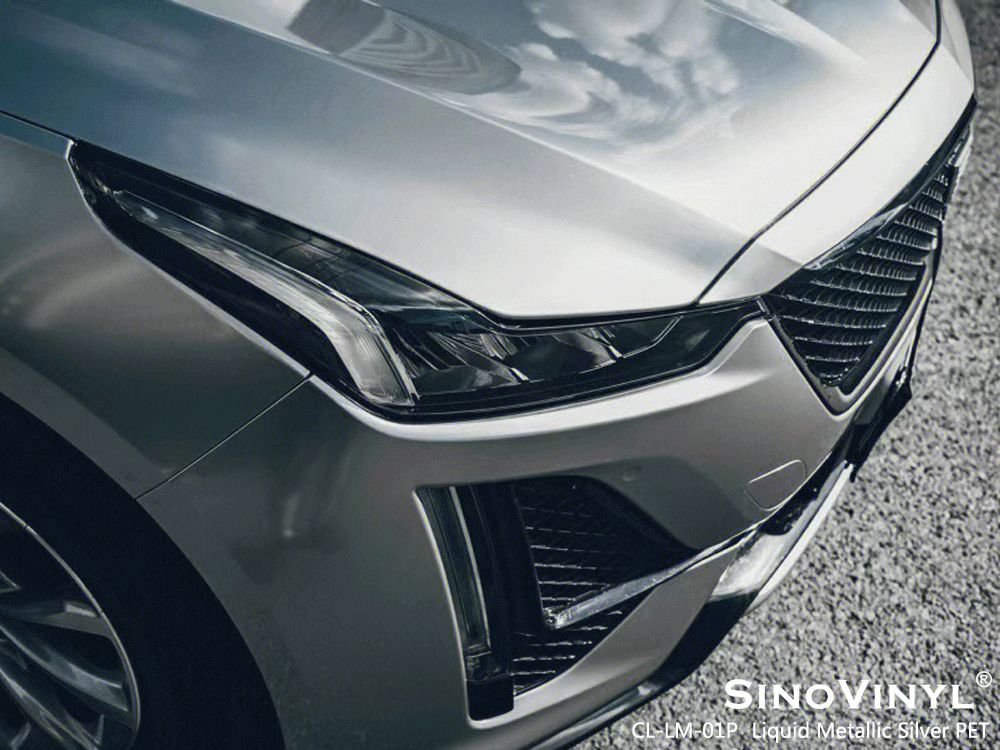 Glossy vs. Matte Car Wrap Vinyl: Which is Right for You?
When it comes to car wrap vinyl, two of the most popular options are glossy and matte finishes. Each has its own unique characteristics and appeal, and the choice between the two ultimately depends on your personal preferences and desired look for your vehicle. Let's compare glossy and matte car wrap vinyl to help you decide which is the right option for you:
1. Appearance
– Glossy: Glossy car wrap vinyl offers a sleek and shiny finish that enhances the car's appearance. It reflects light well, creating a vibrant and eye-catching look. The high-gloss surface can make colors appear more vibrant and give your car a "wet" or "waxed" look.
– Matte: Matte car wrap vinyl, on the other hand, provides a non-reflective, flat finish. It has a modern and sophisticated appearance that is becoming increasingly popular. Matte wraps can give your car a more understated and stealthy look, making it stand out from the crowd in a different way.
2. Visibility of Imperfections
– Glossy: While glossy finishes look stunning, they are more likely to highlight imperfections on the car's surface, such as dents or scratches. The shiny surface can act as a mirror, making flaws more noticeable.
– Matte: Matte finishes, due to their non-reflective nature, are better at concealing minor imperfections on the car's surface. This can be an advantage if you want to mask small scratches or blemishes.
3. Maintenance
– Glossy: Glossy car wraps are generally easier to clean and maintain. Their smooth surface allows dirt and debris to slide off more easily. Regular washing keeps them looking glossy and vibrant.
– Matte: Matte wraps require more attention when it comes to cleaning. They can be more prone to showing water spots and stains, and using certain cleaning products may affect their appearance. Special care and non-abrasive cleaning techniques are recommended.
4. Resale Value
– Glossy: Historically, glossy finishes have been more popular and widely accepted. If you plan to sell your car in the future, a glossy wrap may have broader appeal and might be more familiar to potential buyers.
– Matte: Matte finishes have gained popularity, but they still represent a unique and niche look. While some buyers may appreciate the uniqueness, others might prefer the classic glossy appearance. This could potentially impact resale value, depending on market trends and buyer preferences at the time of sale.
5. Personal Style
– Glossy: If you love a bold and attention-grabbing appearance, glossy car wrap vinyl might be the perfect fit. It suits those who want their cars to have a shiny and lustrous presence on the road.
– Matte: Matte wraps are ideal for car owners who prefer a more subtle and modern aesthetic. If you want your car to have a sophisticated and refined look, a matte finish might be better suited to your personal style.
In conclusion, choosing between glossy and matte car wrap vinyl depends on your individual preferences and the style you want for your car. Glossy wraps offer a vibrant and shiny look, are easier to maintain, and have broader market appeal. On the other hand, matte wraps provide a modern and sophisticated appearance, are better at hiding imperfections, but require more careful maintenance.
Ultimately, both finishes can transform the appearance of your vehicle and protect its original paint. Consider your personal taste, the desired level of attention, and the practical aspects of maintenance before making your decision. Whether you opt for glossy or matte car wrap vinyl, you're sure to turn heads on the road with your revamped and eye-catching ride.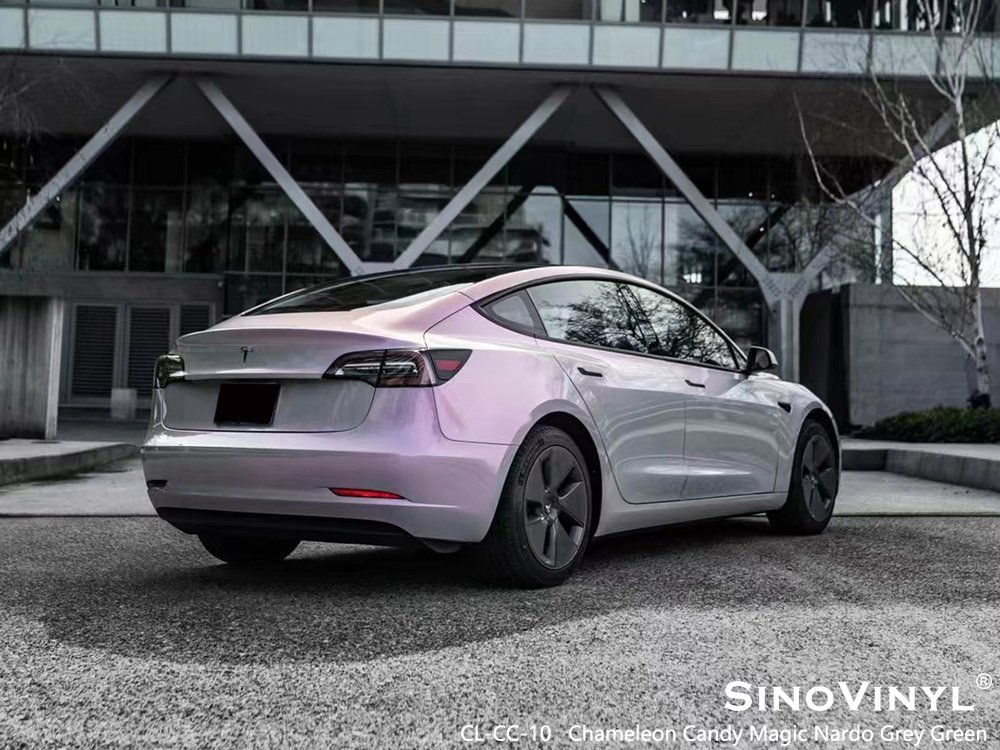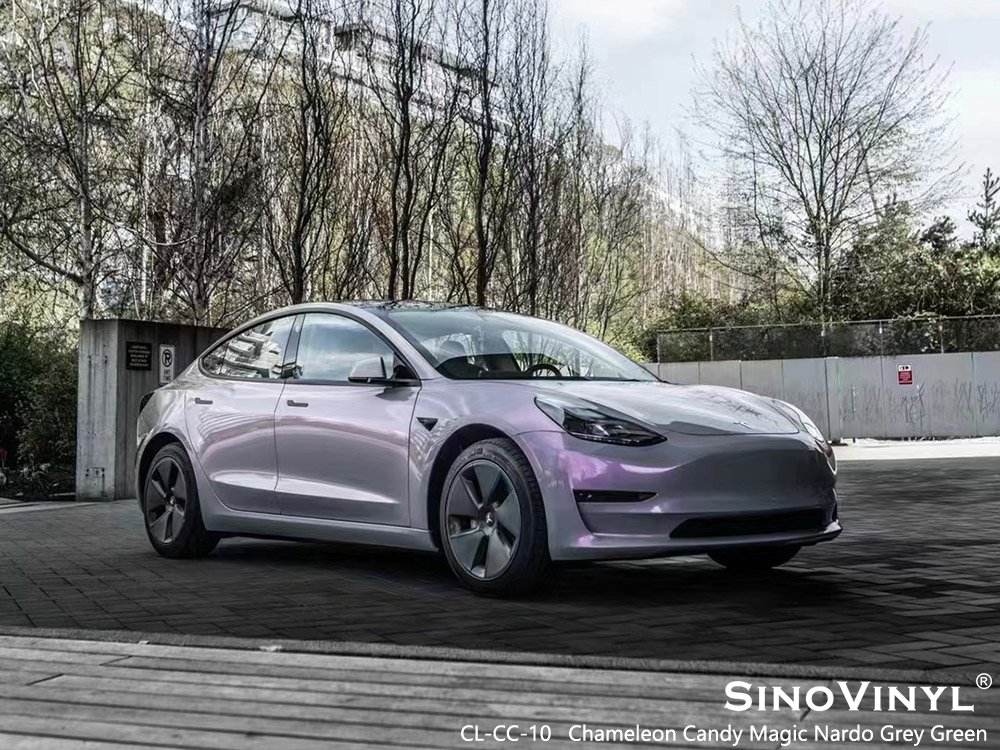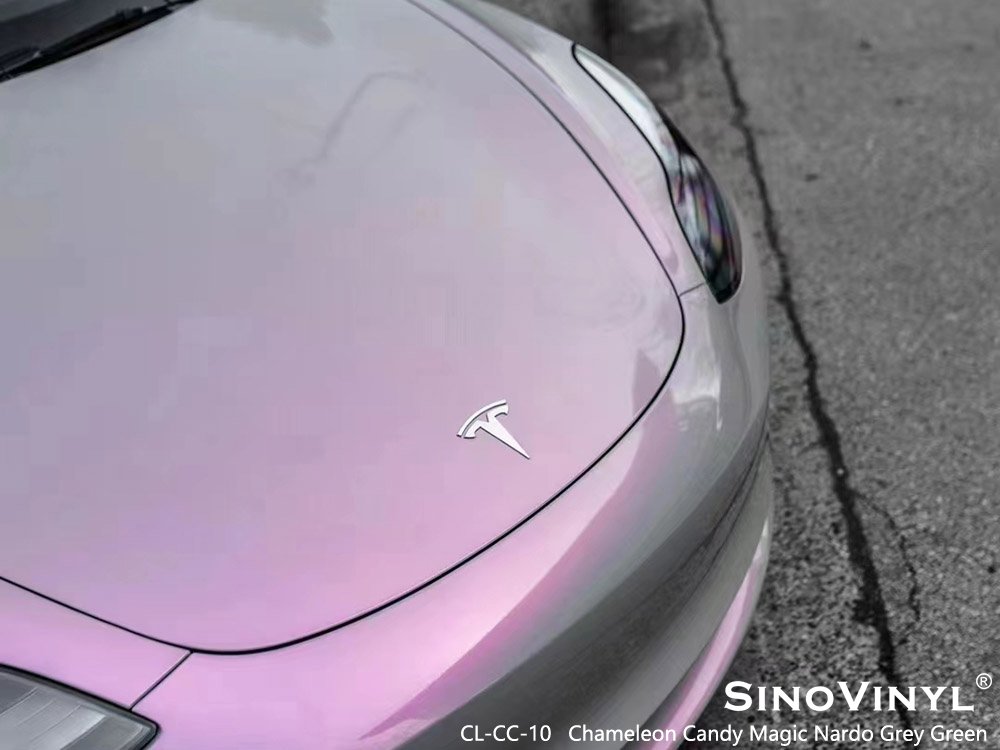 Final Words
In conclusion, if you're a car enthusiast looking to make a statement on the roads, glossy car wrap vinyl is your ticket to an awe-inspiring transformation. The magic of glossy car wrap vinyl lies in its ability to create a stunning and head-turning appearance that elevates your car's style to new heights. With a mirror-like finish that reflects the world around it, this eye-catching option accentuates the lines and curves of your vehicle, captivating onlookers at every turn. Whether you prefer bold and vibrant colors or a more refined and sleek look, glossy car wrap vinyl offers a world of possibilities for customization and personalization. Moreover, the added protection it provides to your car's original paint is an invaluable bonus. Embrace the allure of glossy car wrap vinyl, and shine bright on the roads with a ride that exudes brilliance and allure at every mile. Unleash the magic of glossy car wrap vinyl and take your love for cars to a whole new level!