Different Types of Gloss Car Wrap Vinyl Films and Their Features
Gloss car wrap vinyl films come in a variety of types, each with its own unique features and characteristics. Here are some different types of gloss car wrap vinyl films and their features:
1. Standard Gloss Car Wrap Vinyl
– Features a high-gloss finish that enhances the car's shine and luster.
– Provides excellent color depth and vibrancy for a striking visual impact.
– Offers good durability and protection against minor scratches and abrasions.
– Ideal for car owners looking for a classic glossy appearance.
2. Satin Gloss Car Wrap Vinyl
– Combines a satin-like finish with a subtle gloss, creating a semi-gloss appearance.
– Offers a more sophisticated and refined look compared to standard gloss films.
– Reduces glare and reflections, making it suitable for luxury and high-end vehicles.
– Provides moderate protection while maintaining a smooth, elegant surface.
3. Metallic Gloss Car Wrap Vinyl
– Contains metallic particles that give a sparkling and reflective effect.
– Creates a unique and attention-grabbing appearance, especially under sunlight.
– Perfect for car owners who want a bold and dynamic look for their vehicles.
– Offers decent protection and can withstand normal wear and tear.
4. Chrome Gloss Car Wrap Vinyl
– Emulates the appearance of real chrome plating on the car's surface.
– Provides a highly reflective and mirror-like finish for a futuristic look.
– Perfect for adding a touch of luxury and uniqueness to your car.
– Best suited for special projects or accentuating specific vehicle features.
5. Color-Flip Gloss Car Wrap Vinyl
– Exhibits color-shifting properties, showcasing different shades at various angles.
– Creates an eye-catching and ever-changing visual effect as the car moves.
– Adds an element of surprise and intrigue to the vehicle's appearance.
– Ideal for car enthusiasts who want a distinct and attention-commanding style.
6. Pearlescent Gloss Car Wrap Vinyl
– Features a pearl-like shimmer that adds depth and dimension to the color.
– Imparts a sophisticated and elegant look, especially in natural lighting.
– Suitable for those seeking a refined and luxurious appearance for their car.
– Provides moderate protection and is relatively easy to maintain.
When choosing a gloss car wrap vinyl film, consider your desired level of glossiness, the specific color or effect you want, as well as the level of protection and durability required. Always ensure that the vinyl film you select is of high quality and installed by a professional to achieve the best results for your vehicle.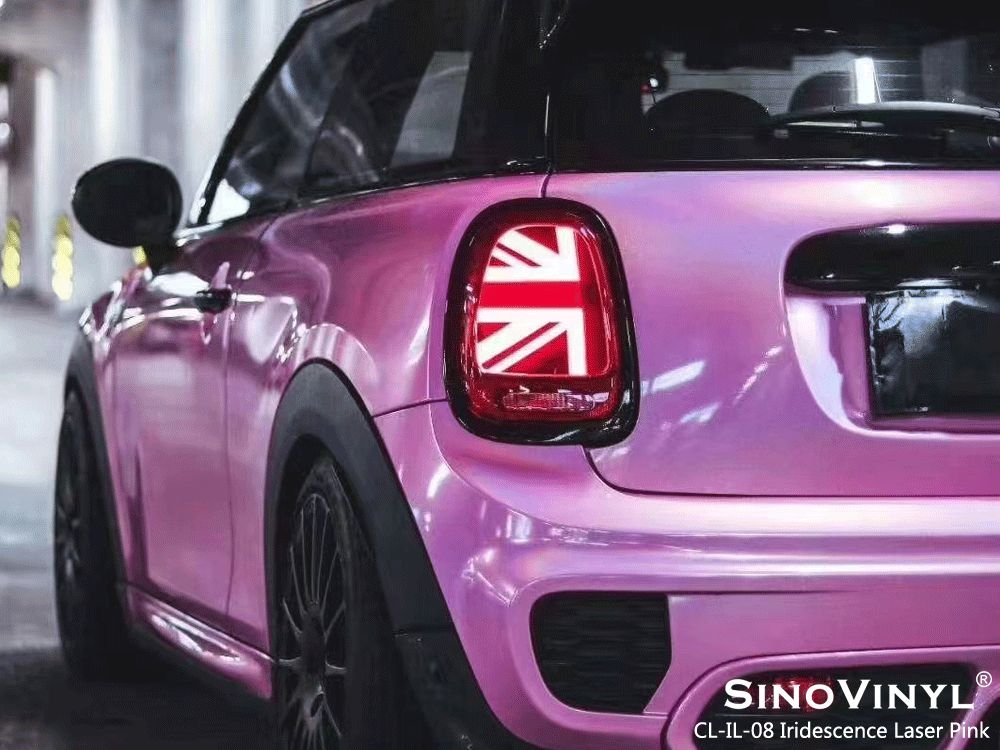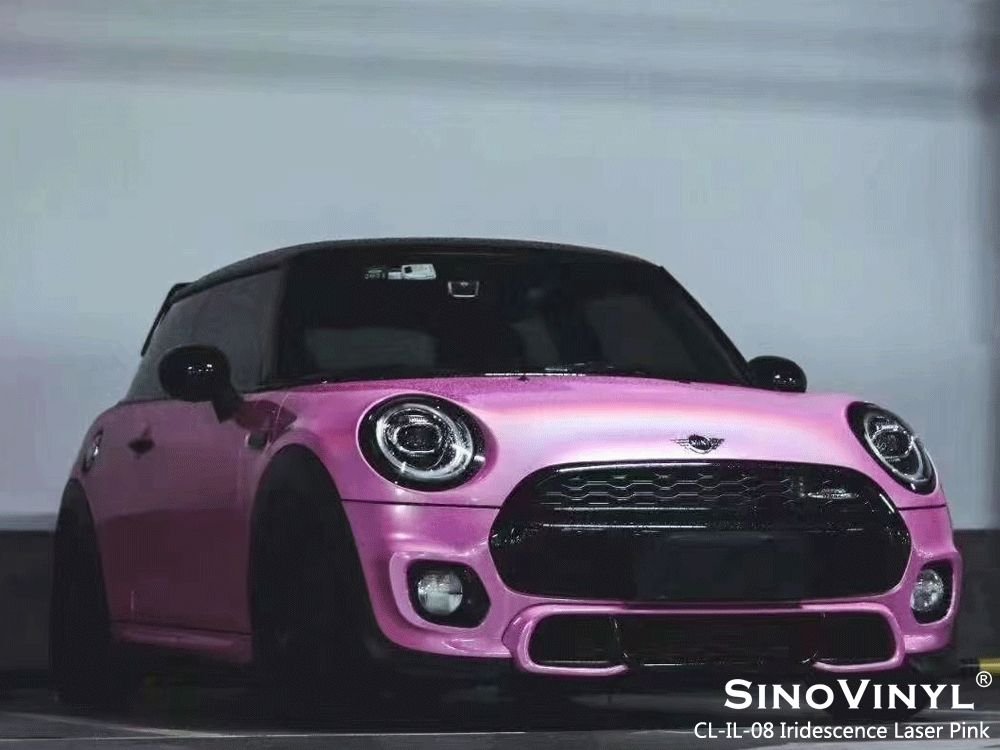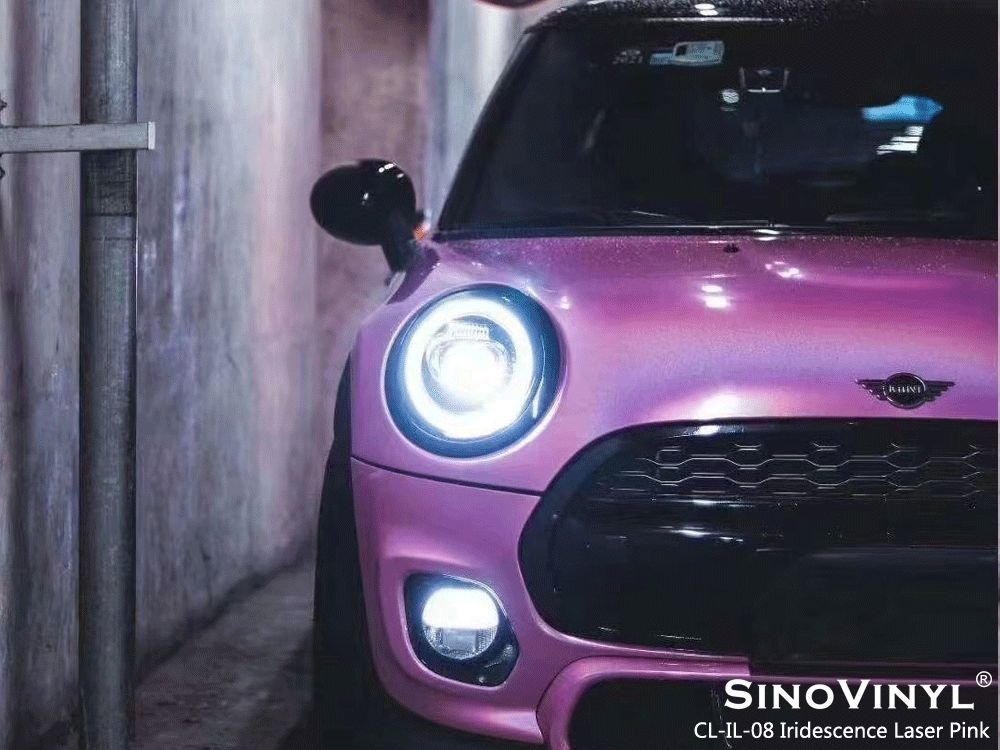 Step-by-Step Guide: How to Apply Gloss Car Wrap Vinyl Films to Your Car
Here's a step-by-step guide on how to apply gloss car wrap vinyl films to your car:
Step 1: Gather the Materials
Before you start, make sure you have all the necessary materials. This includes the gloss car wrap vinyl film, a squeegee or application tool, a heat gun or blow dryer, a utility knife or cutting tool, rubbing alcohol or a surface cleaner, and microfiber towels.
Step 2: Prepare Your Car
Thoroughly clean your car's surface to ensure it's free from dirt, dust, and debris. Use a surface cleaner or rubbing alcohol to remove any existing wax or coatings that may interfere with adhesion.
Step 3: Measure and Cut
Carefully measure the areas of your car you want to wrap and cut the vinyl film accordingly, leaving a few inches of extra material on each side for adjustments.
Step 4: Peel the Backing
Peel a small section of the backing from the vinyl film, exposing the adhesive side. Be careful not to touch the adhesive with your fingers to maintain its stickiness.
Step 5: Position the Vinyl
Starting from one end, position the exposed section of the vinyl film onto the desired area of your car. Use the squeegee to smooth out the vinyl, working from the center towards the edges to remove air bubbles and ensure a tight fit.
Step 6: Apply Heat
Using a heat gun or blow dryer, apply gentle heat to the vinyl film. This helps the film conform to the curves and contours of your car's surface. Be cautious not to overheat the vinyl to prevent damage.
Step 7: Continue Wrapping
Gradually peel off the backing and continue to apply the vinyl film section by section, using the squeegee and heat gun as needed. Take your time to achieve a smooth and seamless finish.
Step 8: Trim Excess
Once the main areas are wrapped, use a utility knife or cutting tool to trim away the excess vinyl around edges, handles, and other obstacles. Be precise and patient during this step.
Step 9: Address Difficult Areas
For complex areas like door handles, mirrors, or curves, use the heat gun and squeegee to carefully mold the vinyl around these features.
Step 10: Final Touches
Inspect the entire wrapped surface for any remaining air bubbles or imperfections. Gently push them toward the edges and apply heat to smooth them out.
Step 11: Post-Application
Allow the wrap to set for a day or two before washing or exposing it to extreme conditions. Avoid waxing for a few weeks to let the adhesive fully bond.
Following this step-by-step guide will help you apply gloss car wrap vinyl films to your car with precision and achieve a stunning, professional-looking result. If you're new to car wrapping, consider practicing on smaller surfaces first to gain confidence and refine your skills before attempting a full vehicle wrap.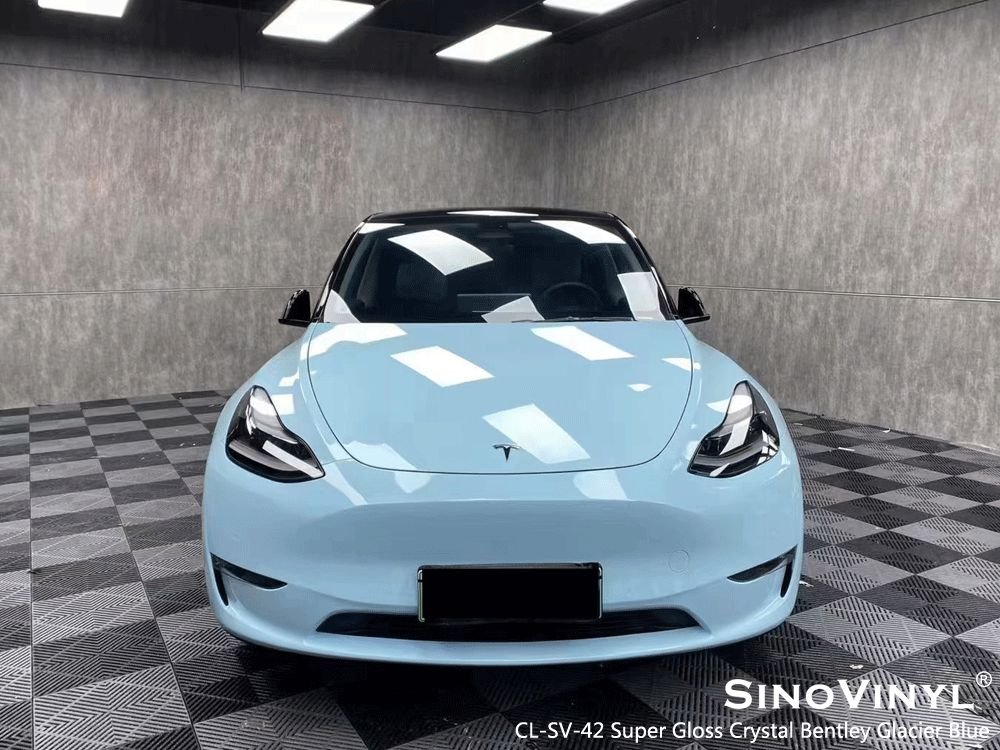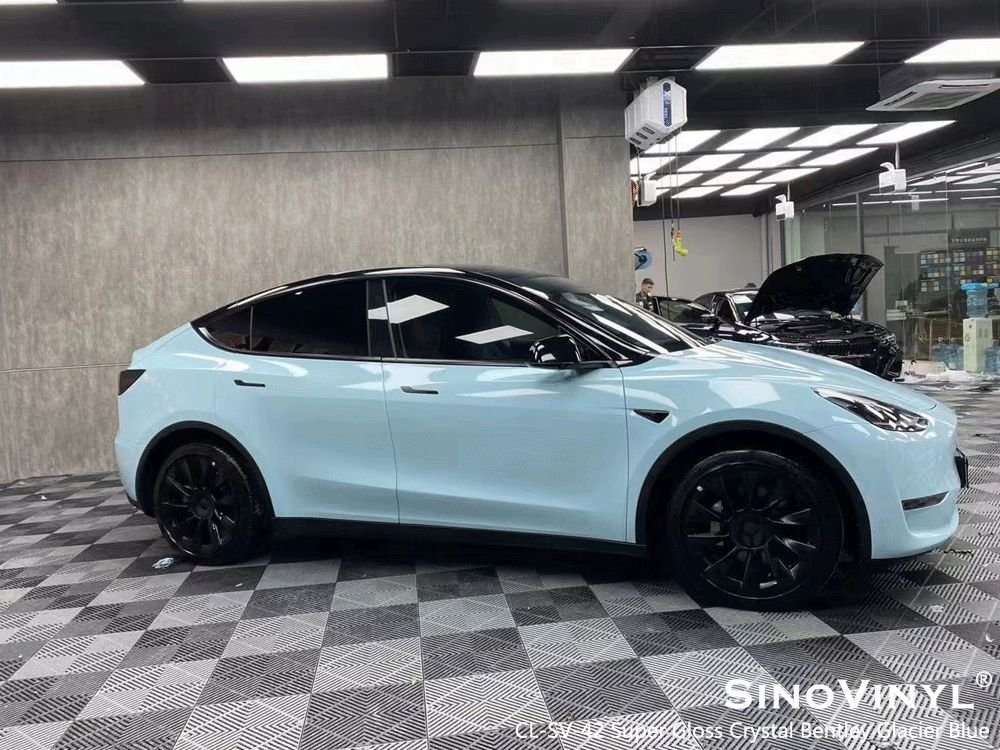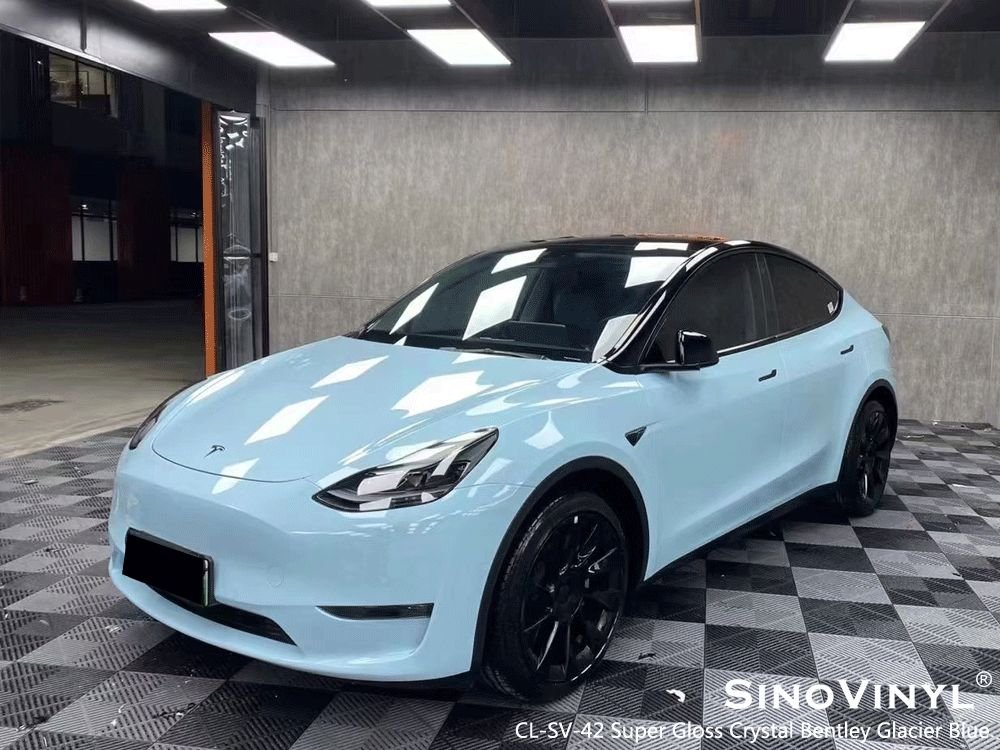 Top Benefits of Using Gloss Car Wrap Vinyl Films for Vehicle Customization
Using gloss car wrap vinyl films for vehicle customization offers several top benefits, making it a popular choice among car owners. Here are some of the key advantages:
1. Enhanced Aesthetics
Gloss car wrap vinyl films instantly transform the appearance of a vehicle, giving it a sleek and polished look. The high-gloss finish adds a touch of elegance and luxury, making your car stand out on the road.
2. Versatility in Design
Gloss car wrap vinyl films come in a wide range of colors and finishes, allowing for endless design possibilities. Whether you want a classic, bold, or unique style, there's a gloss wrap to suit every taste.
3. Paint Protection
The vinyl wrap acts as a protective layer over the car's original paintwork, shielding it from minor scratches, chips, and fading caused by UV rays. This helps maintain the car's resale value and keeps it looking new for longer.
4. Easy to Maintain
Gloss car wrap vinyl films are relatively low maintenance compared to repainting. They can be cleaned with regular car wash solutions, and any small damages or imperfections can be easily fixed by a professional without the need for a full re-wrap.
5. Reversibility
Unlike a permanent paint job, gloss car wrap vinyl films are not permanent and can be removed without damaging the original paint underneath. This flexibility allows car owners to change the color or revert to the car's original appearance whenever desired.
6. Cost-Effective
Opting for a gloss car wrap can be more cost-effective than a high-quality paint job. It allows car owners to achieve a custom look without the high price tag associated with traditional custom paintwork.
7. Faster Installation
Applying a gloss car wrap is generally quicker than repainting, reducing the time your car needs to be in the shop. This means you can have your customized vehicle back on the road sooner.
8. Advertising Opportunities
For businesses and entrepreneurs, gloss car wraps offer a mobile advertising platform. Wrapping company vehicles with branding or promotional graphics can help increase brand visibility and attract potential customers on the go.
9. Unique Style
Gloss car wrap vinyl films allow for intricate detailing and custom graphics, enabling car owners to create a one-of-a-kind design that reflects their personality and style.
10. Protection Against Environmental Factors
Gloss car wrap vinyl films provide an additional layer of protection against environmental factors such as bird droppings, tree sap, and road debris, ensuring your car's paint remains in excellent condition.
In conclusion, gloss car wrap vinyl films offer a winning combination of style, protection, and flexibility, making them an excellent choice for car owners looking to customize their vehicles and elevate their driving experience.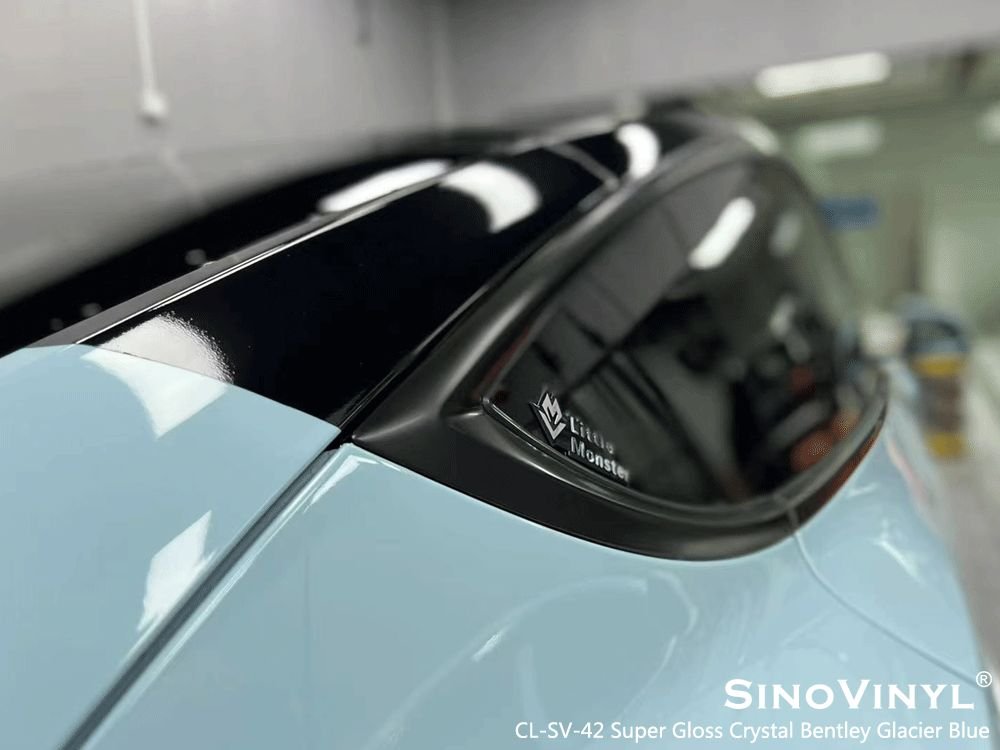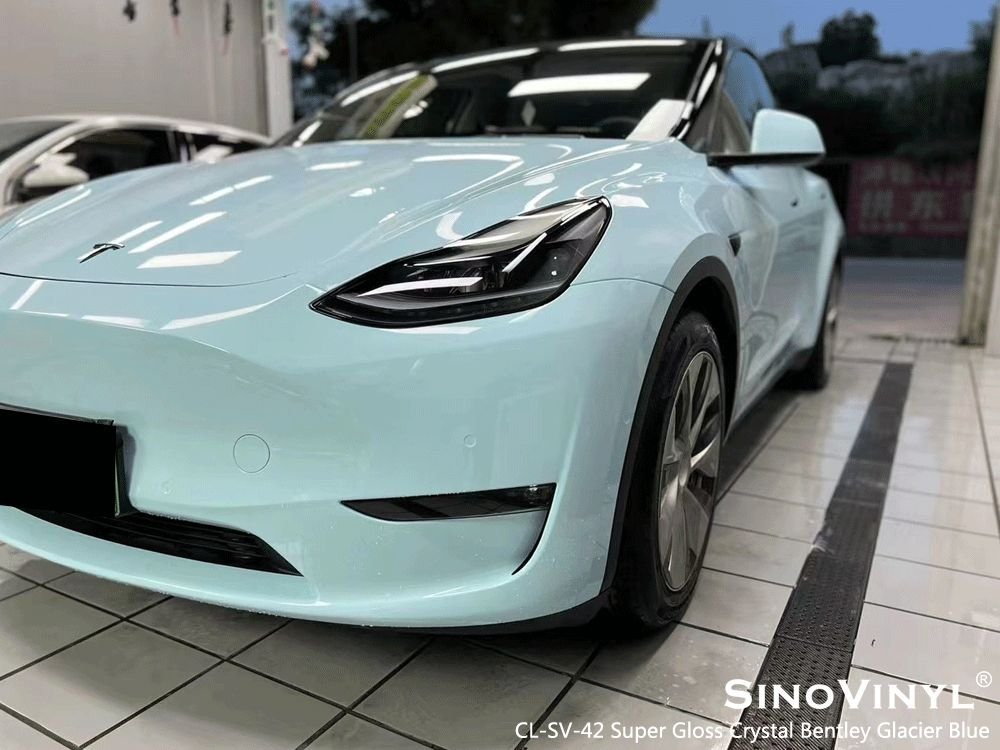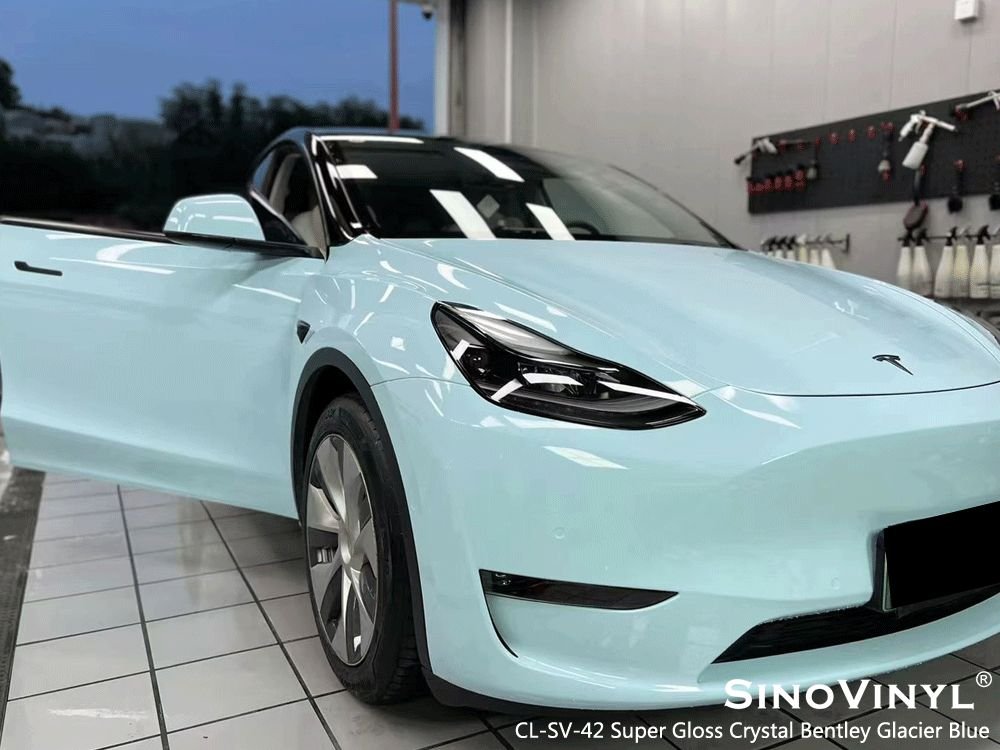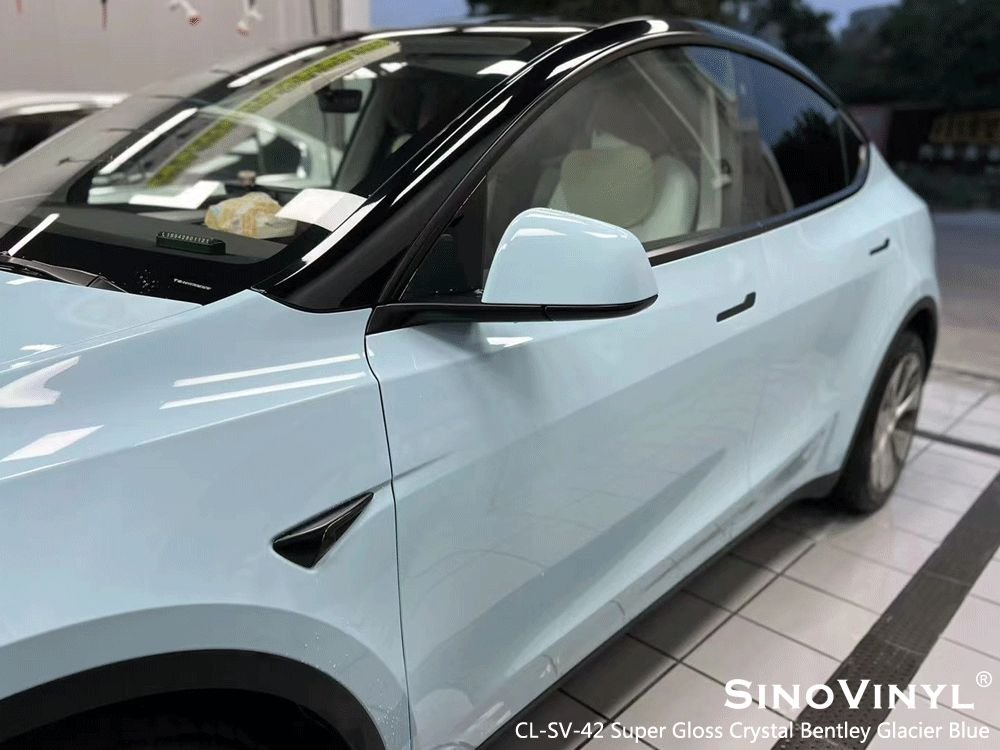 Exploring the Color Options: Choosing the Perfect Gloss Wrap for Your Car
When choosing the perfect gloss wrap for your car, you'll have a wide array of color options to explore. The following are some popular and eye-catching color choices for gloss car wrap vinyl films:
1. Classic Gloss Black
A timeless choice that exudes sophistication and elegance, making your car look sleek and stylish.
2. Brilliant White
Clean, modern, and attention-grabbing, a glossy white wrap can give your car a fresh and luxurious appearance.
3. Metallic Silver
This option adds a touch of shimmer and sheen, enhancing the car's contours and lines.
4. Bold Red
For those seeking a more striking look, a glossy red wrap is a head-turning option that exudes confidence and passion.
5. Vibrant Blue
Whether it's a deep navy or a bright royal blue, this color adds a sense of calm and coolness to your car's aesthetics.
6. Sleek Gray
A popular choice for a sophisticated, understated look that complements many car designs.
7. Glossy Green
From emerald to lime, a glossy green wrap can bring a unique and refreshing vibe to your vehicle.
8. Luxurious Gold
If you want to make a bold statement, a glossy gold wrap exudes opulence and high-end style.
9. Daring Orange
For those who want to stand out, a glossy orange wrap adds a vibrant and energetic touch to any car.
10. Cherry Blossom Pink
A softer option for those looking for a touch of femininity or a unique twist on traditional car colors.
11. Mystic Purple
A rich and enchanting hue that adds an air of mystery and allure to your car's appearance.
12. Icy Frost
A glossy wrap with a cool, icy tone can give your car a futuristic and edgy look.
13. Sunset Yellow
This warm and inviting color choice can make your car feel like it's basking in the glow of the setting sun.
14. Deep Burgundy
A glossy burgundy wrap can lend an air of elegance and sophistication to your vehicle.
15. Electric Neon
For the daring and adventurous, a glossy neon wrap in green, pink, or blue can make your car truly unforgettable.
When choosing a color, consider your personal style, the overall look you want to achieve, and how well the color complements your car's design and features. Additionally, remember that glossy finishes tend to intensify the color's appearance, making it even more important to select a shade that resonates with you and suits your vehicle's character.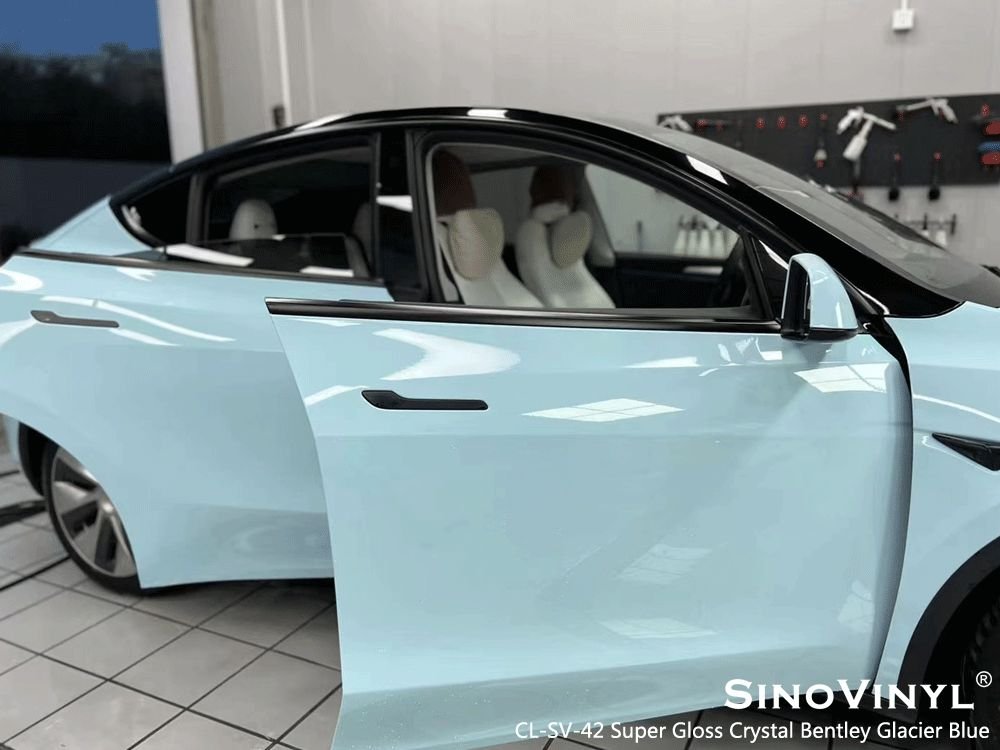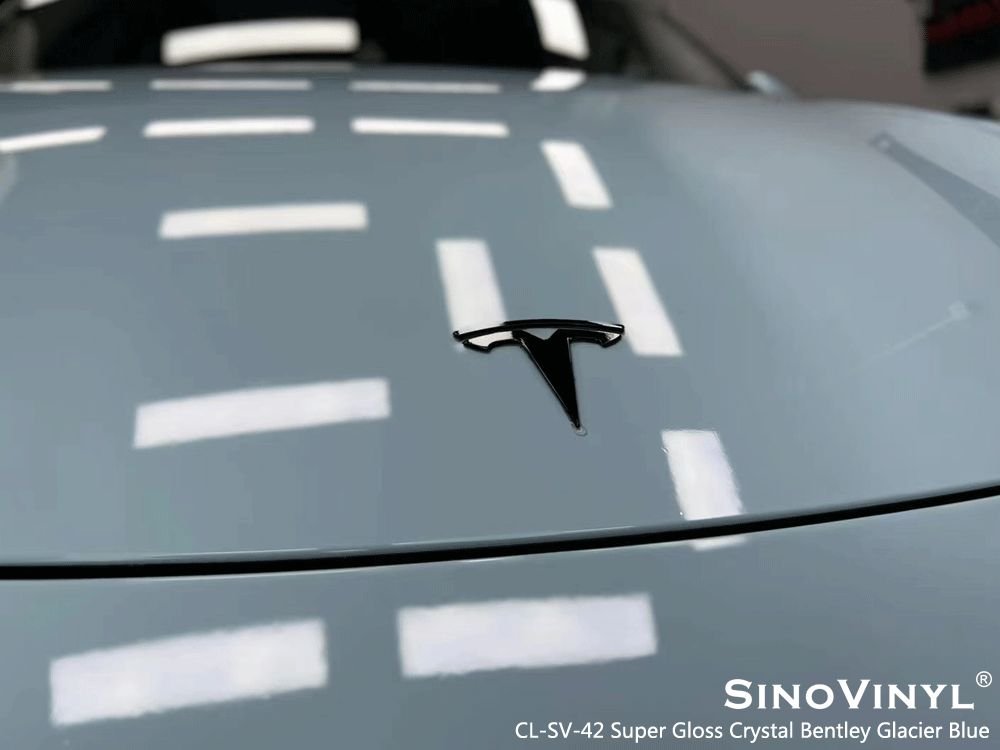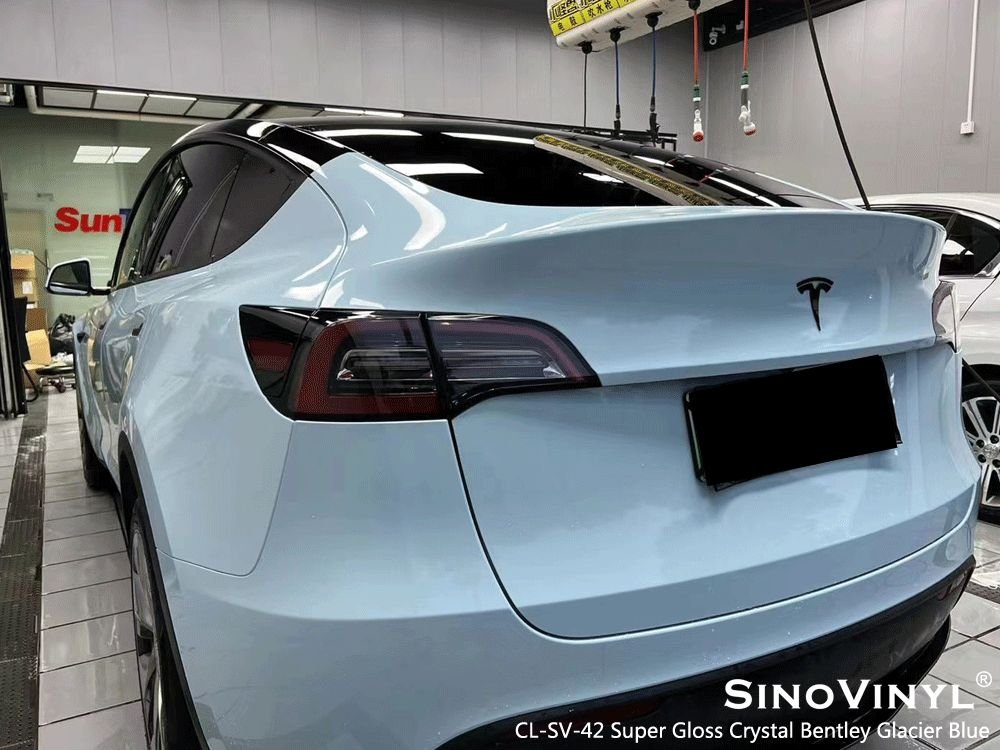 Final Words
In conclusion, "Revamp Your Ride: The Ultimate Guide to Gloss Car Wrap Vinyl Films for Car Owners" showcases the exciting world of vehicle customization through glossy vinyl wraps. Whether you're looking to elevate your car's aesthetics, protect its paint, or stand out on the road with a unique style, gloss car wraps offer an array of color options and creative possibilities. From the classic appeal of gloss black to the daring allure of neon shades, the choices are limitless. By following our step-by-step application guide and implementing proper maintenance, you can ensure your car retains its stunning appearance for years to come. So, embrace the art of car wrapping, unleash your creativity, and transform your ride into a head-turning masterpiece with glossy vinyl films. Get ready to hit the road in style and leave a lasting impression wherever you go!