Chrome Rose Red Wrap on Different Car Models: Showcasing Versatility in Style
Chrome Rose Red Wrap can truly elevate the style of various car models, showcasing its versatility in transforming vehicles into head-turning masterpieces. Here are some examples of different car models that can benefit from the allure of Chrome Rose Red Vinyl Wrap:
1. Sports Cars
Imagine a sleek, powerful sports car, such as a Chevrolet Corvette or Porsche 911, wrapped in Chrome Rose Red. The combination of speed and elegance would create a show-stopping presence on the roads.
2. Luxury Sedans
Sophisticated luxury sedans like the Mercedes-Benz S-Class or BMW 7 Series can embrace the striking appeal of Chrome Rose Red to stand out in a sea of traditional colors.
3. Compact Hatchbacks
Quirky and fun, compact hatchbacks like the Mini Cooper or Honda Fit can take on a whole new level of playfulness with a vibrant Chrome Rose Red wrap.
4. SUVs and Crossovers
Larger vehicles like the Ford Explorer or Toyota RAV4 can break away from the usual neutrals with a bold Chrome Rose Red vinyl wrap, exuding confidence and style.
5. Classic Cars
Vintage rides like the Ford Mustang or Chevrolet Camaro will achieve a captivating fusion of retro and contemporary with the addition of a Chrome Rose Red vinyl wrap.
6. Electric Cars
Eco-friendly electric vehicles like the Tesla Model S or Nissan Leaf can make a sustainability statement while flaunting their individuality with a sustainable Chrome Rose Red wrap.
7. Muscle Cars
Powerhouse muscle cars, such as the Dodge Challenger or Chevrolet Camaro, will exude even more dominance and charisma when clad in a fierce Chrome Rose Red wrap.
8. Convertible Roadsters
Convertibles like the Mazda MX-5 Miata or BMW Z4 will become irresistible eye-catchers, inviting drivers to embrace the open road in style.
9. Supercars
Exotic supercars like the Lamborghini Huracan or Ferrari 488 will be elevated to a new level of allure and exclusivity with the shimmering Chrome Rose Red vinyl wrap.
10. Pickup Trucks
Rugged pickup trucks like the Ford F-150 or Toyota Tacoma can redefine toughness with a touch of elegance when covered in a Chrome Rose Red wrap.
These examples demonstrate how Chrome Rose Red Wrap can suit various car models, accentuating their unique characteristics and making a powerful statement on the road. The versatility of this color wrap allows car enthusiasts to infuse their vehicles with personalized style, setting them apart from the crowd with confidence and passion.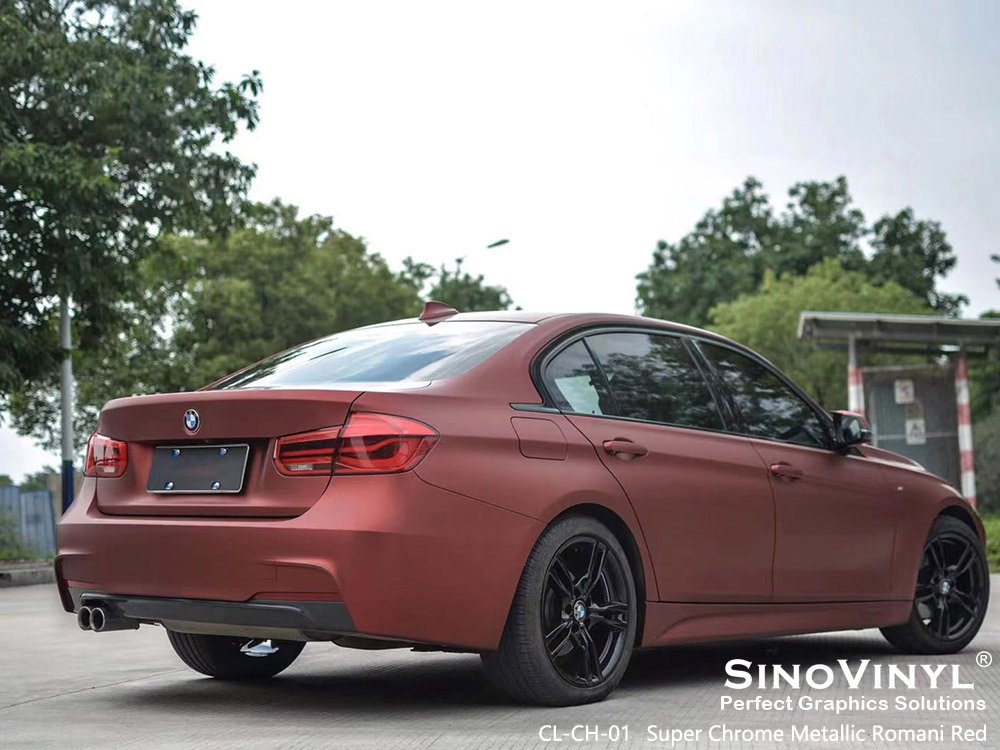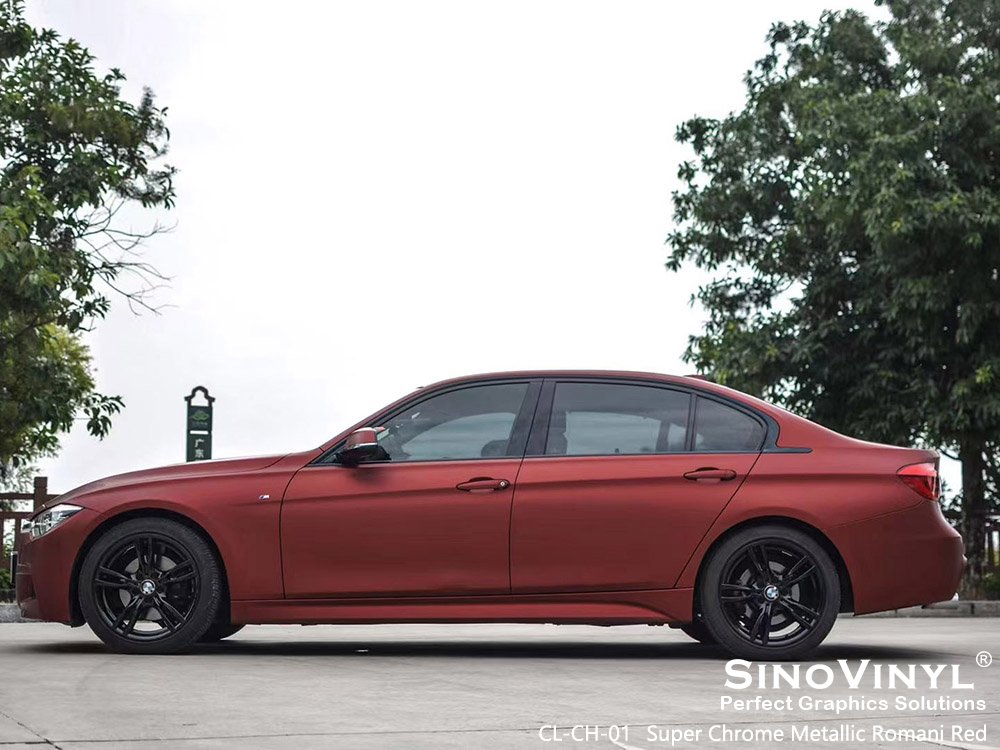 The Hottest Car Trends: Embracing Chrome Rose Red Vinyl Wrap in 2023
In 2023, the automotive world witnessed a surge in popularity for the eye-catching and vibrant trend of chrome rose red vinyl wrap for cars. This subtopic aims to explore the reasons behind the rising fascination with this particular color and finish in the car modification scene.
1. Aesthetics and Uniqueness
Chrome rose red stands out from traditional car colors with its lustrous, metallic sheen and captivating red hue. As car enthusiasts seek ways to distinguish their rides from the crowd, this bold and striking color choice becomes a popular option for making a statement on the road.
2. Expression of Individuality
Car owners often use their vehicles as an extension of their personality. Chrome rose red vinyl wraps provide a canvas for self-expression, allowing owners to showcase their bold and passionate style through their car's appearance.
3. Social Media Influence
In the age of social media, visually appealing and attention-grabbing content reigns supreme. Car enthusiasts and influencers showcasing their chrome rose red-wrapped vehicles on platforms like Instagram, YouTube, and TikTok have contributed to the trend's rapid spread, inspiring others to follow suit.
4. Endorsement by Celebrities and Influencers
High-profile personalities, celebrities, and automotive influencers have been spotted with chrome rose red-wrapped cars, adding to the allure and desirability of this trend. Their endorsement has significant influence on automotive enthusiasts looking for the latest and most stylish modifications.
5. Automotive Industry Embracing Customization
The automotive industry has increasingly embraced customization as a way to cater to the unique tastes of consumers. Chrome rose red vinyl wrap offers an exciting alternative to traditional paint options, fueling its popularity among enthusiasts looking for a personalized touch.
6. Technological Advancements
Advancements in vinyl wrap technology have led to the creation of higher-quality materials with improved durability and colorfastness. This has alleviated concerns about fading or peeling, making chrome rose red wraps a more practical and long-lasting choice.
7. Non-Permanent Modification
Unlike traditional paint jobs, vinyl wraps can be easily removed without damaging the car's original paint. This appeals to car enthusiasts who like to experiment with different looks or plan to sell their vehicles in the future.
8. Versatility in Application
Chrome rose red vinyl wrap is not limited to specific car models or types. It can be applied to various vehicles, including sedans, SUVs, sports cars, and even motorcycles, making it a versatile option for auto enthusiasts across different segments.
9. Exposure in Media and Entertainment
Chrome rose red-wrapped vehicles have gained visibility in movies, TV shows, and advertisements, further cementing their position as a symbol of style and modernity.
In conclusion, the allure of chrome rose red vinyl wrap in 2023 can be attributed to its captivating aesthetics, self-expression opportunities, the power of social media and celebrity endorsements, technological advancements in the industry, and its practicality as a non-permanent modification option.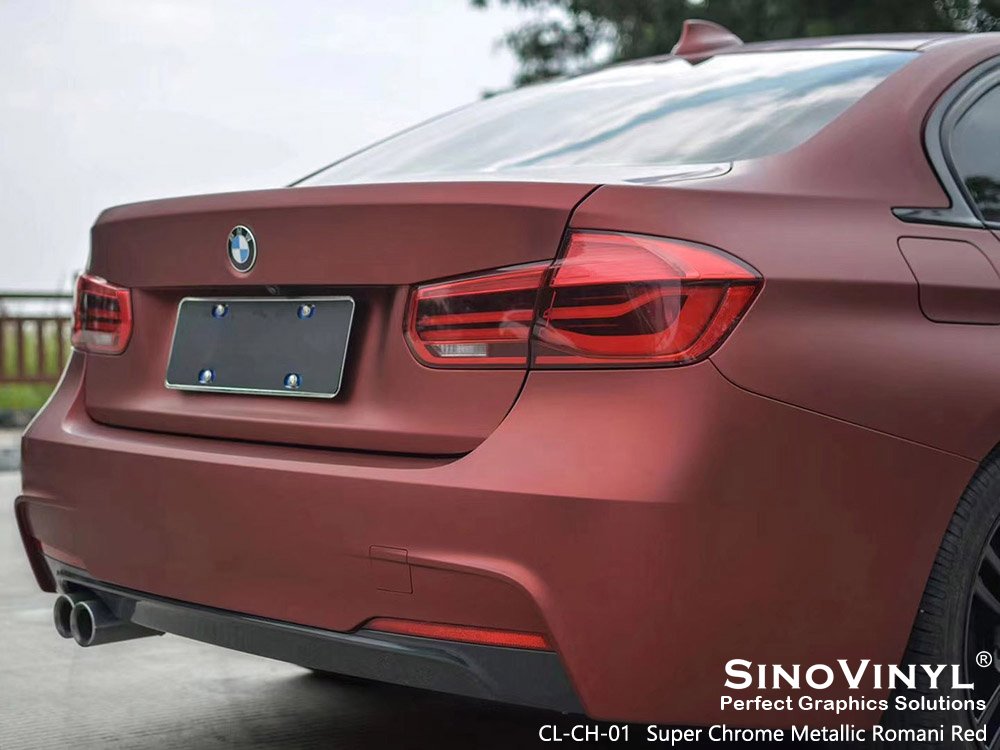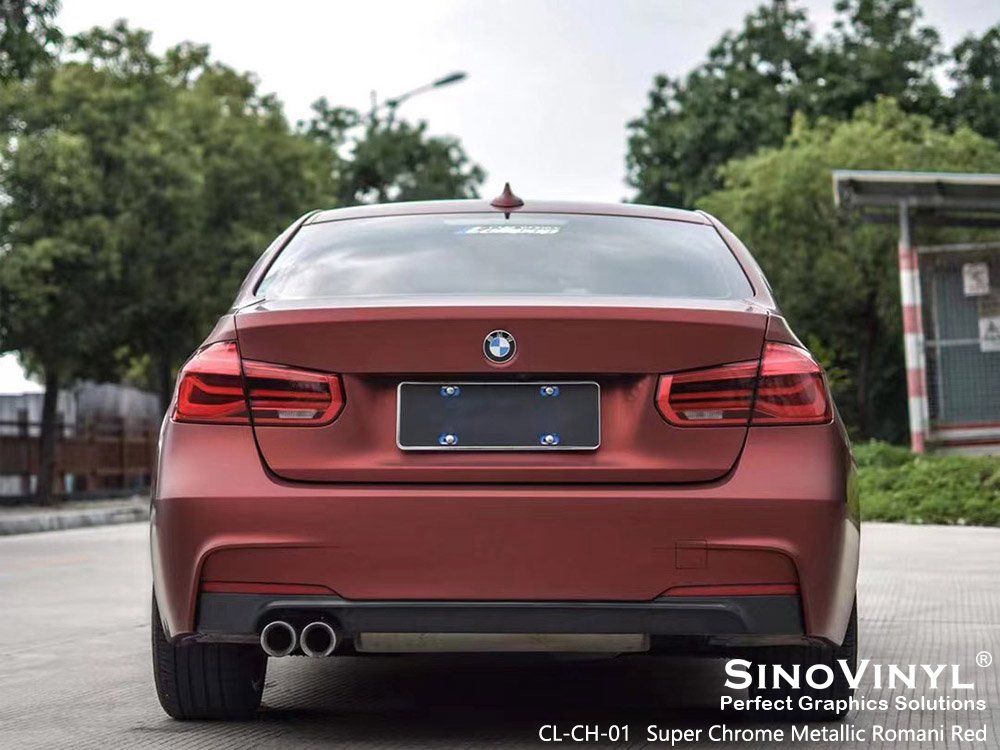 Frequently Asked Questions: Addressing Common Queries about Chrome Rose Red Wraps
1. Q: Can a Chrome Rose Red car wrap be removed without damaging the original paint?
A: Yes, one of the significant advantages of car wraps is that they are designed to be removable without causing damage to the car's paint when properly removed by a professional.
2. Q: Will the Chrome Rose Red car wrap fade over time?
A: High-quality Chrome Rose Red car wraps are engineered to resist fading from UV rays and general wear. However, like any colored material exposed to the sun, some fading may occur over an extended period, but it should be minimal.
3. Q: Can I wash my car as usual after it's been wrapped in Chrome Rose Red vinyl?
A: Yes, you can wash your car regularly after it's been wrapped. However, it is recommended to use a hand wash or touchless car wash to avoid potential damage to the wrap's edges.
4. Q: Is professional installation necessary for a Chrome Rose Red car wrap?
A: While some experienced DIY enthusiasts can attempt to wrap their cars, it is highly recommended to seek professional installation for a flawless and long-lasting result. Professional installers have the expertise and tools to ensure a proper application.
5. Q: Can I apply a Chrome Rose Red wrap on top of existing paint damage or scratches?
A: It is not advisable to apply a car wrap over damaged or scratched paint, as the imperfections may show through the wrap's surface. It is best to address any paint issues before installing the wrap.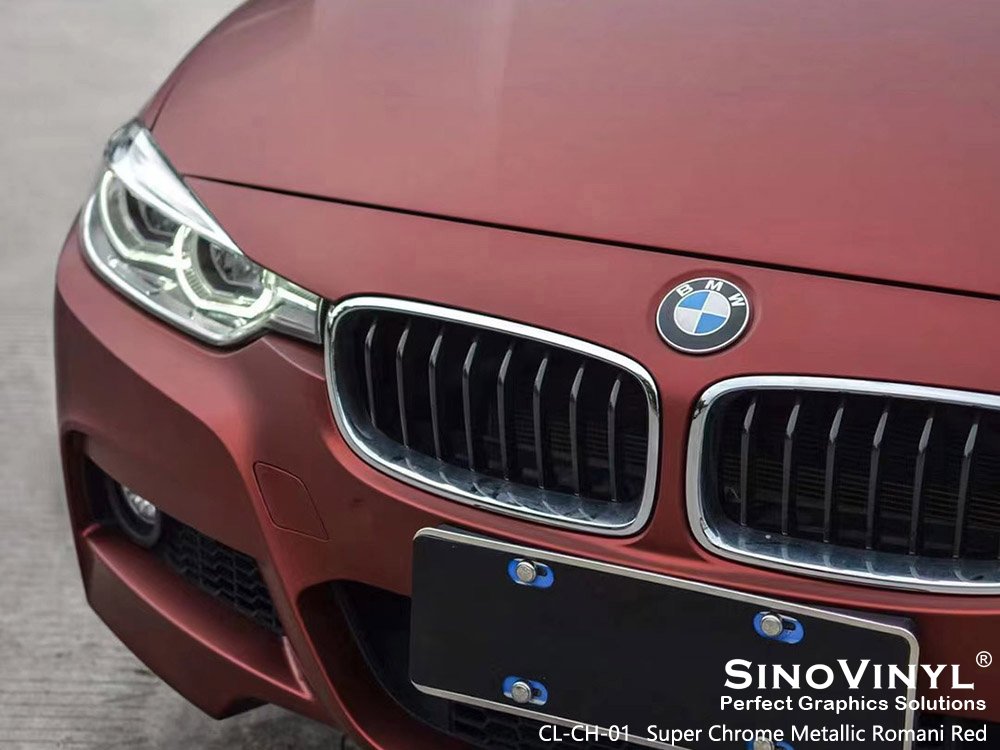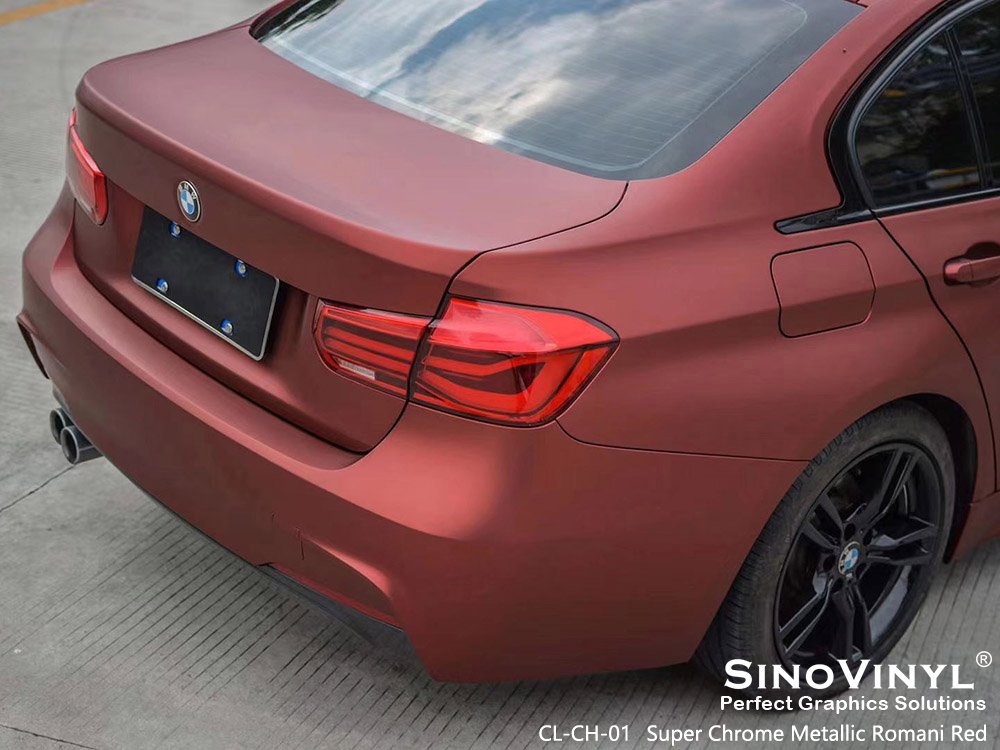 Real Enthusiasts Speak: Testimonials of Car Owners Thrilled with Chrome Rose Red Vinyl Wrap
Testimonial 1 – Sarah W.
"I've always been passionate about cars and wanted to give my ride a unique and striking look. When I came across the Chrome Rose Red Vinyl Wrap, I knew it was exactly what I needed. After getting it professionally installed, I couldn't believe the transformation! The color is so vibrant, and it turns heads wherever I go. I get compliments from strangers at traffic lights, and my friends are constantly asking me where I got it done. I'm thrilled with the result, and it's safe to say I won't be going back to regular car colors anytime soon!"
Testimonial 2 – Michael T.
"I've been a car enthusiast for years, and I'm always looking for ways to stand out from the crowd. That's when I discovered the Chrome Rose Red Car Wrap Vinyl Film. The color is simply mesmerizing, and it gives my car a whole new level of sophistication. I was concerned about the durability, but it's held up incredibly well even through various weather conditions. It's been a couple of months now, and the wrap looks as good as new. I can't recommend it enough to fellow car lovers who want to make a statement with their vehicles."
Testimonial 3 – Jessica L.
"I wanted my car to reflect my personality, and the Chrome Rose Red Vinyl Wrap did just that! It adds a touch of elegance and edginess to my otherwise ordinary car. I love how the color shifts depending on the angle and lighting, making it look different throughout the day. The installation process was smooth, and the team I worked with made sure everything was done to perfection. I'm absolutely thrilled with my choice, and it's like having a brand new car without the hefty price tag. Thanks to this amazing vinyl wrap, I feel like I have a one-of-a-kind vehicle that truly represents me!"
Testimonial 4 – David S.
"As a car enthusiast, I'm always experimenting with different modifications, and the Chrome Rose Red Vinyl Wrap was one of the best decisions I've made. The bold color catches everyone's eye, and it's a conversation starter at car meets and events. Not only does it look fantastic, but it also protects my car's original paint from scratches and minor dings. I've received countless compliments, and some people have even mistaken my car for a high-end luxury vehicle! If you're a car lover looking for a head-turning upgrade, this vinyl wrap is the way to go."
Testimonial 5 – Emily M.
"When I first saw the Chrome Rose Red Car Wrap Vinyl Film, I instantly fell in love with the color. It's so unique and eye-catching, and I knew it would make my car look extraordinary. I was initially concerned about how it would blend with the car's design, but the wrap's texture and finish perfectly complemented the vehicle's contours. I couldn't be happier with the result, and it has given my car a personality of its own. I'm proud to be part of the growing community of auto enthusiasts who appreciate the allure of Chrome Rose Red!"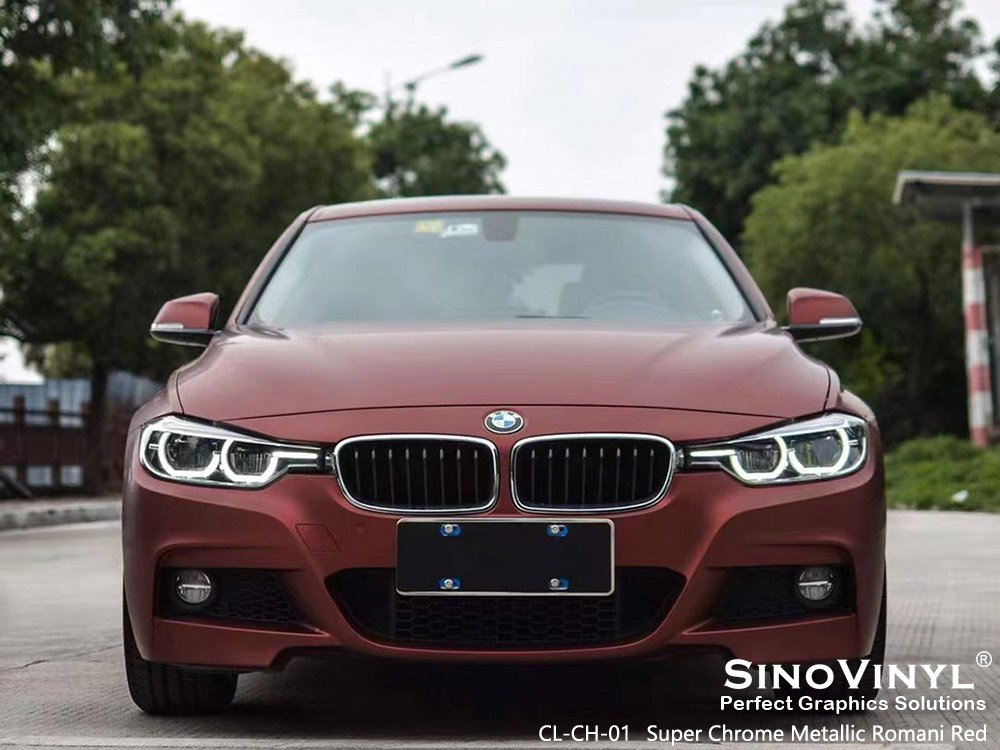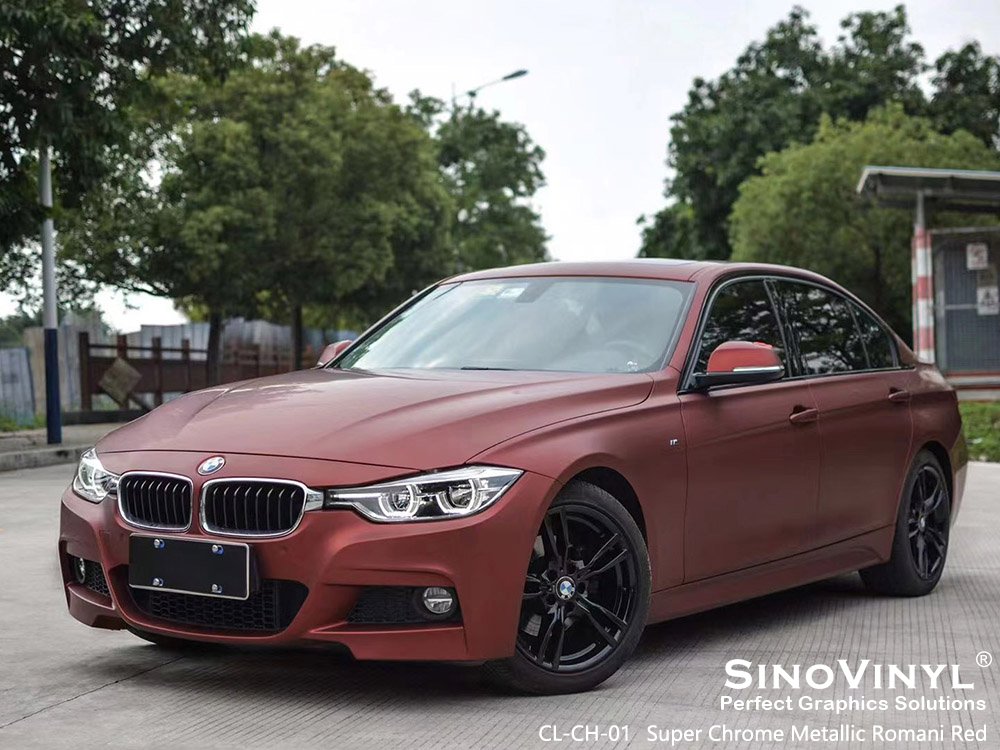 Final Words
In conclusion, the Chrome Rose Red Car Vinyl Wrap is undeniably a game-changer in the world of automotive aesthetics. With its vibrant and alluring color, this vinyl film unleashes a passionate style that appeals to auto enthusiasts seeking to make a bold statement on the road. Not only does it elevate the look of your car, but it also offers durability and protection for your vehicle's original paint. The testimonials from real car lovers speak volumes about the impact of this remarkable vinyl wrap, turning ordinary cars into extraordinary masterpieces.