What are some tips for maintaining and cleaning a cartoon car wrap to ensure its longevity?
Maintaining and cleaning a cartoon car wrap properly is essential to ensure its longevity and keep it looking vibrant. Here are some tips to help you take care of your cartoon car wrap:
1. Regular Cleaning Routine
– Establish a regular cleaning schedule to prevent dirt, grime, and pollutants from accumulating on the wrap's surface.
2. Use Recommended Cleaning Products
– Use a gentle, pH-neutral automotive soap and clean water to wash your car wrap. Avoid harsh chemicals, abrasive cleaners, and brushes that could damage the wrap.
3. Hand Washing
– Wash the wrap by hand instead of using automated car washes with brushes. Automated car washes can potentially scratch or damage the wrap.
4. Cool Water and Shady Area
– Wash the car wrap with cool water, and avoid washing it under direct sunlight. This helps prevent soap and water spots from drying on the surface.
5. Microfiber Cloth or Soft Sponge
– Use a soft microfiber cloth or a soft sponge for washing. Gently wipe the surface to remove dirt without applying excessive pressure.
6. Rinse Thoroughly
– Ensure you rinse the car wrap thoroughly to remove all soap residue.
7. Pat Dry
– After rinsing, pat dry the car wrap gently with a clean microfiber cloth. Avoid rubbing the wrap, as excessive friction can damage it.
8. Avoid High Pressure
– Do not use high-pressure sprayers, as they can force water and debris underneath the edges of the wrap, causing it to peel.
9. Avoid Petroleum-Based Cleaners
– Avoid using petroleum-based cleaners, solvents, or wax products on the wrap, as these can damage the vinyl.
10. Protect from Bird Droppings and Tree Sap
– Promptly remove bird droppings, tree sap, or other contaminants, as they can stain and damage the wrap if left for an extended period.
11. Use a Sealant or Protectant
– Consider using a specially formulated vinyl protectant or sealant to add a layer of protection to the wrap and enhance its longevity.
12. Avoid Scratches and Abrasions
– Be cautious when parking near bushes, trees, or abrasive surfaces, as scratches and abrasions can harm the wrap.
13. Waxing and Polishing
– Some vinyl wraps can benefit from occasional light waxing or polishing. However, make sure to use a wax that is safe for vinyl and avoid waxing matte finishes.
14. Store Indoors When Possible
– If you have the option, park your vehicle indoors or in a covered area to protect the wrap from prolonged exposure to the sun and weather.
15. Inspect Regularly
– Periodically inspect the wrap for any signs of peeling, lifting, or damage. Address any issues promptly to prevent further damage.
By following these tips and maintaining a consistent cleaning routine, you can help extend the life of your cartoon car wrap and keep it looking vibrant and appealing for years to come.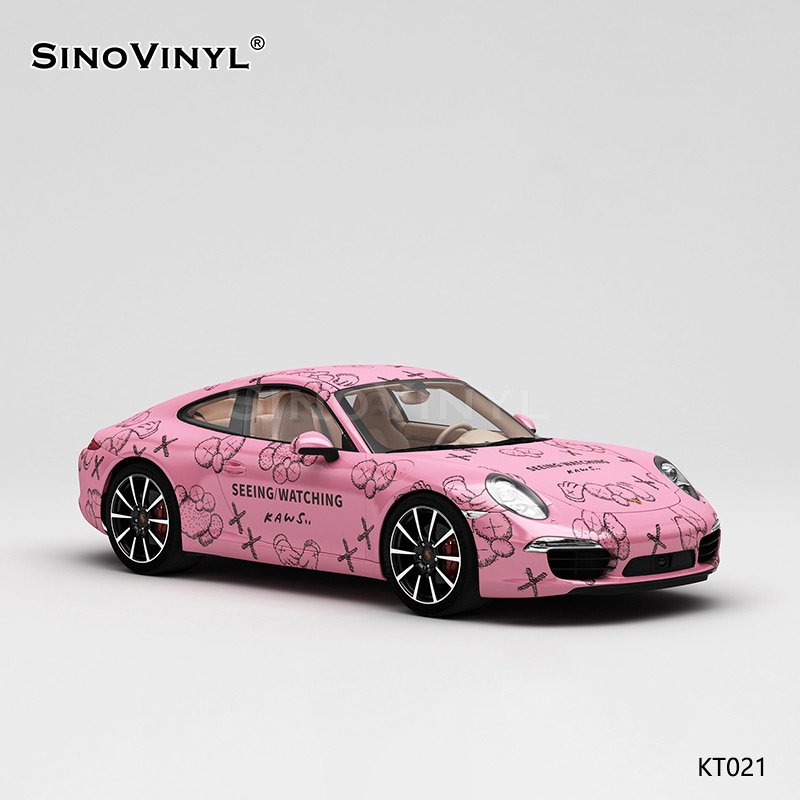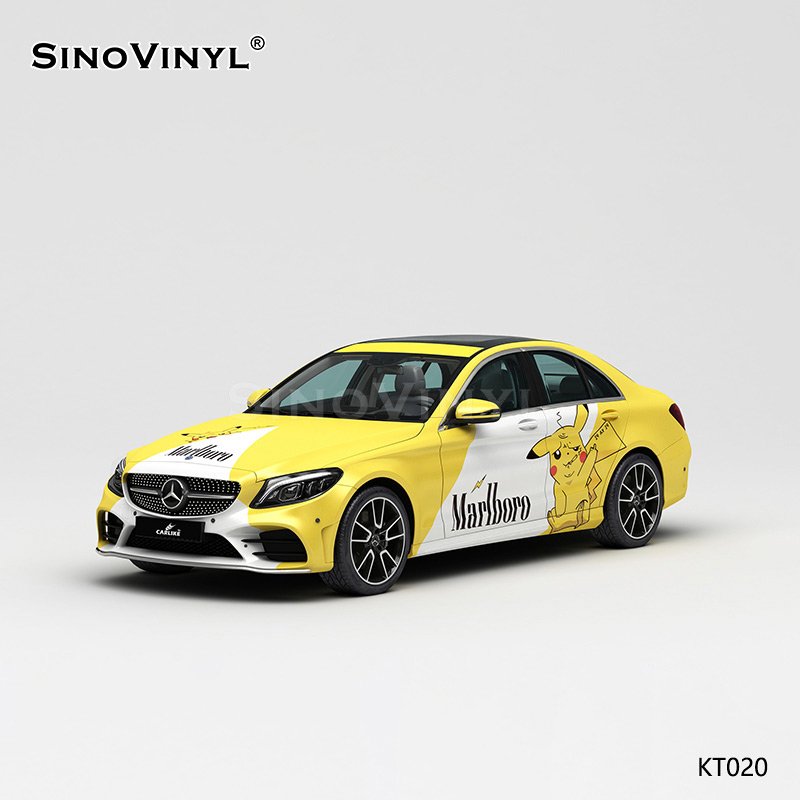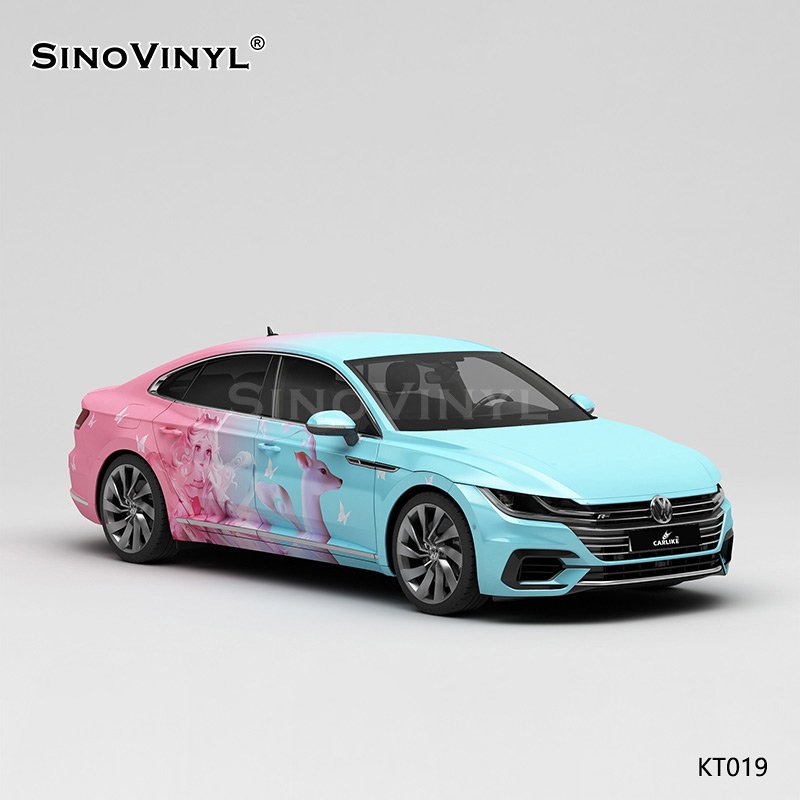 Are there any specific cleaning products or techniques recommended for cartoon car wraps?
Yes, there are specific cleaning products and techniques recommended for maintaining and cleaning cartoon car wraps. Proper care will help preserve the appearance and longevity of your car wrap. Here's what you should keep in mind:
Cleaning Products
1. Mild Soap and Water
The safest and most common method is to use a mixture of mild automotive soap and water. Avoid harsh chemicals, abrasive cleaners, or solvents as they can damage the wrap's finish.
2. Waterless Wash Products
Waterless or no-rinse car wash products can be used to clean your wrap without requiring a water hose. These products are designed to lift dirt and grime gently from the surface.
3. Isopropyl Alcohol (Rubbing Alcohol)
For tougher spots like bird droppings or adhesive residue, you can use isopropyl alcohol. Make sure to dilute it with water (about a 1:1 ratio) and test it in a small inconspicuous area first to ensure it doesn't damage the wrap.
Cleaning Techniques
1. Rinse First
Rinse your car wrap with water to remove loose dirt and debris. This helps prevent scratching the wrap during the cleaning process.
2. Hand Washing
Wash the wrap by hand using a soft, non-abrasive microfiber cloth or sponge. Avoid using brushes or abrasive materials that could scratch the surface.
3. Gentle Wiping
Gently wipe the surface with the mild soap and water mixture using a soft cloth. Start from the top and work your way down to avoid dragging dirt across the wrap.
4. Rinse Thoroughly
After washing, rinse the car wrap thoroughly with clean water to remove any soap residue.
5. Drying
Pat the wrap dry with a clean microfiber cloth or allow it to air dry. Avoid using high-pressure water sprays or mechanical car washes, as they can damage the edges of the wrap.
6. Spot Cleaning
For stubborn stains or contaminants, dampen a soft cloth with diluted isopropyl alcohol and gently rub the affected area. Rinse with water afterward.
7. Regular Maintenance
Clean your cartoon car wrap regularly, especially after exposure to pollutants, bird droppings, or road debris. Regular cleaning helps prevent dirt from becoming ingrained in the wrap.
8. Protective Wax or Sealant
Some car wrap manufacturers recommend applying a specialized wax or sealant designed for vinyl wraps. This can help protect the wrap and enhance its appearance.
Remember that the specifics of cleaning may vary based on the type of car wrap material and the manufacturer's recommendations. Always refer to the care instructions provided by the wrap manufacturer or the professional who installed the wrap to ensure you're using the appropriate products and techniques.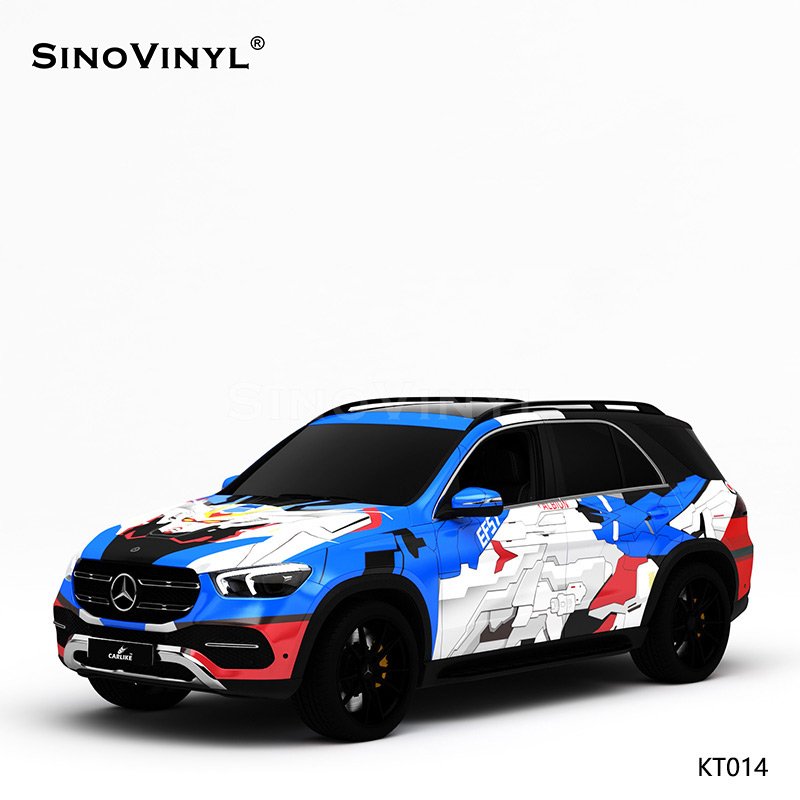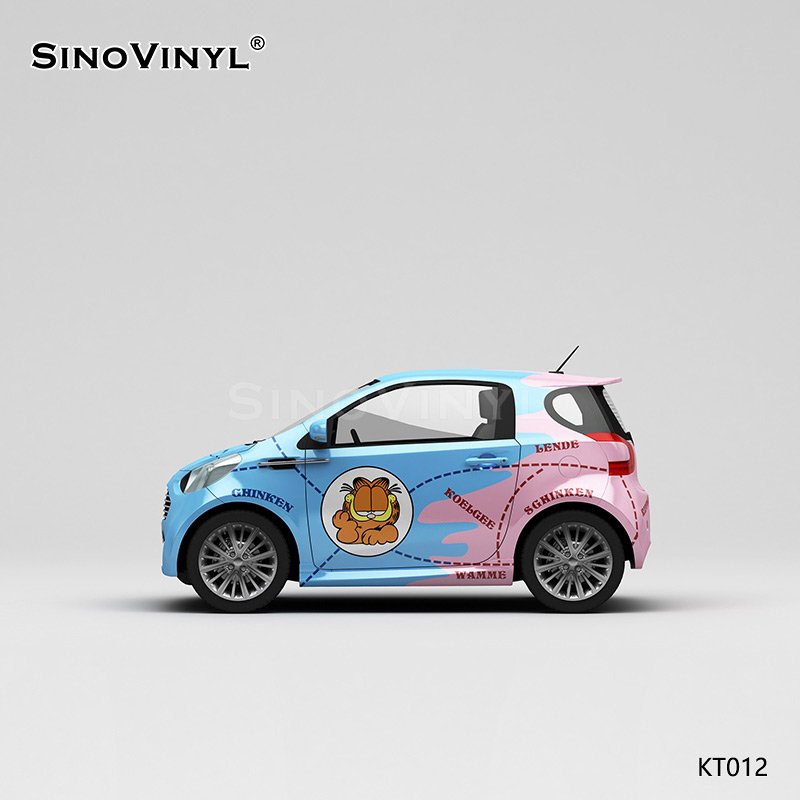 You May Interest
https://sinocarsticker.com/cartoon-car-wrap/
https://sinocarsticker.com/cartoon-car-wrap-2/
https://sinocarsticker.com/category/products/cartoon-vinyl-wrap/