What is the process of installing a camo wrap on a car?
Installing a camo wrap on a car involves a series of steps that require careful preparation, skill, and attention to detail. Here's a general overview of the process:
1. Vehicle Preparation:
– Clean the vehicle's exterior thoroughly to ensure there is no dirt, dust, or debris on the surface.
– Remove any parts or components that might hinder the wrapping process, such as mirrors, door handles, and trim pieces.
– If necessary, perform paint correction to address any imperfections on the car's surface.
2. Design Selection:
– Choose the camo design and colors you want for your vehicle. This could be a pre-designed pattern or a custom design created with the help of a design team.
3. Material Selection and Cutting:
– Choose a high-quality vinyl wrap material suitable for automotive use. The material should be designed to withstand outdoor elements.
– Based on the design and dimensions of your vehicle, the vinyl sheets are cut to the appropriate size and shape using precision cutting tools.
4. Application of Vinyl:
– Start with one section of the vehicle at a time, usually starting from a less visible area like the door jambs or the bottom of the car.
– Peel off a portion of the vinyl backing and align the edge of the vinyl with the corresponding edge of the vehicle's surface.
– Slowly apply the vinyl, smoothing it out with a soft squeegee or application tool to prevent air bubbles or wrinkles.
– Work your way across the surface, ensuring the vinyl adheres smoothly and evenly to the curves and contours of the car.
5. Stretching and Heating:
– Vinyl wraps often require stretching to fit around complex curves and angles. A heat gun is used to soften the vinyl, making it more pliable for stretching and shaping.
– Careful heating and stretching ensure the wrap conforms to the vehicle's shape without excessive tension or distortion.
6. Seam and Edge Tucking:
– In areas where multiple pieces of vinyl meet or where the wrap needs to be tucked into crevices, careful tucking and trimming are performed to create clean seams and edges.
– This process ensures that the wrap looks seamless and professional.
7. Trimming and Finishing:
– After the wrap is fully applied, excess vinyl is trimmed carefully along the edges and seams for a neat and precise finish.
– Any components that were temporarily removed, such as mirrors and door handles, are reinstalled.
8. Post-Installation Inspection:
– Inspect the entire wrapped surface to ensure there are no air bubbles, wrinkles, or imperfections.
– Use a heat gun to address any small imperfections or to ensure the vinyl conforms perfectly to the vehicle's contours.
9. Curing and Setting:
– The vinyl wrap needs time to fully adhere to the car's surface. This process is known as curing or setting.
– It's important to avoid washing the car or exposing it to moisture during this curing period.
10. Final Quality Check:
– Once the vinyl wrap has fully cured, conduct a final quality check to ensure that the installation is flawless and the design aligns properly.
It's worth noting that while the above steps outline the general process, installing a camo wrap requires a certain level of expertise. Many individuals opt to have their camo wraps installed by professionals to ensure a high-quality and long-lasting result.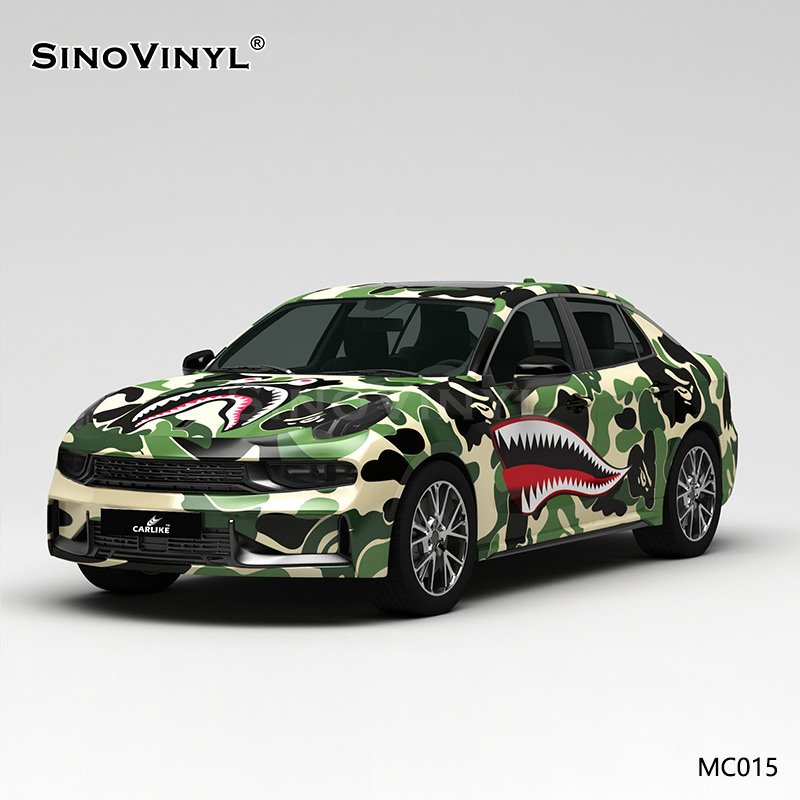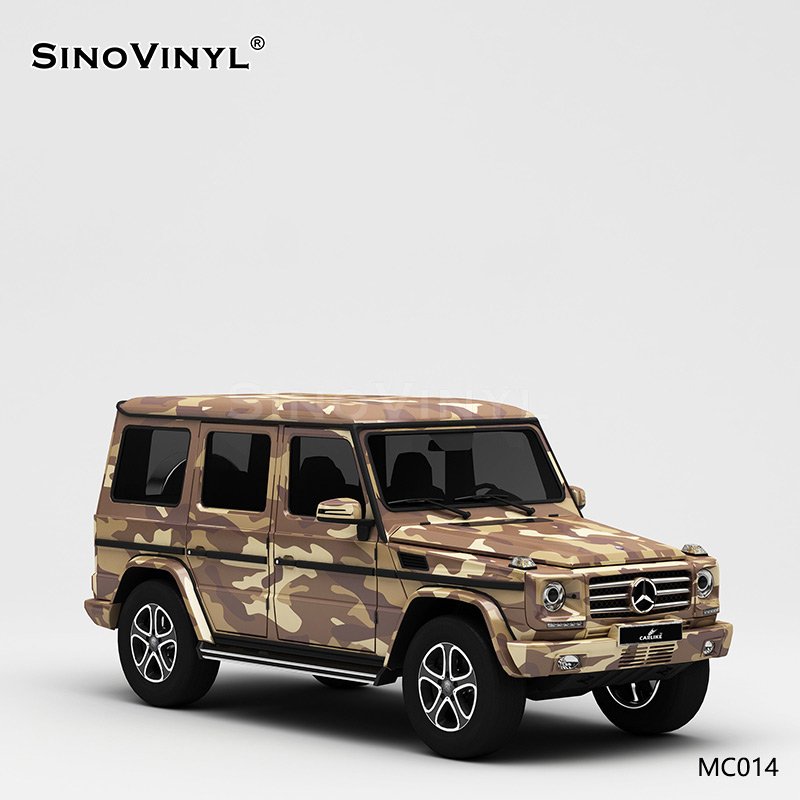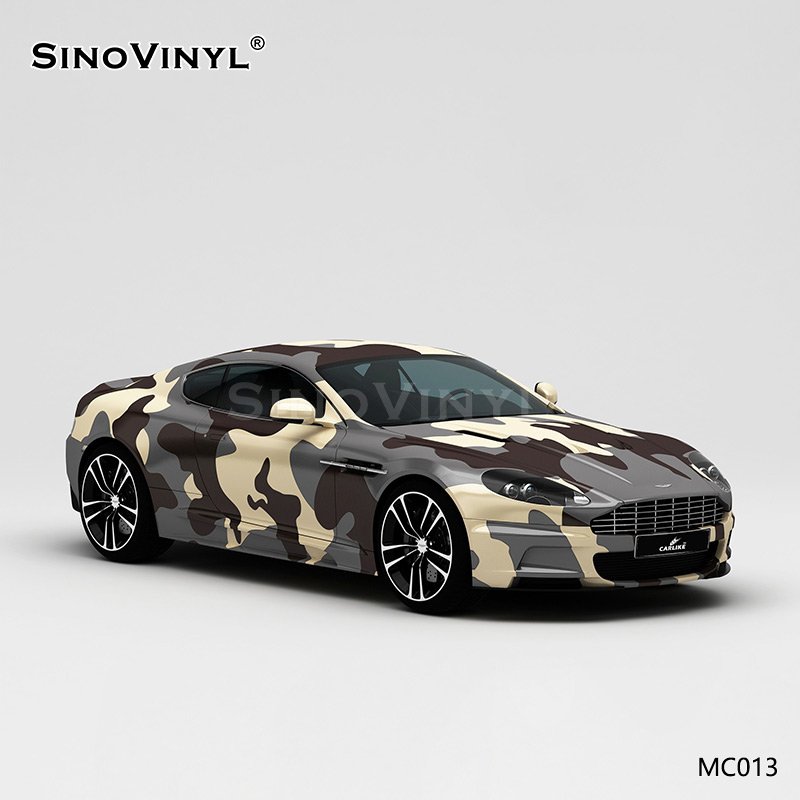 Can a camo wrap be applied to any type of vehicle?
Typically, a camouflage wrap has the versatility to be affixed to a variety of vehicles, encompassing cars, trucks, SUVs, motorcycles, boats, and even recreational vehicles (RVs). The adaptability of the wrap material and the expertise of the installers both contribute to how effectively the wrap can conform to diverse vehicle shapes and sizes. However, there are a few considerations to keep in mind:
1. Vehicle Size and Shape
While most vehicles can be wrapped, the complexity of the vehicle's shape can affect the ease of installation. Some vehicles with intricate curves, sharp angles, or complex bodywork might require more skill and effort to properly apply the wrap.
2. Surface Material
Camo wraps adhere well to smooth surfaces like metal and glass. Vehicles with textured surfaces, such as rugged off-road vehicles, might require extra attention during installation to ensure proper adhesion.
3. Preparation
Proper surface preparation is crucial for a successful wrap installation, the vehicle's surface needs to be thoroughly cleaned, free from any debris, oils, or residues. Any imperfections or dents should be addressed before applying the wrap.
4. Durability
The type of vehicle and its intended use can impact the durability of the camo wrap. Off-road vehicles that encounter rough terrain and harsh conditions might experience faster wear and tear compared to a car that primarily drives on city streets.
5. Professional Installation
While some experienced individuals might attempt to apply a camo wrap themselves, it's often recommended to have a professional wrap installer handle the job.
6. Removability
Most camo wraps are designed to be removable without damaging the vehicle's original paint. Nonetheless, specific elements such as the caliber of the wrap material, the duration the wrap has been adhered to the vehicle, and the proficiency of the installation can influence the ease of removing the wrap.
7. Licensing and Regulations
Depending on where you live, there might be regulations governing the use of vehicle wraps, especially if they involve certain colors, reflective materials, or patterns.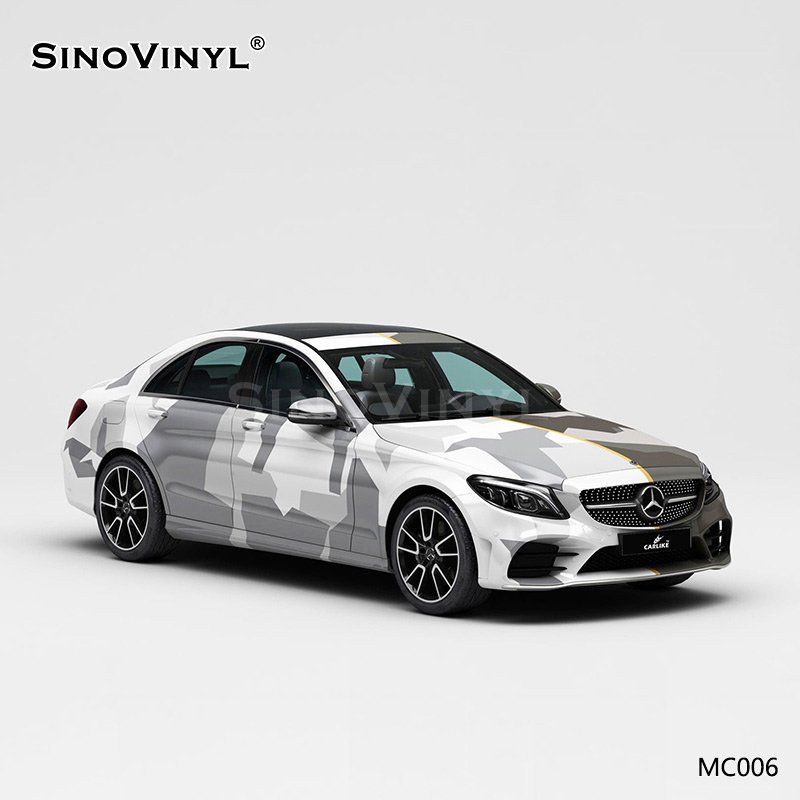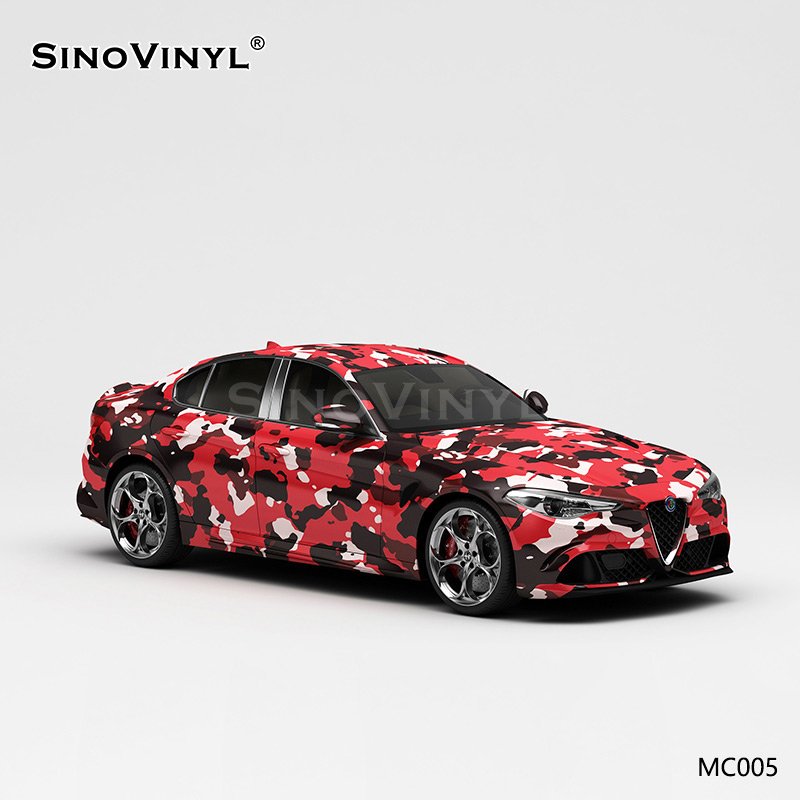 How do you maintain a camo wrap to ensure its longevity and appearance?
Maintaining a camo wrap is essential to ensure its longevity and appearance. Here's a step-by-step guide on how to properly care for your camo wrap:
1. Regular Cleaning:
– Wash your camo-wrapped car regularly using a mild car wash soap and clean, soft microfiber cloths or sponges.
– Use a two-bucket wash method to prevent dirt and debris from scratching the wrap.
– Avoid using abrasive brushes or harsh cleaning chemicals that could damage the wrap.
2. Hand Washing:
– Hand washing is recommended over automated car washes, as the brushes and strong chemicals in automated washes can potentially damage the wrap.
– If using an automated wash, choose one that is specifically designed for vehicles with wraps.
3. Avoid High Pressure:
– Do not use high-pressure washers directly on the edges of the wrap or in areas where the wrap may have lifted slightly.
– High-pressure water can cause the edges to lift further, potentially leading to peeling.
4. Drying:
– After washing, use a clean microfiber cloth to gently pat the wrap dry. Avoid wiping vigorously, as this could cause friction and potential damage.
5. Waxing and Sealants:
– You can use a non-abrasive, high-quality wax or sealant designed for vinyl wraps to protect the wrap's surface and enhance its appearance.
– Apply wax or sealant by hand using a soft applicator pad. Follow the product instructions for best results.
6. Avoid Direct Sunlight:
– Prolonged exposure to intense sunlight can fade the colors of the wrap over time. Whenever possible, park your vehicle in shaded areas or use a car cover.
7. Avoid Harsh Chemicals:
– Do not use abrasive or acidic cleaners, solvents, or petroleum-based products on the wrap, as they can damage the material.
8. Bird Droppings and Tree Sap:
– Remove bird droppings, tree sap, or any other contaminants promptly, as they can deteriorate the wrap's finish if left for too long.
– Gently soak the area with warm water and use a soft cloth to gently wipe away the residue.
9. Careful Handling:
– Be cautious while opening doors and using trunk lids to avoid causing excessive friction on the edges of the wrap.
– Avoid using sharp objects near the wrap that could potentially scratch or puncture it.
10. Storage and Winter Care:
– If storing your vehicle for an extended period, consider using a breathable car cover to protect the wrap.
– During winter, remove ice and snow carefully using a soft brush or a snow brush designed for car surfaces.
11. Regular Inspection:
– Regularly inspect the wrap for any signs of lifting, bubbling, or damage. If you notice any issues, address them promptly to prevent further damage.
Remember, proper care and maintenance will significantly extend the life of your camo wrap and keep your car looking great. If you're unsure about any specific cleaning products or techniques, consult with a professional who specializes in vehicle wraps for personalized advice.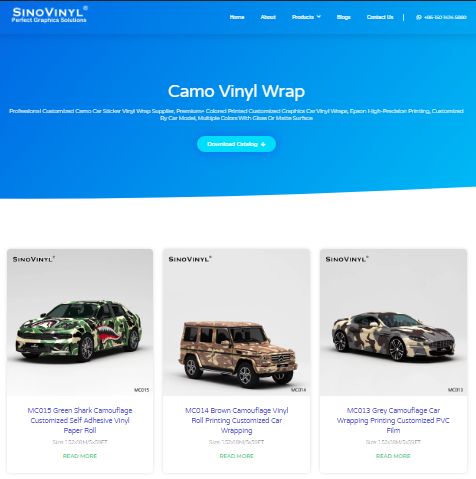 (Click the picture to learn more)
You May Interest
https://carlikewrap.com/collections/camouflage-vinyl
https://www.sinovinyl.com/products/camouflage-vinyl/
https://sinocarsticker.com/category/products/camo-vinyl-wrap/