Types of Blue Vinyl Finishes
Let's explore the different blue vinyl finishes and how they can transform the appearance of a car:
1. Matte Blue Vinyl Finish:
– Appearance Change: Matte finishes have a non-reflective, flat appearance.
– Effect on Style: Matte blue vinyl wraps offer a modern, sleek, and sophisticated appearance. They can make a car look understated yet stylish.
2. Gloss Blue Vinyl Finish:
– Appearance Change: Gloss finishes have a high shine and reflective surface.
– Effect on Style: Glossy blue vinyl wraps make a car look sleek, polished, and attention-grabbing.
3. Satin Blue Vinyl Finish:
– Appearance Change: Satin finishes are a blend of matte and gloss.
– Effect on Style: Satin blue vinyl wraps provide a balanced, sophisticated look.
4. Metallic Blue Vinyl Finish:
– Appearance Change: Metallic finishes have small metal flakes embedded in the vinyl, creating a shimmering effect when exposed to light. This gives a three-dimensional depth to the color.
– Effect on Style: Metallic blue vinyl wraps offer a dynamic, eye-catching appearance.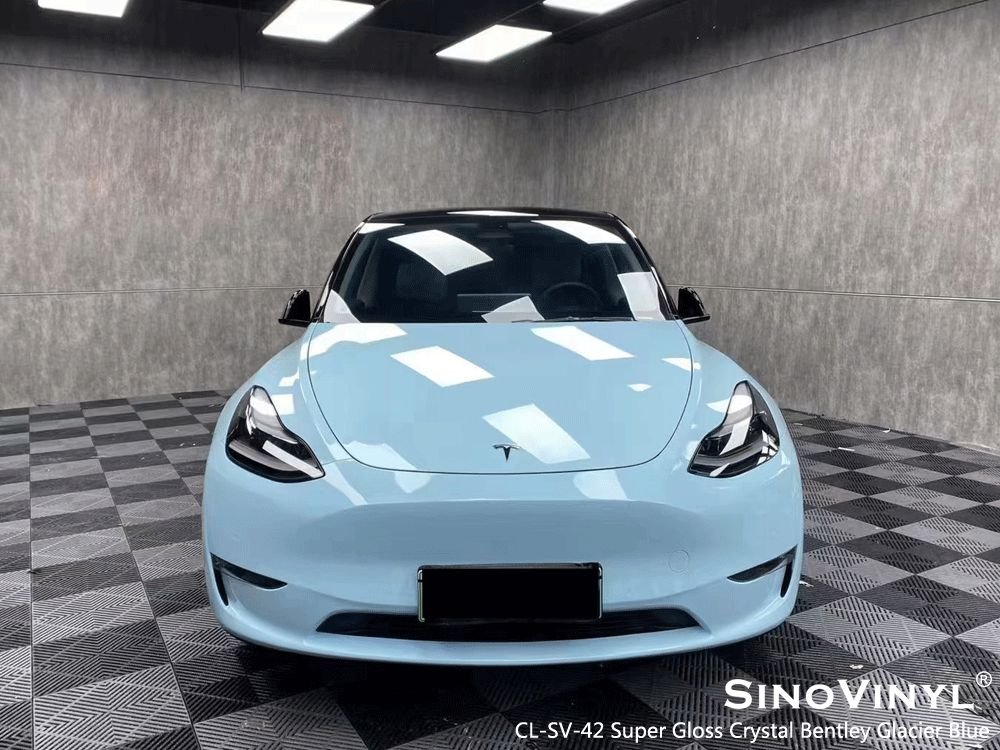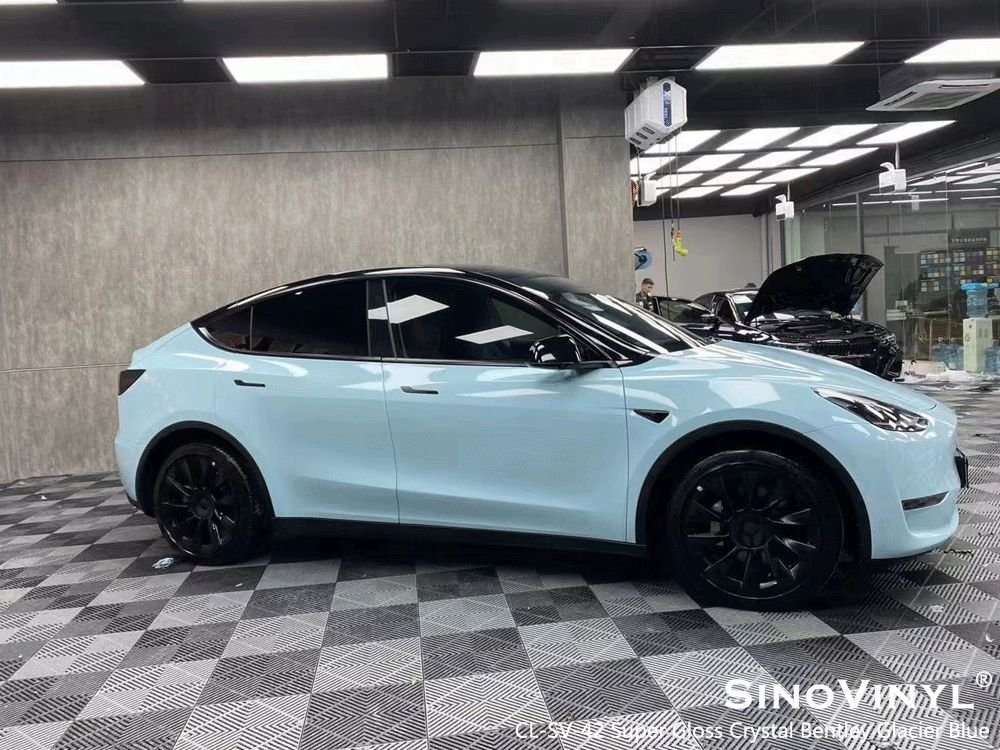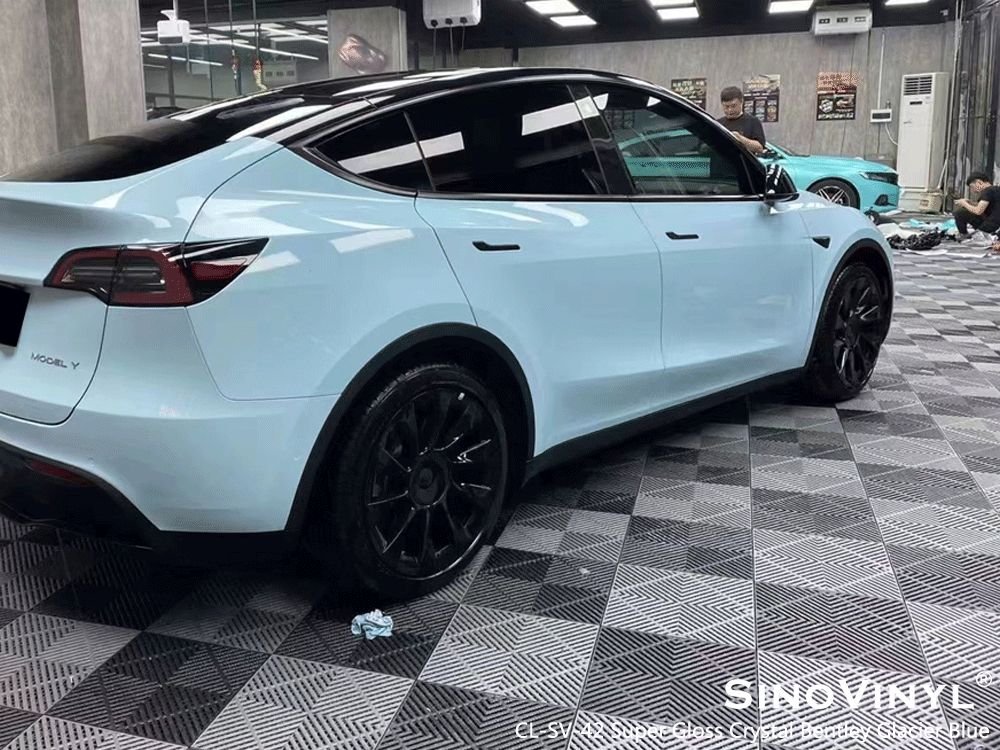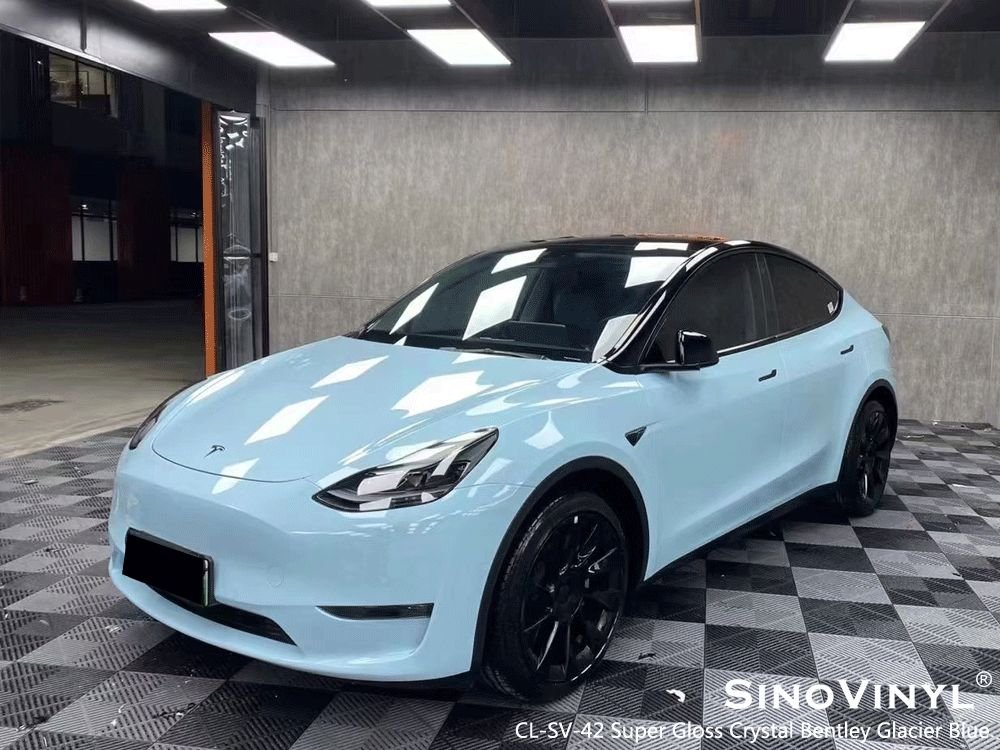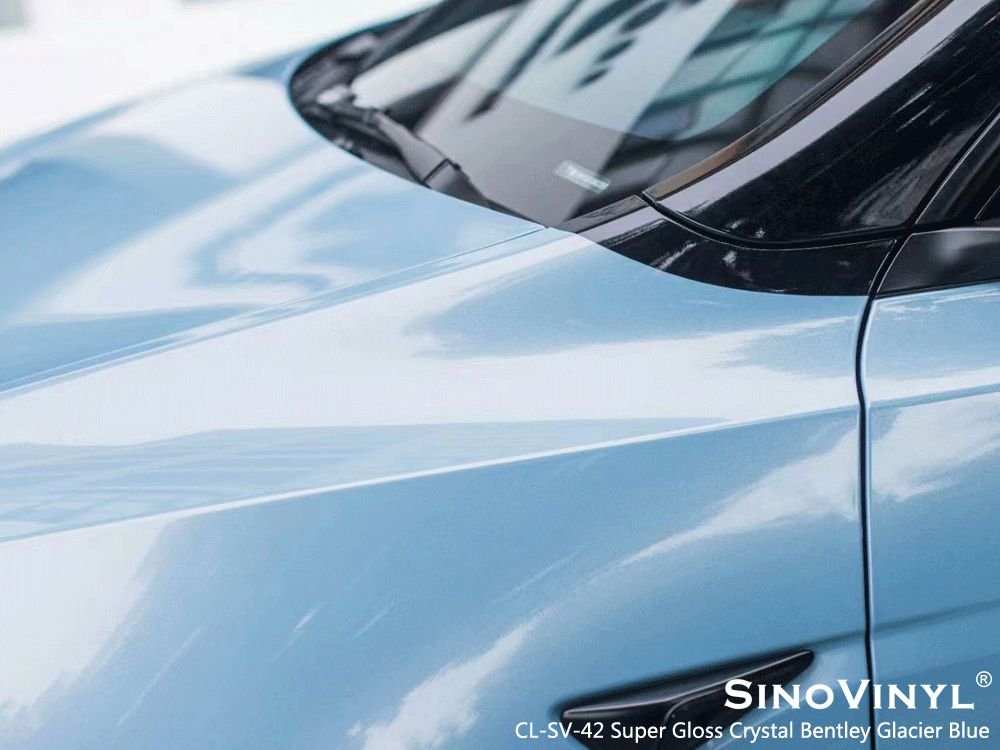 Maintenance and Care for Blue Vinyl Wraps
Proper cleaning and maintenance are essential to ensure the longevity and vibrant appearance of a vinyl-wrapped vehicle. Here are some tips and guidelines:
1. Gather the Right Supplies:
– Mild car wash soap
– Microfiber wash mitt or sponge
– Soft microfiber towels
– Water
– Spray bottle with water
– Isopropyl alcohol (for stubborn stains)
– Vinyl wrap cleaner (optional)
2. Avoid Abrasive Materials:
– Do not use brushes, abrasive sponges, or any rough materials as they can scratch the vinyl surface.
3. Pre-Rinse the Vehicle:
– Rinse the car with water to remove loose dirt and debris. This helps prevent scratching during the wash.
4. Use a Mild Car Wash Soap:
– Mix a mild car wash soap with water in a bucket according to the manufacturer's instructions.
5. Hand Wash Gently:
– Use a soft microfiber wash mitt or sponge to gently wash the vehicle. Start from the top and work your way down.
6. Rinse Thoroughly:
– Rinse the car thoroughly with clean water to remove all soap residue.
7. Pat Dry with a Microfiber Towel:
– Use a soft microfiber towel to gently pat dry the vehicle. Avoid rubbing, as this can cause friction and potentially damage the vinyl.
8. Spot Cleaning for Stubborn Stains:
– For tougher stains or spots, you can use isopropyl alcohol on a soft cloth. Test a small, inconspicuous area first to ensure it won't damage the vinyl.
9. Avoid Harsh Chemicals:
– Do not use harsh chemicals, solvents, or abrasive cleaners on the vinyl wrap, as they can cause damage.
10. Regularly Inspect for Damage:
– Check the vinyl wrap for any signs of damage, such as tears, scratches, or peeling edges. Promptly address any issues to prevent further damage.
11. Apply Vinyl Protectant (Optional):
– Consider using a vinyl protectant or sealant to add an extra layer of protection and enhance the appearance of the wrap.
12. Store in a Sheltered Area:
– Whenever possible, park the vehicle in a sheltered area to protect it from harsh weather conditions and UV rays, which can degrade the vinyl over time.
13. Avoid High-Pressure Washers:
– Avoid using high-pressure washers, as they can force water underneath the edges of the vinyl, potentially causing it to lift.
14. Follow Manufacturer's Recommendations:
– Always refer to the manufacturer's guidelines for specific care instructions and product recommendations for your particular vinyl wrap.
By following these tips, you can help maintain the vibrant appearance of your blue vinyl-wrapped vehicle and extend its lifespan. Regular, gentle care is key to preserving the integrity and beauty of the wrap.