Matte vs. Gloss: Comparing Vinyl Wrap Finishes
When it comes to vinyl wraps, the choice between matte and gloss finishes can significantly impact the overall look and feel of a vehicle. Let's compare these two finishes and highlight why someone might opt for a gloss finish:
Matte Finish:
1. Appearance:
– Flat Appearance: Matte finishes lack shine and have a non-reflective, velvety surface.
– Smooth and Even: It provides a uniform appearance without any glare or reflections.
2. Concealing Imperfections:
– Camouflages Flaws: Matte finishes can be more forgiving in terms of hiding small surface imperfections or irregularities.
3. Unique Aesthetic:
– Distinctive Look: Matte finishes give a modern, high-tech appearance, making a vehicle stand out from the crowd.
– Trendy and Stylish: Popular in recent years for their sleek and sophisticated appearance.
4. Maintenance:
– Lower Maintenance: Matte finishes are less prone to showing dirt, smudges, or light scratches compared to gloss.
5. Disadvantages:
– Less Reflective: May not have the same depth or brilliance as gloss finishes.
– Limited Availability: The range of color options in matte finishes may be more limited compared to gloss.
Gloss Finish:
1. Appearance:
– High Shine: Gloss finishes have a reflective, glass-like surface that enhances color depth and vibrancy.
– Mirror-like Reflections: Offers a clear reflection of surroundings, adding a polished and premium look.
2. Bold and Vibrant Colors:
– Intensified Colors: Gloss finishes can make colors appear more vibrant and dynamic compared to matte finishes.
3. Versatility:
– Wide Range of Options: Gloss finishes are available in a broader spectrum of colors, allowing for more customization.
4. Easier Cleaning and Maintenance:
– Easy to Clean: Gloss finishes are generally easier to clean and maintain compared to matte finishes.
5. Disadvantages:
– Shows Imperfections: Gloss finishes can highlight surface imperfections, as they reflect light more prominently.
Why Choose Gloss for Your Vehicle:
1. Elevated Elegance: Gloss finishes exude a high-end, luxurious appearance, often associated with premium vehicles.
2. Enhanced Color Pop: Gloss finishes intensify the color, making it look deeper and more vibrant.
3. Easy Maintenance: Gloss finishes are generally easier to clean and maintain compared to matte finishes.
4. Wider Range of Colors: If you're looking for a specific, vibrant color, gloss finishes offer a broader spectrum of options.
5. Reflective Qualities: Gloss finishes add a mirror-like shine, creating a dynamic and eye-catching effect.
Ultimately, the choice between matte and gloss comes down to personal preference and the desired aesthetic for the vehicle. Gloss finishes tend to be chosen for their ability to provide a polished, premium look with enhanced color depth. They also offer a wider range of color options, making them a popular choice for many car enthusiasts.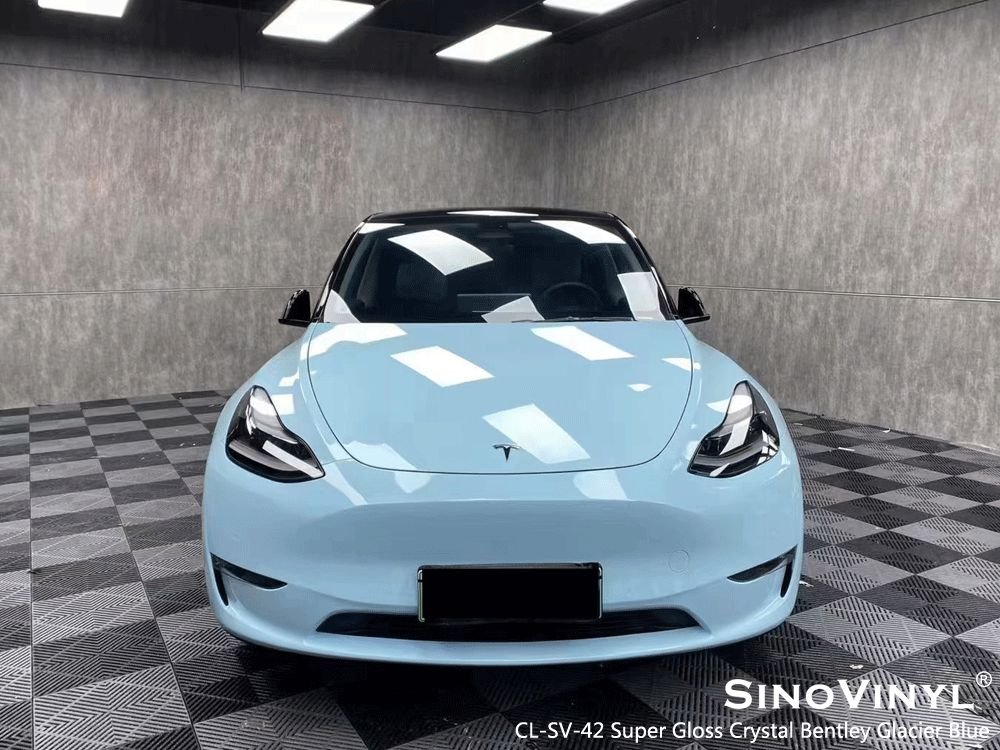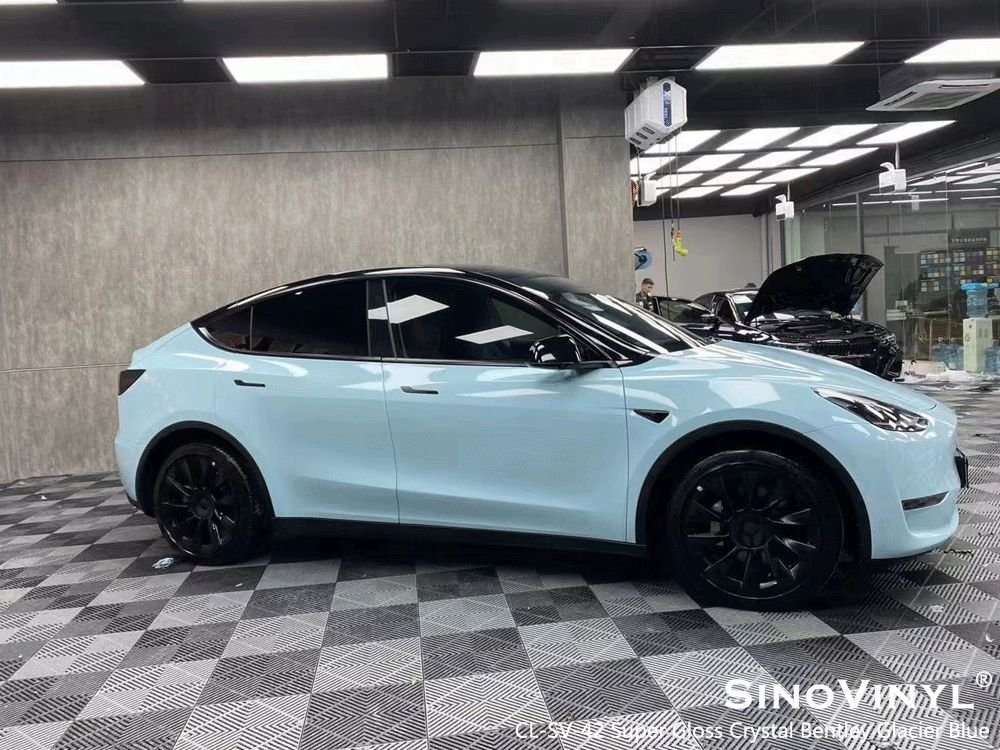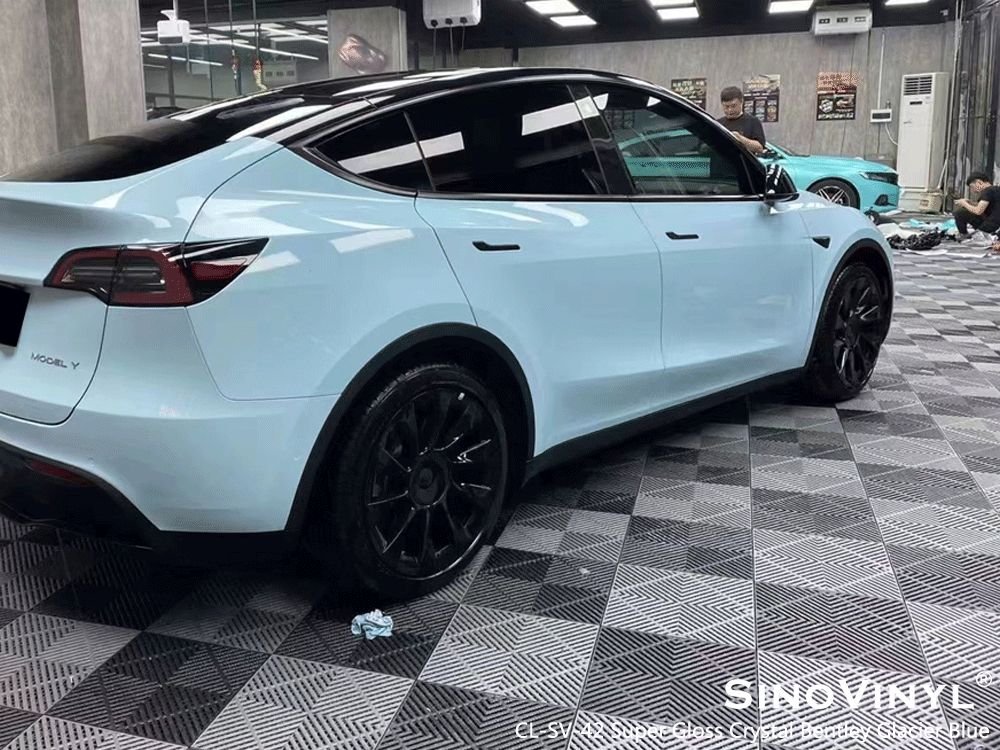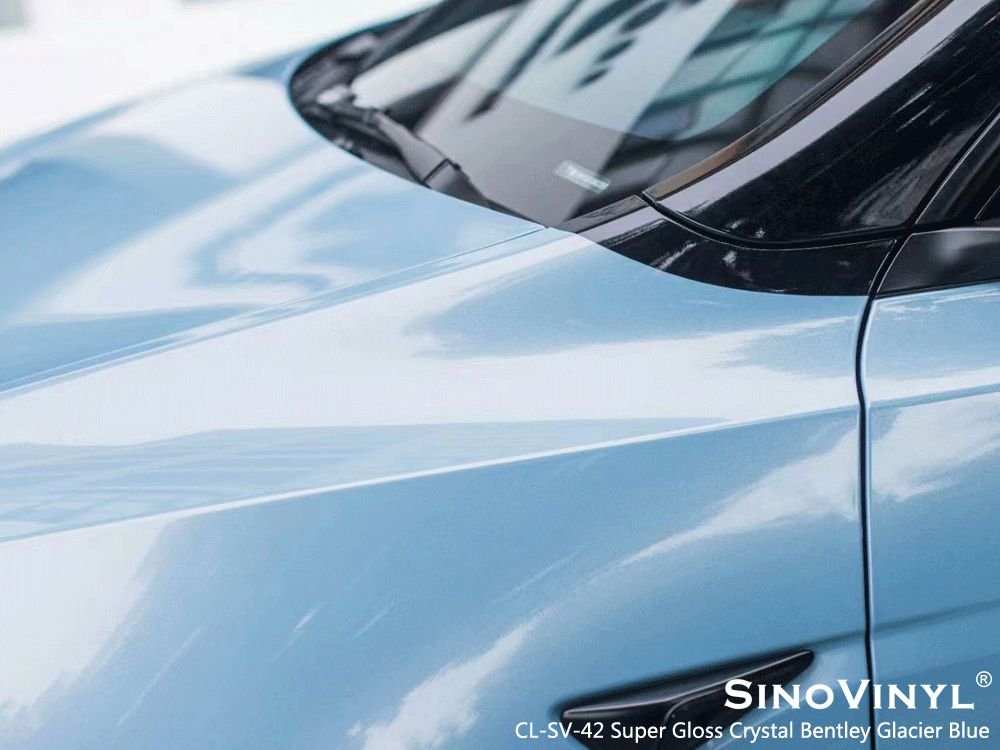 Maintaining the Shine: Tips for Long-lasting Gloss
Keeping a black gloss vinyl-wrapped car looking pristine requires some care and maintenance. Here are some tips and tricks to help car owners maintain the glossy finish:
1. Regular Washing:
– Wash the car regularly using a pH-neutral car wash soap and a soft, non-abrasive sponge or microfiber cloth. Avoid using harsh chemicals or abrasive brushes.
2. Use a Grit Guard:
– Place a grit guard in the bottom of your wash bucket to prevent dirt and debris from being reintroduced onto the car's surface during washing.
3. Rinse Thoroughly:
– Ensure that you rinse the car thoroughly before washing to remove loose dirt and debris that could scratch the vinyl wrap during the washing process.
4. Avoid High-Pressure Washers:
– Avoid using high-pressure washers, as they can damage the vinyl wrap. Opt for a low-pressure setting or use a garden hose with a gentle spray nozzle.
5. Pat Dry, Don't Rub:
– After washing, pat the car dry with a clean microfiber cloth instead of rubbing, as rubbing can cause fine scratches on the vinyl surface.
6. Avoid Direct Sunlight:
– Whenever possible, wash and clean the car in a shaded area to prevent water spots and streaks caused by water evaporating too quickly.
7. Use a Detailing Spray:
– Apply a vinyl-specific detailing spray after washing to enhance the gloss and provide extra protection against UV rays and contaminants.
8. Avoid Abrasive Cleaners:
– Do not use abrasive cleaners or wax products that are not designed for use on vinyl wraps. Stick to products specifically formulated for vinyl.
9. Regular Inspections:
– Periodically inspect the vinyl wrap for any signs of damage, such as tears, peeling, or lifting edges. Promptly address any issues to prevent further damage.
10. Avoid Parking Under Trees:
– Tree sap, bird droppings, and pollen can harm the vinyl wrap. Whenever possible, avoid parking under trees or in areas with a high risk of these contaminants.
11. Avoid Contact with Harsh Chemicals:
– Avoid contact with chemicals like gasoline, solvents, or harsh cleaners. If any of these substances come in contact with the wrap, clean it off immediately.
12. Professional Detailing:
– Consider having your black gloss vinyl-wrapped car professionally detailed and treated with a protective sealant periodically to maintain its shine and longevity.
By following these tips, car owners can help ensure their black gloss vinyl-wrapped cars stay looking pristine and glossy for years to come.